Senators Schumer, Boxer Clear Path For Hagel's Confirmation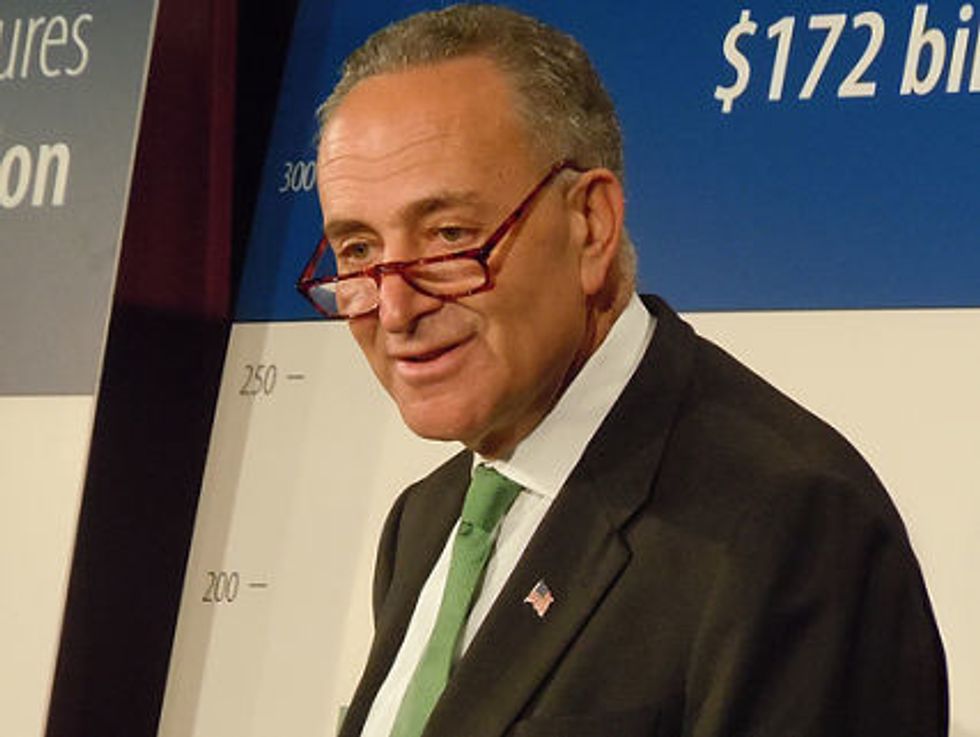 New York senator Chuck Schumer announced Tuesday morning that he is endorsing Chuck Hagel as the next Secretary of Defense, all but ending Republican hopes of blocking Hagel's appointment.
Schumer, who serves as vice-chairman of the Democratic caucus (making him the third-ranking Democrat in the Senate,) had previously said that he was reserving judgment on the nomination until Hagel's confirmation hearings. As the most senior Jewish senator and one of the most outspoken supporters of Israel in Congress, some Republicans had hoped that Schumer would oppose Hagel over the former Nebraska senator's 2006 reference to the "Jewish lobby," and his skepticism over entering a military conflict with Iran.
When Talking Points Memo asked one Senate Republican leadership aide how the party hoped to defeat Hagel's nomination, the aide reportedly simply responded "Schumer."
After a 90-minute meeting Monday in the West Wing, however, Schumer's concerns had been alleviated. In a lengthy statement released Tuesday, Schumer said "Senator Hagel could not have been more forthcoming and sincere," and "I am currently prepared to vote for his confirmation." He added, "I encourage my Senate colleagues who have shared my previous concerns to also support him."
"On Iran, Senator Hagel rejected a strategy of containment and expressed the need to keep all options on the table in confronting that country. But he didn't stop there," Schumer said. "In our conversation, Senator Hagel made a crystal-clear promise that he would do 'whatever it takes' to stop Tehran from obtaining nuclear weapons, including the use of military force."
On Israel, Schumer said "Senator Hagel volunteered that he has always supported Israel's right to retaliate militarily in the face of terrorist attacks by Hezbollah or Hamas," and stressed that Hagel "understands the sensitivity around such a loaded term [as "Jewish lobby"] and regrets saying it."
Schumer's statement also noted that Hagel considers Hezbollah to be a terrorist organization, and opposes any direct talks with Hamas.
In addition to Schumer, California senator Barbara Boxer has signaled her intention to support Hagel. Boxer — who is also Jewish — said "I'm not worried" about Hagel's support for Israel. Additionally, the liberal Boxer said she is fully convinced of Hagel's support for gay and lesbian service members, and that Hagel has pledged to crack down on sexual assualt in the military. Boxer's support should help convince any liberal Democrats who are still uncomfortable with nominating a former Republican senator.
In light of these endorsements — and the Democrats' 55 vote majority in the Senate — Hagel is almost certain to be confirmed as the next Secretary of Defense. Senate Republicans' only chance of blocking Hagel without Schumer would be resorting to a filibuster — a move that could be politically disastrous, given Hagel's clear qualifications, and many Republicans' past support for their former colleague.
Photo by Talk Radio News Service/Flickr