Seniors Boost Number Of Veterans Deemed Unemployable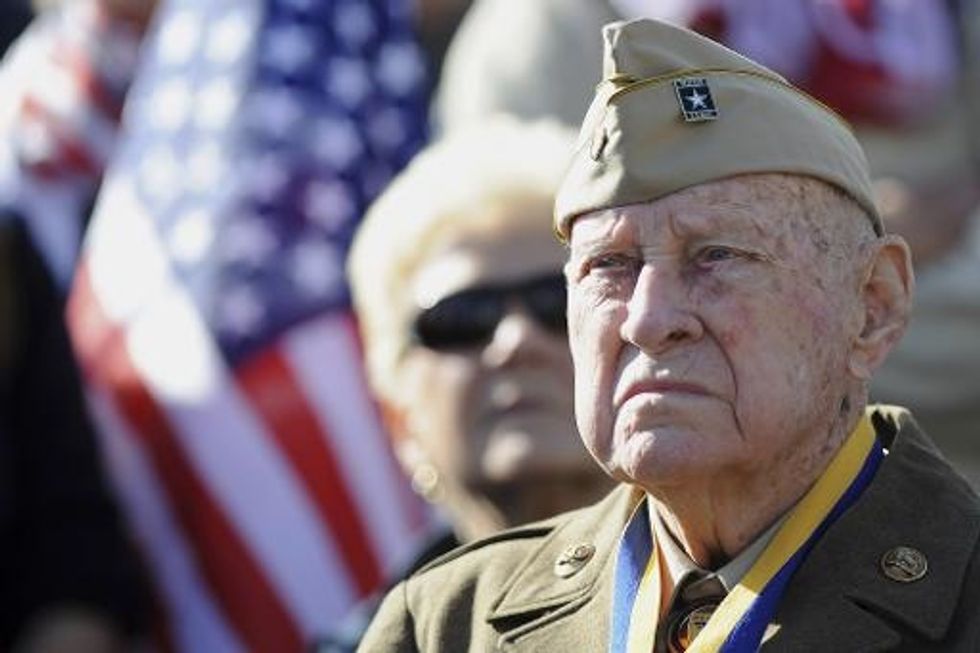 By Alan Zarembo, Los Angeles Times
Jack Behunin received welcome news last year from the Department of Veterans Affairs: Due to war-related medical conditions, he was being declared unfit to work, boosting his tax-free monthly disability compensation from $1,850 to $3,000.
Not that he had any interest in a job. The World War II veteran in Burbank, Calif., is 90 years old.
His case is not an aberration. Senior citizens have helped make the benefit — known as individual unemployability — one of the fastest-growing expenditures in the VA disability system. The number of "unemployable" veterans has nearly tripled since 2000, to 321,451, with the majority at ages when most people have already stopped working.
Government data show that 56 percent of the beneficiaries are at least 65 years old. Eleven percent are 80 or older.
Being classified as unemployable can add $1,100 to $1,900 to a veteran's monthly disability pay, which often comes on top of Social Security.
At an annual cost of at least $4 billion, the benefit is part of a rapidly expanding disability system expected to cost $60 billion this year. Federal reports have singled out unemployability as an example of how a system operating under rules established decades ago has not kept pace with modern times.
"VA's compensation program does not reflect the current state of science, technology, medicine, and the labor market," the Government Accountability Office concluded in a 2006 report.
GAO researchers are now examining the benefit to determine how many veterans classified as unemployable had left the labor force voluntarily.
Behunin farmed cotton and alfalfa for nearly a decade after the war, and then spent 17 years at car dealerships, one year selling more Pontiacs than any other salesman in the country. He worked for his son selling mulch into his 80s until they had a falling-out.
He said he made $50,000 his final year.
An avid traveler, he did most of the driving this summer on a 10,000-mile road trip to Alaska with his wife.
But his job as a gunner during the war sandwiched him between two loud machine guns in a B-24 bomber and badly damaged his hearing. He has worn hearing aids since the 1960s.
The war also resulted in what he described as a mild case of post-traumatic stress disorder.
Behunin probably could have been collecting disability pay for decades, but he didn't apply until a friend suggested it about seven years ago. He wound up with a 90 percent disability rating for hearing loss, tinnitus, and PTSD. Being declared unemployable raised his pay to the 100 percent level.
He said it provided a much-needed supplement to the $2,900 in Social Security that he and his wife collect each month.
"What kind of job could I get?" he said. "I couldn't stand up all day on a retail floor."
When the VA created the unemployability benefit in 1934, Social Security didn't exist. Manual labor was the only option for most workers, and the Great Depression was in full swing.
The benefit was a safety net for veterans who couldn't work because of health problems that began in the military and whose disability ratings, based on a formula combining their conditions, fell shy of 100 percent.
In 1945, as disabled World War I veterans continued to fall out of the workforce, the VA adopted a regulation ensuring eligibility to veterans of any age. That decision underlies much of the current growth.
More than half the 137,343 veterans approved since 2010 were 65 or older, including 13,684 who were at least 75, according to VA statistics.
The largest group served in the Vietnam era. Many joined the disability system over the last decade as the VA expanded eligibility for PTSD and diabetes, heart disease, prostate cancer, and other common conditions on the presumption they were caused by exposure to the herbicide Agent Orange, used to clear jungle vegetation in the war.
Once in the system, veterans are eligible for the unemployability benefit if their ailments are deemed too severe for them to work and their disability ratings reach a certain threshold, usually 60 or 70 percent, depending on their mix of conditions.
William McMath, a psychologist who conducts disability examinations at the VA Medical Center in Northport, New York, said decisions about unemployability are often subjective and that it is easy to be swayed by elderly veterans who are struggling financially.
Joe Meredith, who served in Vietnam and now works in northern Michigan helping veterans secure disability benefits, said many of his clients have had long careers and use the unemployability provision to supplement their retirements.
"Someone has spent 30 years working for General Motors, 30 years in the military or 30 years driving a bus," Meredith said. "Now they are retired. And guess what? They're a Vietnam veteran and they're going to jump on the bandwagon."
He said he advocates for them as a way to right the wrongs of the past — a draft system biased against the underclass and poor treatment after the war.
"If a guy gets $3,000 a month, maybe that evens the score a little," he said.
The unemployability benefit has been controversial for at least a decade.
The GAO's 2006 report said the law does not give clear standards for classifying veterans as unemployable. The VA inspector general has found widespread geographic variation in how it is awarded.
Restricting the benefit to veterans younger than the full retirement age for Social Security — 65 or 67, depending on the recipient's birth year — would save $17 billion over the next decade, the Congressional Budget Office estimated last month.
To provide context, the report noted that 37 percent of U.S. men 65 to 69 remain in the labor force. That figure falls to 11 percent for men over 74.
Advocacy groups have attacked age caps as unfair to veterans who want to keep working.
Joe Violante, national legislative director for Disabled American Veterans, said any age cap would be arbitrary and noted that many U.S. senators are 65 or older.
"This is about how we can save money on the backs of disabled veterans," Violante said.
A 2007 study for the VA found that veterans classified as unemployable had a higher mortality rate than other veterans with similar standard disability ratings — evidence that on the whole the designation was not arbitrary.
Elected officials have been unwilling to touch the benefit. The last to try was then-Sen. Larry Craig (R-ID), who held a hearing on it in 2005 but found little support.
Craig's concerns included that the benefit was hurting younger disabled veterans by creating an incentive not to work. A total of 16,663 recipients — or 5 percent of the total — are under 40.
Sen. Patty Murray (D-WA), argued that the benefit was being used as intended and reviewing it would add to the stigma many veterans feel when seeking help.
While a standard disability rating, even 100 percent, carries no restrictions on working, the unemployability benefit requires recipients to earn less than the federal poverty cap of roughly $12,000 a year.
Isaiah Kyseth left the Army in 2007 after damaging discs in his back during a training exercise and suffering more injuries in an off-duty car accident. He never went to war.
The VA eventually rated him 80 percent disabled and declared him unemployable, he said.
His rating covers not only his back, he said, but also a hernia repaired while he was serving and PTSD from the car accident and the deaths in Iraq of several soldiers from his unit.
Kyseth had hoped to make the military a career. "I lost my entire sense of purpose," he said.
For a time he attended music school in Hollywood under the GI Bill, hoping to become a producer. But he said he'd rather keep his 100 percent payments than work.
"I am permanently disabled for the rest of my life at 31."
AFP Photo/Jean-Sebastien Evrard
Interested in national news? Sign up for our daily email newsletter!