'Serving The Servant: Remembering Kurt Cobain'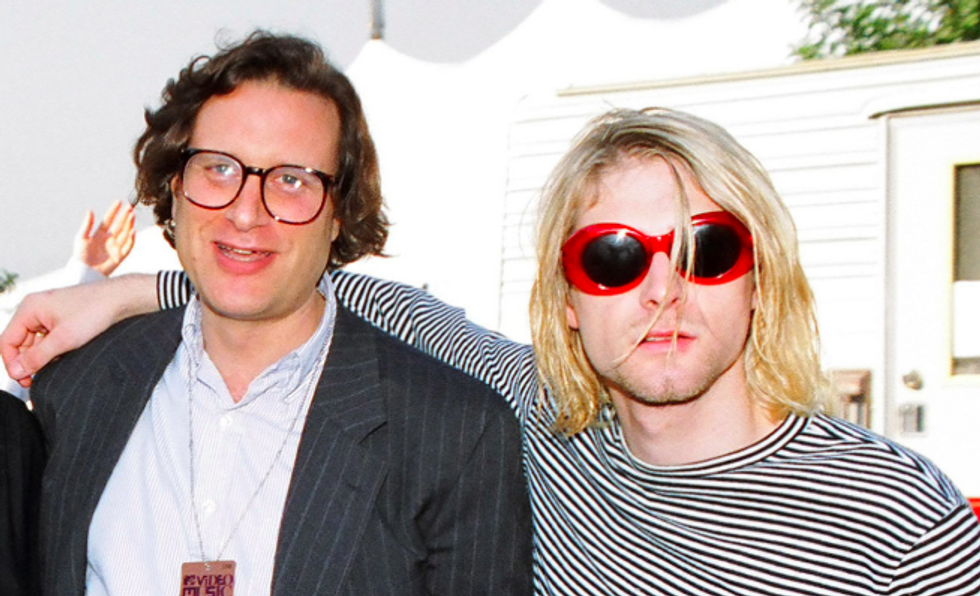 Author and progressive activist Danny Goldberg managed Nirvana as they reached the pinnacle of rock music. He was so close to Kurt Cobain that the iconic band's leader saw him as a "second father." In this excerpt from his moving new memoir, Serving The Servant: Remembering Kurt Cobain, Goldberg explores the young songwriter's political values and his instinct to stand up for the bullied and oppressed when he fought an anti-gay ballot initiative in Oregon.
On September 10, 1992, Nirvana flew to Portland where they played a benefit to more than 10,000 people at an outdoor venue called Portland Meadows. The proceeds went to help fund the No On 9 campaign which was an effort to defeat an anti-gay initiative on the Oregon ballot the coming November.
It had been a year since Kurt had asked me to have the record company change Nirvana's press-kit to reduce the emphasis on politics. He hadn't wanted the first impression Nirvana made on new rock fans to be that of being a "political" band like the Dead Kennedys or Fugazi even though both bands had inspired him. Shortly after Nevermind was first released he explicitly laid this concern out in an interview with a Malaysian journalist "We're politically aware as individuals but we don't like to force our opinions down people's throats. Political bands haven't been very effective, you can't expect a rock n roll band to have a lot of political impact. First and foremost we're entertainers."
However, now that Nevermind had sold millions of albums he was ready to make another course correction. The character Kurt created for himself balanced humor, music and punk anger with progressive values. He embraced his inner dork but he also hated cultural conservatism. With a sense of greater responsibility because of his new fame, Kurt decided to be more outspoken on certain political issues, particularly those connected to feminism and to gay rights.
In that new context, the benefit happened easily. A couple of months earlier I had gotten a call from Gus Van Zant, the director of widely acclaimed films Drugstore Cowboy and My Own Private Idaho, who asked me if I would speak at a fundraiser to oppose an anti-gay initiative that was on the ballot in November in Oregon. It was going to be at his agent John Burnham's house and Roseanne and Tom Arnold would speak (In those days, Roseanne was a lefty) but they wanted an ACLU person as well. I readily agreed, and then Van Zant sprang his real agenda on me. What about Nirvana doing a benefit concert in Portland to raise money and visibility for the campaign? I knew that Kurt was a fan of his films and would be supportive of the issue but given the level of commitment a concert involved, I asked the director to make a personal pitch.
In due course Van Zant and his boyfriend Dirk Jan Hannraadts (who called himself DJ) had dinner with Kurt. Courtney, Rosemary and me at our house. Kurt begged off attending the Hollywood fundraiser which was the next night as he was never comfortable in that milieu but he immediately agreed that Nirvana would play a benefit concert.
The offensive ballot initiative had been cooked up by a right-wing group called the Oregon Citizen's Alliance. Oregon Ballot Measure 9 ,as it was officially called ,would have added this language to the State constitution "All governments in Oregon may not use their monies or properties to promote, encourage of facilitate homosexuality ,pedophilia, sadism or masochism. All levels of government including public education systems must assist in setting a standard for Oregon's youth which recognizes that these behaviors are abnormal, wrong, unnatural and perverse and they are to be discouraged and avoided." Among its many odious effects, passage of the bill would have prevented homosexuals from teaching in Oregon's public schools.
Oregon had the reputation for liberalism and had a punk rock scene of its own but the state also had a significant cohort of religious conservatives . Ballot initiatives are always nerve-wracking because a mobilized impassioned minority can prevail if most voters aren't focused on it and leave it blank on their ballot.
Scot Nakagawa, the Director of Statewide Development of the No on 9 Campaign, explains, "The LGBT community in general was terrified. In 1988 the Oregon Citizens Alliance(OCA) was the sponsor of Ballot Measure 8 which attempted to roll back Governor Neil Goldschmidt's executive order banning discrimination in public employment against those perceived to be LGBT. Ballot measure 8 won largely because of ads run by the OCA that propagated the idea that gay men are sexual predators and that sexual molestation at a young age is involved in the development of gay identity. A community that had been defamed, shamed and defeated just four years before was now, once again, thrust into the spotlight. No on 9 became about redemption. "
As far as I can tell Kurt never had gay lovers. He had, however, long identified with the gay community as allies in the struggle against intolerance and bullying and many of his artistic heroes were gay. Kurt described his hometown of Aberdeen to fanzine writers Jim Grotty and Michael Lane: "It's a very small community with a lot of people who have very small minds. Basically if you're not prepared to join the logging industry you're going to be beaten up or run out of town." Kurt added, "If I wasn't attracted to Courtney, I'd be bisexual."(The interview was in the couple's apartment and Courtney, overhearing this remark, jokingly yelled "faggot!" ).
Kurt told Rolling Stone's Michael Azerrad that in high school he was "proud of almost being gay. I had a gay friend who made a pass. I flatly told him I wasn't gay but said I'd still be his friend. I almost found my identity." Feminist music historian Ann Powers remembers being impressed by "the way Kurt presented himself to the world, the way that he performed queerness even though he himself was into women. In 2018 we have the term 'gender queer,' meaning that the way you present yourself is separate from your sexuality. That was him in the early nineties when there was no name for it. "
Although Nirvana was the headliner of the No On 9 benefit, several other artists, including Poison Idea and Helmet went on earlier. Jello Biafra was the MC. He had been the lead singer of The Dead Kennedys ,one of the bands that Kurt often cited as an exemplar of radical politics in the punk world. By 1992 Biafra had re-invented himself as a spoken word artist and he was pleased to play a role at the benefit. "It was quite a cool honor considering how big those bands were and I was still way below the glass ceiling doing the underground thing. I had been pleasantly surprised by how outspoken and activist a lot of the key grunge bands turned out to be. It wasn't all seventies cock rock."
Biafra felt "the fact that Nirvana would even play a show like No on 9 over what was such a volatile topic I thought was great." In between sets, he wandered around the crowd and heard some kids saying stuff like "I thought this was just a Nirvana show. I didn't know it was gonna be about faggots." Biafra believes that the concert " helped open some eyes, turned some people around."
Nirvana did one of their longer sets and there was little reference to politics until almost the end of the concert after they performed "Blew," when Kurt and Krist described a confrontation with Axl Rose he'd had the day before at the MTV Awards.
KURT: You know yesterday my wife and I were sitting in a tent at the MTV music awards and Axl Rose walked by us and we yelled "Axl, will you be godfather of our child?" and he stopped and turned around and pointed his finger at my wife.

KRIST: With his bodyguard.

KURT: Yeah, he had about twenty bodyguards with him and like the Madonna documentary, he's got this little film camera with him.

KRIST: And you had a little three week old baby in your arms.

KURT: I had a little helpless child in my arms and so he said to my wife, "You better shut up bitch, don't pitch me any shit tonight,"  because 'tonight' was obviously the highlight of his career—asshole!

KRIST: (quoting Rose's notorious lyrics): "Niggers and faggots"—he said so.

KURT: And then he looked at me and said, "You better keep your wife's mouth shut or I'm gonna take you to the pavement," and I was shaking and I said, "What are you gonna do? You're gonna beat me up?"' and he said, "You better keep your wife's mouth shut. You embarrass everybody, you embarrass your wife, you embarrass your old man, you embarrass me," and I was shaking.

KRIST: True story. You heard it here first. And then I ran into Duff McKagan and that guy wanted to fight me and he had three bodyguards who were like pushing me around.
At this point a boy who appeared to be in his late teens jumped on stage and tried to get Kurt's attention. Kurt waved security guys off and let the obviously stoned fan talk into the microphone.
FAN: Hey man I'm not sticking up for Axl or anything, and I'm not sticking up for Kurt.

KRIST: You gotta take sides man, you're either Yes on 9 or No on 9, you gotta take sides man

FAN: I'm No on 9 but I'm talking about Axl here.

KRIST: You're talking about an asshole.

FAN: Man, I think you should let music be music man, let everyone express what they want man, be it hard rock, be it Nirvana.

KURT: But you can't like a rock star who obviously likes to beat up women and likes to control women and likes to tell women to shut up, who obviously is a racist and a homophobe. He does have the right to speak his mind– but so do we.
The kid sheepishly nodded in agreement and shook Kurt's hand and the crowd roared. It seemed as if Kurt had changed the kid's mind in front of thousands of people. I thought it was one of the greatest rock and roll moments I'd ever witnessed. Then the band performed "All Apologies" which hadn't yet been recorded; it was the first time I'd heard the lyrics including the line "What else could I say? Everyone is gay."
In an email decades later, Nakagawa referred to Nirvana's performance as a key inflection point in the campaign. "An evangelical right-wing group gathered enough signatures, in record time, to put a question on the ballot that was widely understood to be, in essence, 'is this group fully human?' Donors to oppose the initiative weren't coming forward .We needed to change the story and the Nirvana concert helped to do so. Nirvana helped make the campaign magnetic. The number of volunteers soared, donor confidence rose, and many in the community felt redeemed. They felt less alone, less scared. It made us cool, and cool is more than a pair of sunglasses. Cool is current, culturally relevant, influential, and included."
In November, Oregon Ballot Measure 9 was defeated by thirteen points.
Excerpted from Serving The Servant: Remembering Kurt Cobain. Copyright © 2018 by Daniel Goldberg. Used with permission of the publisher, HarperCollins Publishers. All rights reserved.
IMAGE: Nirvana manager Danny Goldberg (left) and Kurt Cobain.