Seven Dead After Train Hits Car Outside New York City
@AFP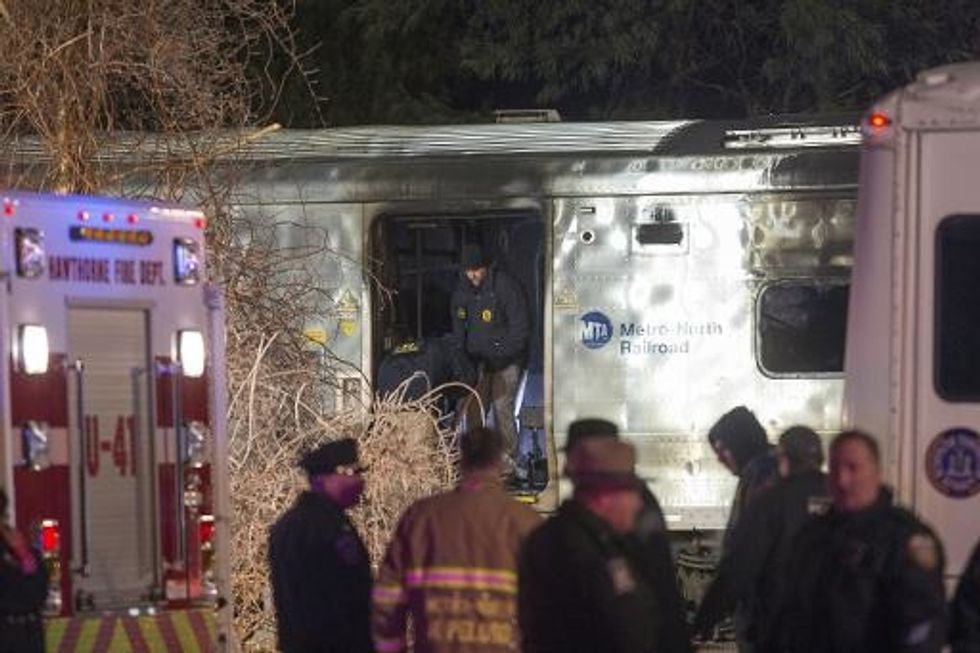 New York (AFP) – A packed commuter train crashed into a car on the rails outside New York City during evening rush hour, killing seven people, officials said.
The driver of the car and six people in the first carriage of the train were killed when the train slammed into an SUV vehicle around 6:30 pm, triggering an explosion and fire, Governor Andrew Cuomo told a late night news conference.
The blast caused the electrified third rail of the train tracks to rise and ram through the train car, Cuomo said.
"This is a truly ugly and brutal sight," he said.
"You have seven people who started out today to go about their business and aren't going to make it home tonight," the governor said.
Metro-North, the train operator, confirmed a Harlem line train had struck a vehicle but did not immediately announce fatalities or details.
Authorities scrambled to help hundreds of shell-shocked passengers off the train, which had departed from Grand Central Terminal in Manhattan, the MTA (Metropolitan Transportation Authority) and passengers told NBC.
The collision occurred in Valhalla, just outside New York City. Several U.S. media outlets reported a dozen people were hurt.
Pictures posted on Twitter showed a train car ablaze with thick black smoke billowing into the evening sky. Others showed what appeared to be the same carriage, gutted by smoke and fire and with its windows shattered.
Passenger Neil Rader was sitting in the middle-back of the train when he felt a "small jolt," he told NBC.
"It felt not even like a short stop, and then the train just completely stopped," he said.
Frantic passengers had to evacuate by breaking glass on the doors to get out, said Rader. He added that he saw 50 to 60 ambulances at the scene.
"I've never seen anything quite like it," he said.
Justin Kaback, 26, a passenger in the third train car, was doing his daily commute home when the train felt like it hit a bump, he told The Wall Street Journal.
But then people began entering his car from the front of the train, reporting gas smells.
"I started moving," Kaback said. "Nobody wanted to yell out, 'The train's on fire' because there would have been a panic."
Photo: Police investigate a Metro-North train crash on February 3, 2015 in Valhalla, New York (AFP/Michael Graae)