Seven Hour Truce Ends In Gaza; Israel And Hamas Both Claim Violations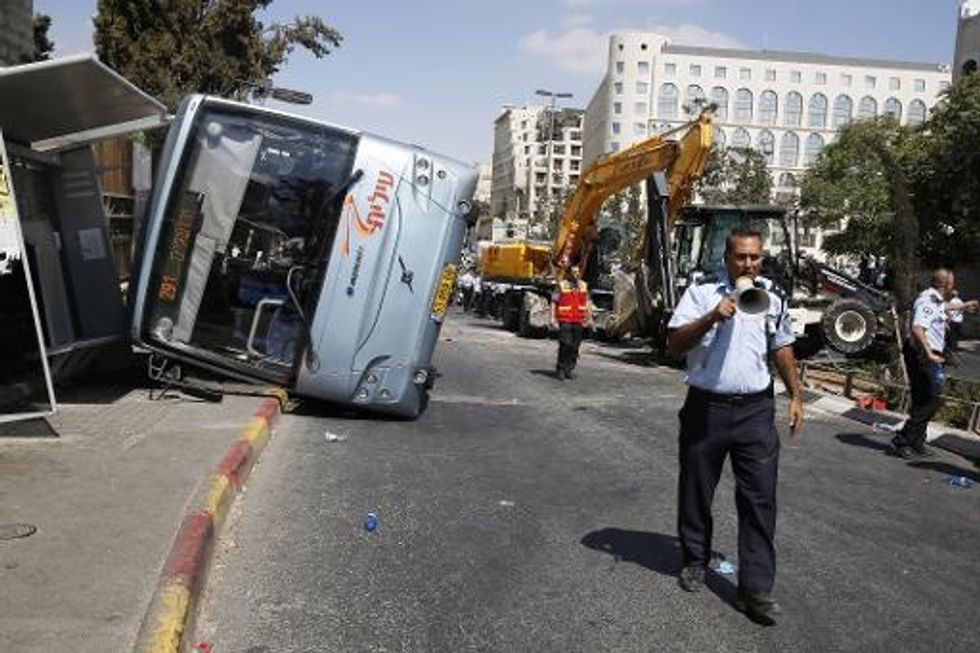 By Laura King and Batsheva Sobelman, Los Angeles Times
GAZA CITY — A seven-hour cease-fire in the Gaza Strip on Monday ended as have previous short-term truces: with the two sides accusing one another of violations. At the same time, a pair of relatively small-scale attacks in Jerusalem — one carried out with a piece of construction equipment — rekindled fears that the Gaza conflict's repercussions could spread.
The pause in fighting, which began at 10 a.m. local time, did not apply to Rafah, at the strip's southern tip, which has been the scene of heavy fighting since Friday morning.
Those clashes precipitated the breakdown of the last brief cease-fire, one of several to collapse soon after being declared. Palestinians have used previous lulls in the fighting to stock up on food and water and scour ruined homes for any possessions that can be salvaged, and they did so again Monday.
In the hours just before the hiatus, Palestinian militants fired more rockets into Israel and Israel bombarded the coastal enclave with airstrikes, artillery fire, and shelling from naval vessels offshore. Israel said dozens of rockets were fired from Gaza during the hiatus, and Palestinians said an Israeli airstrike on a seaside refugee camp that killed an 8-year-old girl had taken place after the cease-fire began.
Hamas derided the temporary truce as a ruse meant to divert attention from "Israeli massacres."
Israel had drawn international condemnation with a strike on Sunday at the gates of a U.N. school in Rafah sheltering displaced Palestinians, which killed at least 10 people. Israel says it struck a target nearby — militants on a motorcycle — and was still checking on what ordnance had fallen next to by the school entrance.
But both the United States and the United Nations issued sharp statements demanding that more care be taken to avoid hurting and killing civilians. The Obama administration called the strike "disgraceful."
Human Rights Watch charged Monday that Israeli forces in the southern Gaza town of Khuza'a had committed war crimes by firing on and killing civilians between July 23 and 25.
The organization said Israeli forces had provided general warnings to the town's residents to leave the area prior to July 21. However, it said, Israel had a responsibility to avoid civilian casualties, even if people ignored the warnings.
"Warning families to flee fighting doesn't make them fair targets just because they're unable to do so, and deliberately attacking them is a war crime," said said Sarah Leah Whitson, Middle East director at Human Rights Watch.
A spokesman for the Israel Defense Forces said he was not aware of the Human Rights Watch charge, and had no immediate response.
Most Israeli ground forces are gone from Gaza, Israeli media reports say, but some remain on the periphery of the strip, continuing to destroy tunnels leading into Israel. More than 30 have been rendered useless, the army says.
Thousands of troops were inside Gaza at the height of the ground offensive, though Israel as a matter of policy did not provide an exact figure.
The Israeli military said a strike before dawn killed a leader of Islamic Jihad, an ally of the militant group Hamas, which dominates the territory. The army identified the dead man as Danyal Mansour, Islamic Jihad's commander in northern Gaza.
Palestinians said at least six others died in the strike as well.
Hours after the deadly attack on the Shati refugee camp in Gaza City, which injured about two dozen people in addition to killing an 8-year-old girl, the Israeli military had still not identified the intended target. The military said the strike took place "around" 10 a.m. local time, when the truce was beginning, leaving open the possibility that it had been a few moments later.
Anger over bloodshed in Gaza has been growing among Palestinians in east Jerusalem and the West Bank, and Monday saw an attack using a tactic that was familiar more than a decade ago.
Authorities said a Palestinian man apparently stole a piece of heavy machinery from a construction site, then used it to ram vehicles, including a nearly empty bus, in the nearly all-Jewish western part of the city.
One man was reported killed and six others hurt in the attack; the assailant was shot by police and died of his wounds. Police spokesman Mickey Rosenfeld tweeted that the incident was being treated as a terrorist attack.
A short time later, another assailant, this one on a motorcycle, shot and wounded an Israeli soldier, and then fled toward a Palestinian neighborhood in east Jerusalem, officials said. The shooting victim was reported in serious condition.
Special correspondent Batsheva Sobelman reported from Jerusalem, Los Angeles Times staff writer Laura King from Gaza City.
AFP Photo/Gali Tibbon
Interested in world news? Sign up for our daily email newsletter!