Sexism? Misogyny? That's So Last Week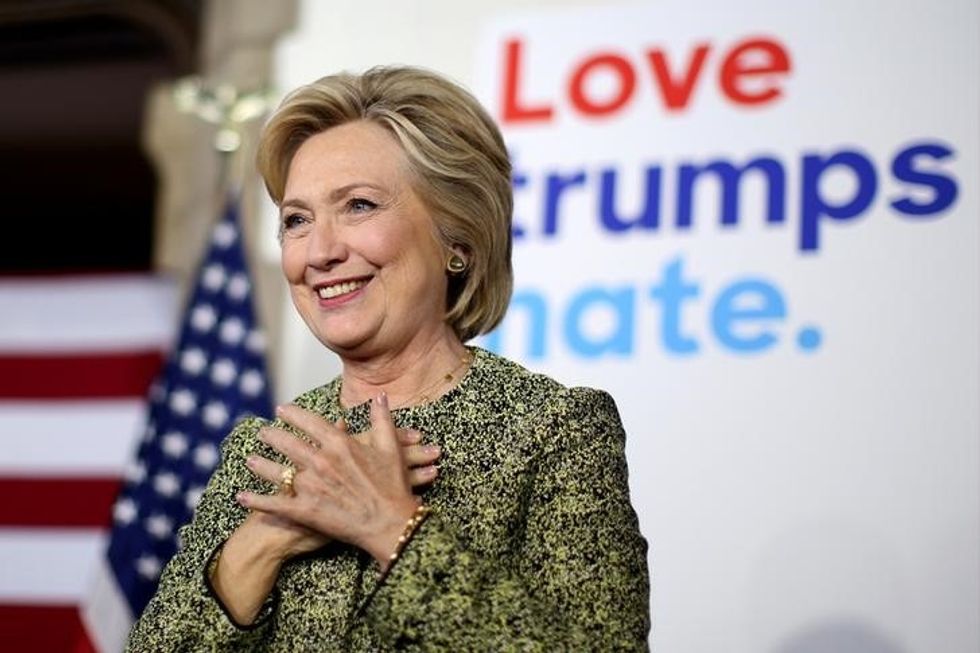 In the months leading up to the presidential election, the media coverage was full of references to the perils of running while female.
A few headlines from this fall:
PBS: "The hidden sexism that could sway the election."
The Atlantic: "Fear of a Female Candidate."
Fortune: "Why Sexism Is So Central to This Presidential Race."
NBC News: "Obama Says Sexism to Blame for Close Presidential Race."
This narrative was fueled, in large part, by all the horrible things Donald Trump has said about women.
To refresh the astonishingly short memories among us: Trump said he'd look Rosie O'Donnell in that "fat, ugly face of hers" and tell her she was fired. As Megyn Kelly reminded us, he has called women he doesn't like "fat pigs," "dogs," "slobs" and "disgusting animals." After Kelly asked Trump about this at the first Republican primary debate, he later described her as having "blood coming out of her wherever."
About our gender, Trump has said, "You have to treat them like s—-." Weeks before the election, The Washington Post shared a video in which Trump, at my age of 59, bragged about getting away with sexual predator behavior, advising another man to grab women by their genitals. In his final debate with Hillary Clinton, he called her "a nasty woman."
Eventually, even stuffy news organizations were willing to describe this behavior for what it was: sexism, for the timid, and misogyny, for those tired of the tap dance. We even saw some conversations about what such rhetoric was bringing out in men who saw in Trump the permission to say out loud what they've thought of us all along.
Many of us women dared to think that we, as a nation and an electorate, were finally willing to name the problem and confront it.
Then Trump won enough electoral votes, if not the popular vote, to be our next president.
Poof.
Now the analysis is all about the white working-class voters who supported him. They are not the only reason he won, but they are the convenient focus now for guilt-ridden journalists who failed to listen to an entire swath of America.
The new narrative is that we — including people of color and women — must understand the anger of the white working class. It's the economy, insist their shiny new defenders.
I do not doubt that many of these voters are, indeed, angry about what has happened to their jobs, their families and their communities. They believe that Trump cares about them, which is yet another sin he has committed against the electorate.
However, I come from the white working class. I cherish my roots, but I caution against romanticizing them. We have always had our darker side, fueled by a fear of "the other," which often includes women.
Yes, many — but not most — women voted for Trump. Disappointing, but not shocking. Finally, perhaps, we can lay to rest the fiction that all of us women are alike.
Hillary Clinton has lost, again. Cue the collective relief in pundit-land. Sexism? Misogyny? So last week. We're now supposed to pretend that patriotism requires that we unite behind the man who has made so clear his long disdain for us. If we dare to continue pointing this out as evidence for our distrust, we are "divisive" and "poor sports."
The Democratic Party offers little comfort right now. All the potential names floated for the next chairman of the Democratic National Committee are male. Ditto the names, so far, of potential challengers to House Minority Leader Nancy Pelosi.
Fascinating, this unwillingness even to pretend to care how that may look to us, the message we hear. You had your chance, girls. Now step aside.
Fortunately, we have long memories, and we are not where we started this long presidential campaign.
A poem by the late Yosano Akiko, a Japanese writer and feminist, has been making the rounds. Written in 1911, it is titled "The Day the Mountains Move":
The day the mountains move has come.
I speak, but no one believes me.
For a time the mountains have been asleep.
But long ago they all danced with fire.
It doesn't matter if you believe this,
my friends, as long as you believe:
All the sleeping women
are now awake and moving.
We are restless, but we are still here.
Connie Schultz is a Pulitzer Prize-winning columnist and professional in residence at Kent State University's school of journalism. She is the author of two books, including "…and His Lovely Wife," which chronicled the successful race of her husband, Sherrod Brown, for the U.S. Senate. To find out more about Connie Schultz (con.schultz@yahoo.com) and read her past columns, please visit the Creators Syndicate webpage at www.creators.com.
IMAGE: U.S. Democratic presidential candidate Hillary Clinton reacts after speaking at a campaign event at Temple University in Philadelphia, Pennsylvania, U.S. September 19, 2016. REUTERS/Carlos Barria