She Took On The Bully, And She Won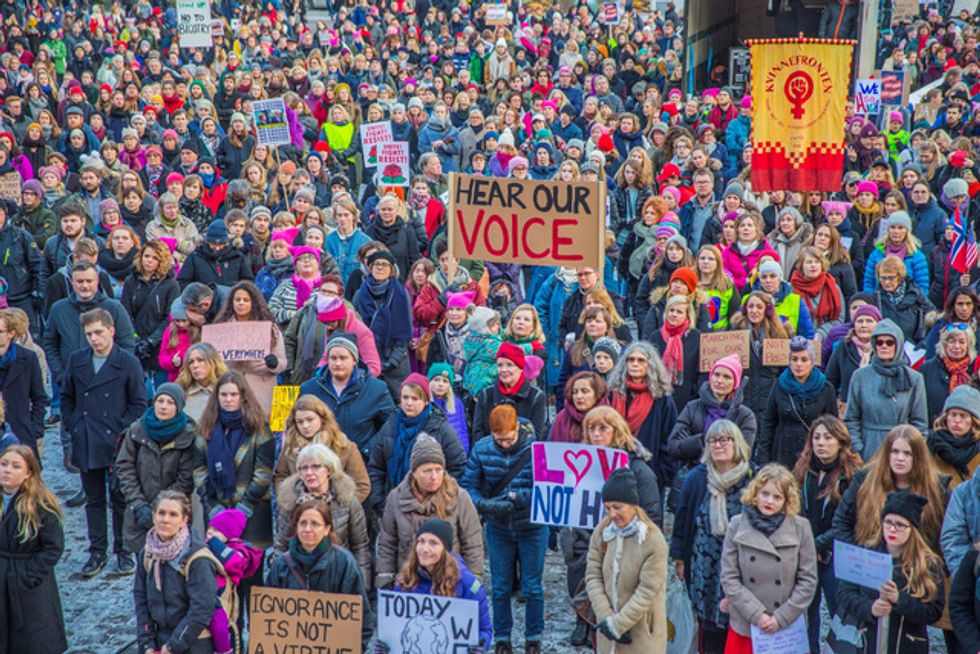 Reprinted with permission from Creators.
Last January, John Carman returned from Donald Trump's inauguration apparently so puffed up that he decided to make fun of the much larger crowd at the Women's March the next day.
This, in itself, is not news. There are plenty of men in America who would rather mock women than try to understand them. Carman, however, is one of nine elected members of Atlantic County's freeholder board in New Jersey.
Carman, a Republican, was up for re-election Tuesday.
This is where it gets interesting.
Carman shared a Facebook meme of a photo depicting a woman serene in her domesticity. She is leaning over a pot on the stove, the lid in her right hand as she stirs with a spoon in her left, her nose poised to sniff what's cookin'. The meme reads: "Will the woman's protest be over in time for them to cook dinner?"
"Just asking?" Carman added.
As Amy S. Rosenberg reported for The Philadelphia Inquirer, plenty of people objected to his sexism.
Carman's response: "Some people just have to get a sense of humor." He supports women's rights, he insisted. But c'mon. "It's not like we're in the 1700s."
As Rosenberg further reported, he kept going. "I will support anyone who wants to march. I am a proponent for women's rights. With that said, some of these marchers, with their vulgarity and replicas of female body parts on your head, they hurt the cause rather than help it. I'm saying, 'Come on, really?' That's the part that turns you off."
To be clear here, nobody put a replica of a female body part on Carman's head. And I, for one, have no interest in what does turn him on.
At the next freeholder meeting that January, dozens of women showed up to confront Carman. Rosenberg, being the journalist that she is, let Carman speak for himself, again.
He was still not going to apologize, dang it. "The women I'm surrounded by — my family, my friends, my colleagues — are all strong, confident women, women who are sure of themselves. They didn't get offended by this."
I'm dying to know how all of those women felt about Carman's casting them as being as clueless as he is, but let's move on.
Here's where it gets even more interesting.
One of the women in attendance that night was Ashley Bennett. She is a psychiatric emergency screener, and she left the meeting after Carman refused to apologize.
"I walked out," Bennett said, "because you had the entire time to sit and collect your thoughts and hear what people were saying and instead of apologizing and saying you could do better, you disrespect people and say the people you surround yourself (with) are strong. There are a lot of people who are strong."
People such as Bennett, it turns out.
She decided to run for Carman's seat as a Democrat.
On Tuesday, she won.
Four days before the election, I had spent a half-hour or so leafing through a stack of illustrated children's books I bought as Christmas gifts for our six grandchildren. The characters in the stories reflect the diversity of our country. The girls are strong and sensitive. The boys are gentle and brave. And the adults talk less and listen more. They are the children's books I hunted for, mostly in vain, when my children were little.
Then, on Tuesday, Ashley Bennett won.
As it so often does these days, my mind went to how to explain moments such as this to the children in our lives. How do we describe why her victory matters?
It is so gratifying to imagine this children's tale.
The bully mocked Ashley and her friends. Instead of saying he was sorry, he blamed them for not laughing.
Ashley was so upset that at first, she just walked away.
But then her friend the wind showed up, blowing away the snow around her feet and clearing her path for miles.
"Run, Ashley," the wind whispered. "Into your future, run."
And that's exactly what she did.
Connie Schultz is a Pulitzer Prize-winning columnist and professional in residence at Kent State University's school of journalism. She is the author of two books, including "…and His Lovely Wife," which chronicled the successful race of her husband, Sherrod Brown, for the U.S. Senate. To find out more about Connie Schultz (con.schultz@yahoo.com) and read her past columns, please visit the Creators Syndicate webpage at www.creators.com.