Shock Poll: Most Americans Believe Russia Has 'Compromising Information' On Trump
@EricBoehlert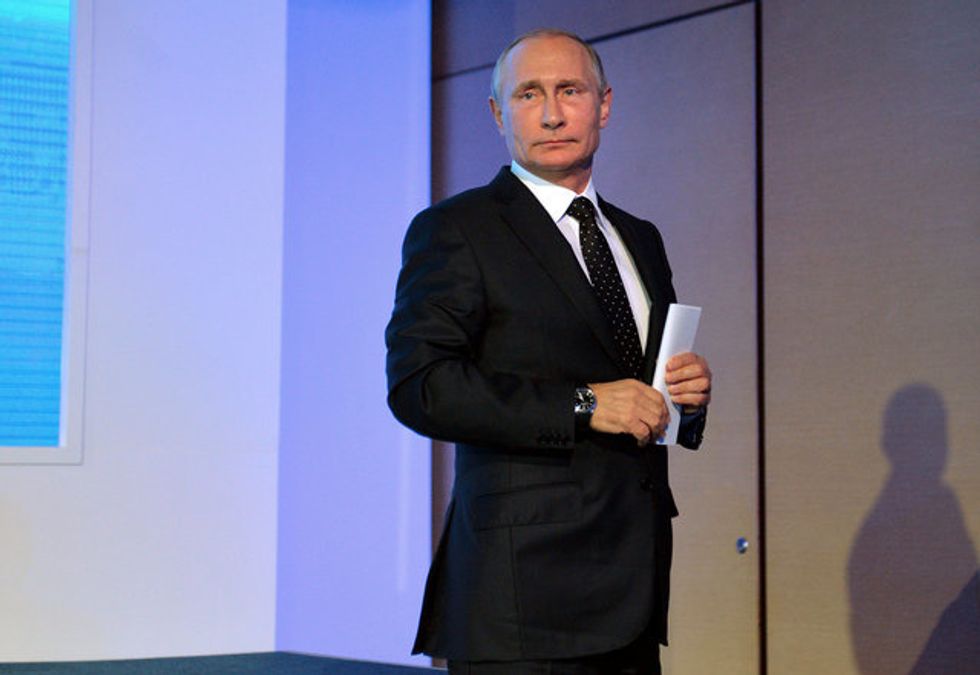 Reprinted with permission from Shareblue.
Trump's treasonous summit with Russian President Vladimir Putin last week rattled Americans, most of whom now think Russia has Trump compromised.
American voters by a margin of 51-35 percent believe "the Russian government has compromising information about President Trump," according to a Quinnipiac University poll released on Tuesday.
It's a stunning development and indicates just how deep the doubts run about Trump and his constant, frantic attempt to appease Russia's leader at all costs, even after Russia attacked U.S. elections in 2016.
Even among Trump's key supporters, a belief that Russia has something on Trump is strong. "44 percent of white voters with no college degree believe the Russians have something," Quinnipiac reports.
Meanwhile, 68 percent of American voters are "very concerned" or "somewhat concerned" about Trump's relationship with Russia. And a clear majority (54-41 percent) don't think Trump was acting in the best interest of the U.S. while in Helsinki.
That's remarkable, considering that acting in U.S.'s best interest is really the most fundamental job that an American president has.
There has been long-running suspicion that Russia officials over the years have been able to accumulate all kinds of embarrassing information about Trump's business and personal life, and that that might explain his endless desire to appease Putin.
At the Helsinki summit, Trump attacked U.S. law enforcement and intelligence agencies while standing mere feet away from Putin. Trump's radical capitulation also came just days after 12 Russian intelligence officers were indicted for hacking our election.
After Helsinki, Trump entertaining the idea of letting Russian officials interrogate American citizens who happened to be prominent Putin critics.
Senior intelligence officials were stunned by the development.
"If the White House cannot defend and protect our diplomats, like our service members, they are serving a hostile foreign power not the American people," warned former U.N. ambassador Susan Rice.
Republicans in Congress were so startled by the idea they joined with Democrats in passing a unanimous resolution firmly opposing any such plan.
Not surprisingly, in the wake of his disastrous summit performance, Trump's approval rating in the Quinnipiac poll fell five points from June. He now sits at a lowly 38 percent. To put it in context, it took President George W. Bush six years and a lost war in Iraq before his approval ratings fell to 38 percent.
The Quinnipiac poll contains additional bad news for Trump: More Americans hold a positive view of special counsel Robert Mueller's Russia investigation. Overall, 54 percent think the probe is "legitimate," which is an improvement of 6 points over the June survey.
It looks like Trump really is in trouble.
Published with permission of The American Independent.