Shorter Road Ahead For Driverless Cars
@FromaHarrop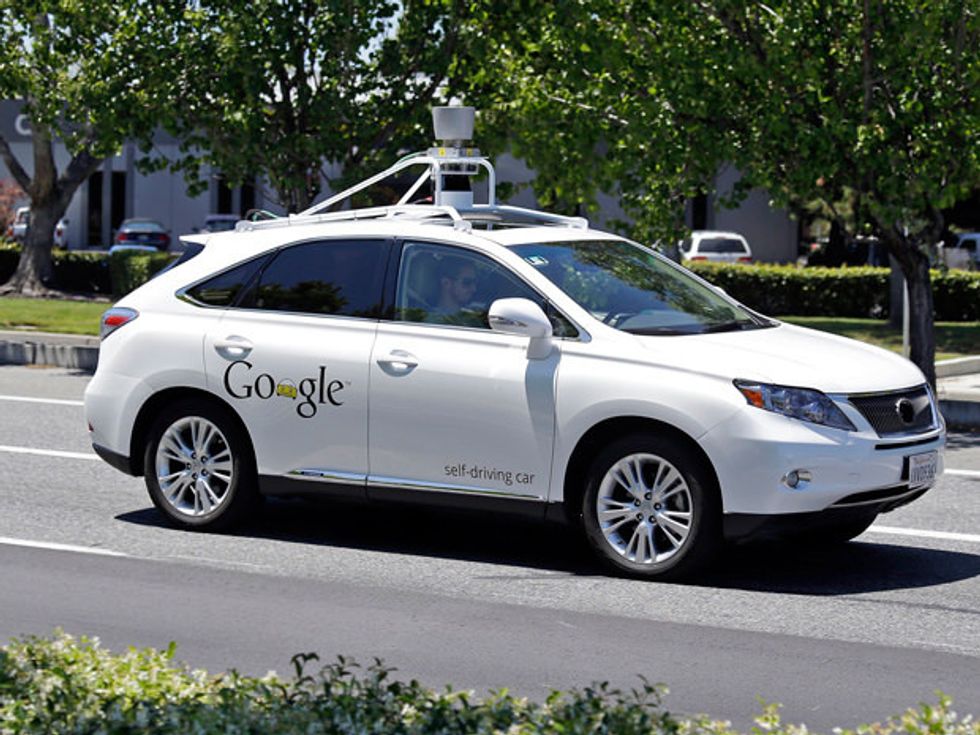 Friends keep orating that driverless cars are something in the far-ahead future. Apparently, they're not. That future is near.
Exhibit A is Google's decision to get into the auto insurance business. Now Google wants to be in everyone's business. But its foray into insuring drivers is highly plausible for a company deep into developing driverless cars.
In a driverless car, you the "operator" may be texting, drinking, or having sex, but if you're in an accident, it's the software's fault, possibly. Another nice thing about driverless cars is that we're far less likely to be in accidents. That's because humans and their frailties are taken out of the equation.
Obviously, we're still in the driver-driven reality, so the new Google auto insurance site will let car owners compare the rates on conventional coverage offered by various companies. Google gets two things out of this. One, it drains more personal data from users. Two, it takes a cut whenever someone picks a policy on its site.
But come the driverless future, the current model of auto insurance goes out the window. Accidents will be the fault of the software or the car's mechanics. And software will decide whether it or the metal is to blame.
"After an accident, the onboard computer and sensors will be able to determine whether it was caused by a poorly designed algorithm or a parts failure," Xerox insurance executive Valerie Raburn explains in The Wall Street Journal.
Fewer accidents and fewer humans mean that car insurance payments will go way down. In fact, they could be made to disappear. Raburn thinks that Google will eventually roll the cost of insurance into the price of its driverless cars. Thus, Google gets a third thing out of entering the auto insurance business: a monopoly on coverage.
Some predict that the whole notion of owning a car will dissolve. After all, one could easily summon a robotic chauffeur via an app, the way we can call a cab or an Uber car. (Surge pricing probably will be a lot harder to pull off.)
Two flies in this ointment. For starters, where will you keep the sunscreen, the extra pair of glasses, and the dog pillow, not to mention the yoga mat and cooler stored in the trunk? This is a semi-public space in which you have no hoarding rights.
The other concern is this: Suppose the occupants of the driverless car before you were slobs. You are picked up by a vehicle littered with empty soda cans and discarded tissues, pizza leavings on the seat. Human drivers can police the passengers in back for anti-social behavior.
One supposes there will be sensors and algorithms to detect littering, in addition to reading your mind. Perhaps an ejection seat mechanism can be attached. Just thinking.
That's down the road. What's in the now?
Britain has already permitted trial runs of driverless cars in several cities. The thingies on the road are being called not cars but "pods." They look like lopped-off Fiat 500s, if you can imagine.
In the United States, driverless cars will be tested in a make-believe town — Mcity — to be built by the University of Michigan and the Michigan Department of Transportation. Thrown in the cars' path will be mechanized pedestrians and bicycles, traffic circles, junk in the right lane, changing road widths, curb cuts, and an enormous collection of signs and traffic signals. If the cars can handle this, they may someday be able to master Shreveport, Louisiana, and Pawtucket, Rhode Island.
Driverless cars are clearly here, almost. Speed the day.
—
Follow Froma Harrop on Twitter @FromaHarrop. She can be reached at fharrop@gmail.com. To find out more about Froma Harrop and read features by other Creators writers and cartoonists, visit the Creators Web page at www.creators.com. 
Photo: General Physics Laboratory via Flickr