Our Sick Drug Business
@FromaHarrop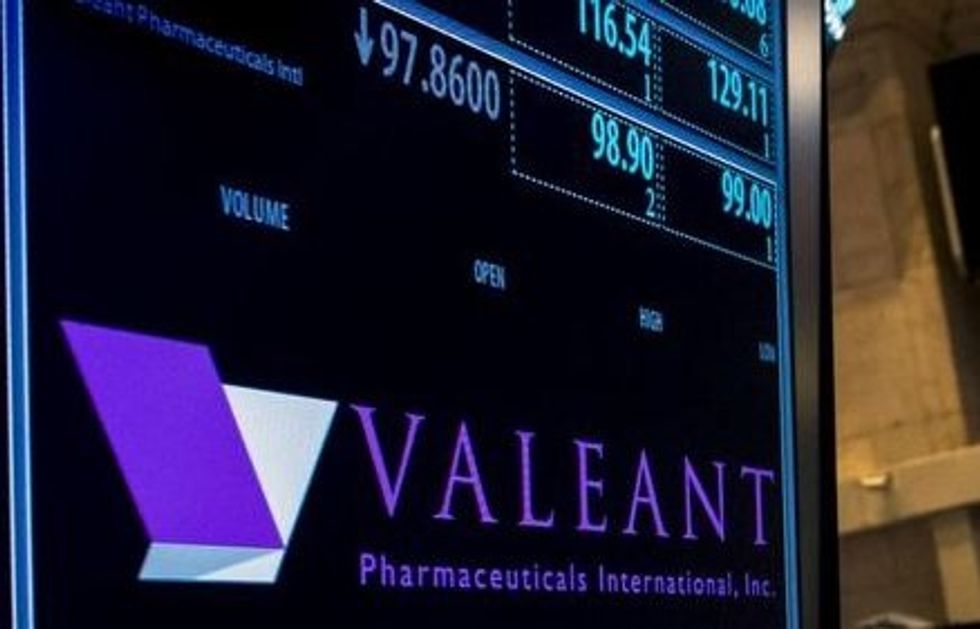 Sometimes the road to hell is paved with bad intentions. A company adopts a business model so twisted that justice must come clanking down on its executives and bankrollers. Justice is now being served on Valeant Pharmaceuticals International. Evil this blatant is headed for the full Hollywood treatment.
Valeant preys on sick people by acquiring essential drugs and then multiplying their price for a fast profit. Example: Upon buying the maker of Cuprimine, a 53-year-old drug that treats a rare genetic disorder, the Canadian company hiked its price 5,787 percent. Example: After obtaining the rights to two heart drugs, Isuprel and Nitropress, Valeant jacked up their prices by 525 percent and 212 percent, respectively.
Charlie Munger, the vice chairman of Warren Buffett's Berkshire Hathaway, called Valeant a "sewer" at the conglomerate's recent annual meeting. If the burning fires of hell are not available, a sewer will do.
Get this: Valeant charges Americans almost 100 times more for flucytosine than it does Britons. Used to treat cryptococcal meningitis, flucytosine costs $2,000 a day in the United States, versus $22 a day in Britain.
How could this be? Ask your Congress.
From the Medicare drug benefit on up, it has written laws to enrich drug companies at the expense of American consumers and taxpayers. Valeant's going down not because it was greedy but because it was insanely greedy.
Calling Valeant a "drug company" is problematic because it's not much into researching and developing new medications. "Bet on management, not on science," its outgoing CEO, J. Michael Pearson, was fond of saying.
It takes some doing to provoke the U.S. Senate to hold a hearing on a drug company's pricing. In this, Valeant (and previously Martin Shkreli's Turing Pharmaceuticals) succeeded.
Under the harsh lights, Pearson conceded that his company made "mistakes." His big mistake was not recognizing that even the most pliable champions of America's medical-industrial complex have their limits.
Pearson's description of Valeant's program offering price breaks for hospitals that use some of its drugs didn't glow for long. Hospitals responded that when they tried to obtain those alleged discounts, they got nowhere. Valeant didn't answer their emails. It didn't answer the phone.
What else made Valeant think it could get away with such anti-social behavior? No doubt Wall Street's willingness to invest in its money-raking scheme contributed. Hedge fund giant William Ackman was Valeant's leading pitchman, enticing other big funds to join in the pillage.
Valeant has problems in addition to a business model so repugnant it couldn't be allowed to live. Among them is a high pile of debt. And its accounting practices aren't so hot, either.
Thus, it's no huge surprise that Valeant's stock price has collapsed 85 percent since last summer. Ackman's Pershing Square Capital Management and other hedge fund participants have lost billions.
Ackman told the hearing that his fund was not entirely aware of Valeant's drug pricing policy. He was a "passive" investor, he said. Somehow the truth would have seemed less damning. Are we to believe that Pershing Square poured $4 billion into a company without inquiring as to how it made money?
In an almost comical exchange with the senators, Ackman said: "I totally get it. We're going to come up with an appropriate (drug) price based on an appropriate rationale."
All is not forgiven. Investors lost billions, but patients may have lost far more.
One hopes that spotlighting this egregious gouging on drug prices won't deter attention from the lower-level daily gouging that our laws enable. The only remedy for that, frankly, is new lawmakers.
Follow Froma Harrop on Twitter @FromaHarrop. She can be reached at fharrop@gmail.com. To find out more about Froma Harrop and read features by other Creators writers and cartoonists, visit the Creators Web page at www.creators.com.
COPYRIGHT 2016 CREATORS.COM
Photo: The ticker information for Valeant Pharmaceuticals International Inc. is displayed on a screen above the post where it's traded on the floor of the New York Stock Exchange November 4, 2015. REUTERS/Brendan McDermid