Slew Of Challenges For Republican-Led U.S. Congress In 2015
@AFP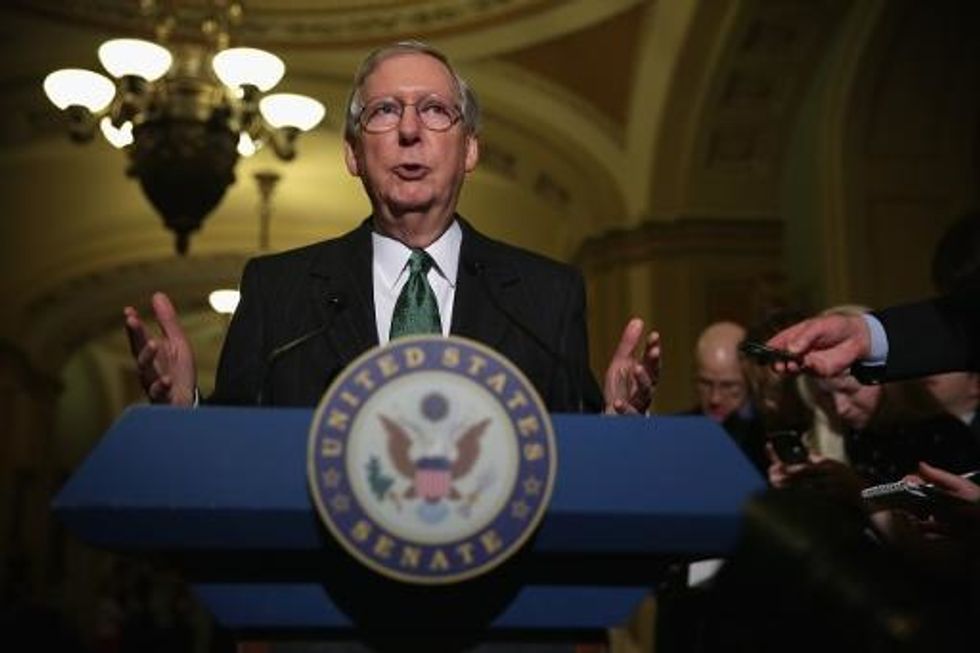 Washington (AFP) – The 113th Congress, which wrapped up December 16, was one of the least productive in modern history. Onward to 2015.
U.S. lawmakers return to Washington on Tuesday under a new, fully Republican banner after the party swept to victory in November elections.
Republican leaders will have plenty on their plate in the first quarter, as the party seeks to roll back President Barack Obama's legislative gains and press its own agenda ahead of the 2016 presidential race.
Conservatives are furious at Obama's recent use of executive orders, notably to halt deportations of undocumented immigrants and to begin normalizing U.S.-Cuba relations.
Republican legislation, including several pro-jobs bills, should pass relatively easily through the House of Representatives, where Republicans expanded their majority to 247 of 435 seats.
It will be tougher in the 100-member Senate, where 60 votes are often needed to advance legislation. Republicans will hold 54 seats in the chamber.
Expect a series of heated clashes between Congress and Obama in months to come.
Obama gives his State of the Union speech January 20 laying out his policy priorities, but several issues will already be churning on Capitol Hill.
Approving the controversial Keystone XL oil pipeline from Canada to the U.S. Gulf Coast will be the Senate's first major order of business, according to incoming Senate Majority Leader Mitch McConnell.
The long-delayed project is expected to clear Congress, but Obama, concerned about how Keystone might hasten climate change, signaled his opposition in a year-end press conference.
That sets up a potential presidential Keystone veto in early 2015, one that would be difficult to override.
Republican leaders expect to reach common ground with Obama on international trade agreements like the Trans-Pacific Partnership, which has Republican support but faces Democratic opposition.
Other issues could face even more hostility.
Congress will need to raise the federal debt limit, which was suspended early last year until March 15, 2015. McConnell said there would be "no default on the national debt."
Incoming House Budget Committee chairman Tom Price hinted that Republicans could demand dramatic spending cuts in exchange for extending borrowing authority.
With a battle brewing, the government can use so-called extraordinary measures to stave off default for a few months.
The Senate will swiftly address Iran's nuclear program, according to Republican Senator Mark Kirk, who co-authored new sanctions on Iran.
The White House has warned Congress that tightening sanctions could destroy international negotiations aimed at preventing Iran from developing an atomic bomb.
But with bipartisan support for a firm stance, Obama could potentially face a tough call on whether to veto legislation that would impose sanctions and require Congress to sign off on any final deal.
Lawmakers will also debate a prospective new authorization for use of military force against Islamic State extremists.
The administration conducts its current operations — including more than 1,100 airstrikes in Syria and Iraq since September targeting IS — under authority passed in 2001 and 2002 after Al-Qaeda's 9/11 attacks on the United States.
Many Democrats have bucked Obama and demanded a limited, three-year authority that prohibits the use of U.S. ground troops.
Since the Affordable Care Act became law in 2010, House Republicans have voted more than 50 times to repeal or defund it, mostly to no avail, as the Democratic-run Senate refused to take up the measures.
That changes with Republicans in charge, and in an op-ed after November's elections McConnell and House Speaker John Boehner said they were "renewing our commitment to repeal Obamacare."
McConnell has acknowledged a full repeal is not possible, and is seeking to limit the law's scope.
He signaled Republicans will seek to redefine the work week to 40 hours, up from Obamacare's current 30-hour threshold.
Critics have warned that Obamacare creates incentives for companies to reduce workers' hours to avoid purchasing insurance.
Congress last month authorized spending for all federal agencies until September — except for the Department of Homeland Security, which was budgeted through February.
That sets up a fight over Obama's unilateral immigration action. In a December interview with McClatchy newspapers, McConnell promised a "significant debate" on the immigration issue.
AFP Photo/Alex Wong