In Small Town America, Voters Want Change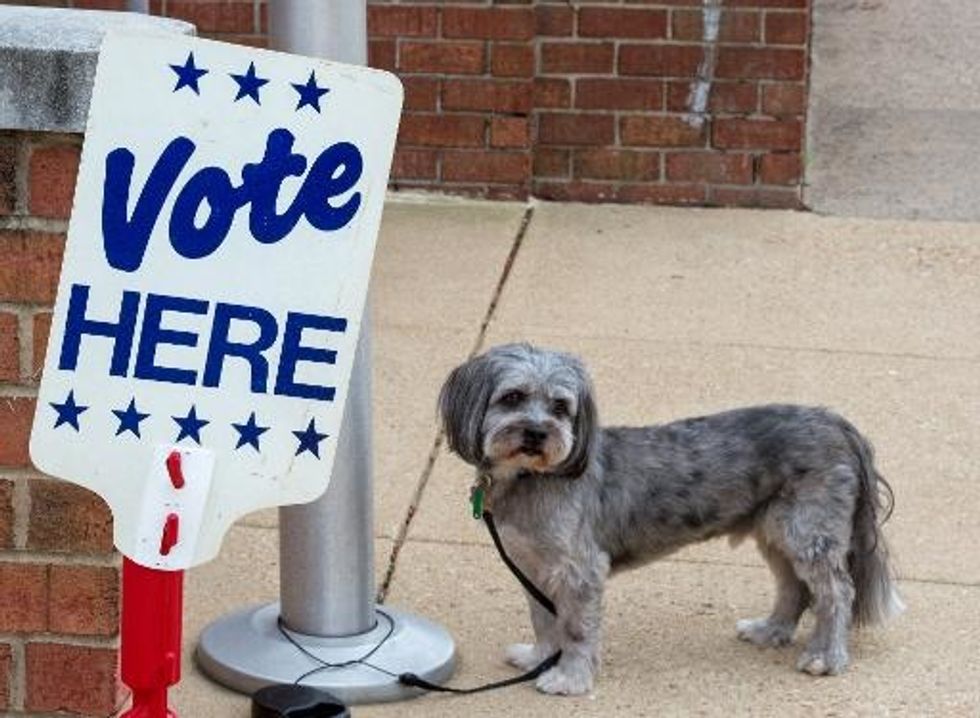 Berryville (United States) (AFP) — Deep in the postcard-perfect Shenandoah Valley, just over an hour's drive from Washington, the autumn leaves are ablaze with color, and Virginia voters are hankering for change.
"We've given the other side six years to have their way," said general contractor Charles Kaster after casting his ballot in Tuesday's midterm elections.
"And it doesn't seem to be working out too good," added the 49-year-old former Marine and lifelong Republican.
"Maybe it's time to switch back to something else."
Across the United States, Republicans looked poised to profit from President Barack Obama's troubles as the nation elects a new crop of senators and representatives.
Virginia's 10th Congressional District — which includes Berryville, a bucolic town of clapboard Victorian houses and quaint shops — traditionally leans conservative.
Chatting with voters outside the polling station at the Berryville Primary School — each of them sporting "I voted" lapel stickers — provided a sense of many Americans' frustration with the Obama administration.
"I don't always vote Republican. I'm just not liking what the Democrats say," said Lorie McKay, who owns a local landscaping service.
"I've had enough of the Democrats, actually. They're doing a lousy job," she told AFP after giving her vote to the Republican slate.
"I don't know if that's the answer, what I just did, but I'm hoping it'll change things."
– 'We're not happy' –
Building inspector Tommy Parker, who arrived early to vote with his wife Joyce, expected Tuesday's election to signal "dissatisfaction with the federal government."
He expected voters to "send a message that we're not happy with the way things are going at a national level or an international level."
Ironically, the woman favored to keep the 10th Congressional District in Republican hands, Barbara Comstock, 55, is something of a Washington insider.
A political consultant to, among others, the 2012 Republican presidential hopeful Mitt Romney, Comstock once interned for Frank Wolf, who has represented the district since the 1980 election that put Ronald Reagan in the White House, and is retiring after this term.
Her Democratic rival John Foust, 63, got headlines when he questioned whether she had ever "had a real job", given her political operative background.
Comstock, for her part, once suggested that if Federal Express could track packages with precision, the federal government ought to be able to track immigrants as well.
In this town of 3,000, Democrats are not entirely unknown. Alexis Stickovitch, 20, is a forensic chemistry student with dreams of achieving a doctorate degree.
"I voted all Democrat. I guess it's because I'm young," Stickovitch said — adding she was unhappy with those in the Republican camp trying to roll back abortion.
"Some of the conservatives (on the ballot) are against abortion and birth control, and those are pretty important to me. I feel I have a right to what happens to my body, not someone else."
Larry Bowie, an African-American native of Maryland who retired to Berryville after 20 years in the U.S. army, was a rare voice defending Obama.
"It goes with the territory. Bush had his time," he said, recalling how George W. Bush exited the presidency under a cloud amid the worst economic downturn since the 1930s and unfinished war business in Afghanistan and Iraq.
"He's hanging in there. He's doing the right thing," Bowie said of Obama.
AFP Photo/Paul J. Richards
Want more political news and analysis? Sign up for our daily email newsletter!