Smooth Sailing For Kerry In Secretary Of State Confirmation Hearing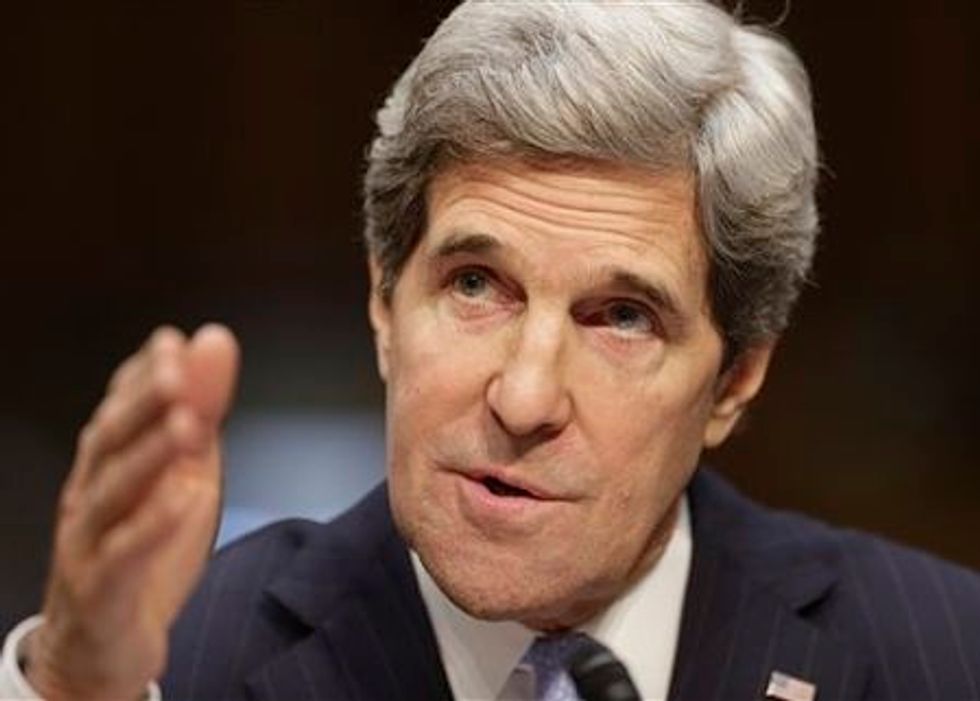 Massachusetts senator John Kerry breezed through a relatively uneventful Senate Foreign Relations Committee confirmation hearing Thursday morning, leaving the former presidential candidate poised to become President Barack Obama's second Secretary of State.
Kerry was introduced to the committee that he currently chairs by freshman senator Elizabeth Warren (D-MA), outgoing Secretary of State Hillary Clinton, and longtime friend Senator John McCain (R-AZ). Warren declared that she "will be proud" to say Kerry represents the United States, while Clinton called Kerry "the right choice" to replace her at the State Department.
McCain — who sharply criticized Clinton during yesterday's hearings on the September 11th attack in Benghazi — had nothing but praise for his longtime colleague and fellow Vietnam veteran, saying "I recommend his nomination without reservation."
In Kerry's opening remarks, he argued that "foreign policy is economic policy," and warned that Congress must put "its fiscal house in order."
"In many ways the greatest challenge to America's foreign policy will be in your hands, not mine," Kerry said, "and as a recovering member of the supercommittee, I am especially cognizant of the fact that we can't be strong in the world unless we're strong at home."
In an emotional moment, Kerry recalled his father's diplomatic work by saying "If you confirm me, I would take office as secretary proud that the Senate is in my blood, but equally proud that so, too, is the Foreign Service."
"I wish everyone in the country could see and understand first-hand the devotion, loyalty and amazingly hard, often dangerous work that our diplomats on the front lines do," he added.
Kerry went on to reference the Benghazi controversy by saying he was looking forward to discussing "the commitment that we make in our foreign affairs budget — less than one percent of the entire budget of government — at a time when the world is getting smaller, that our economy depends on its relationship with every other country in the world, that we face a more global market than any other time in our history."
Towards the end of Kerry's hearing, a protestor burst into the room and began shouting about U.S. policy in the Middle East. Kerry refused to condemn the woman, noting "when I first came to Washington and testified, I obviously was testifying as part of a group of people who came here to have their voices heard. And that is, above all, what this place is about…People measure what we do. And, in a way, that's a good exclamation point to my testimony."
Kerry offered few unexpected answers to the senators' questions, primarily using his time to advocate for President Obama's foreign policy. On Iran, Kerry stressed "We will do what we must do to prevent Iran from obtaining a nuclear weapon, and I repeat here today, our policy is not containment. It is prevention, and the clock is ticking on our efforts to secure responsible compliance."
On Afghanistan, Kerry stressed that "There will be a counterterrorism mission that will continue" after the war nominally ends in 2014. "President Obama's been very clear about the fact that that the counterterrorism mission will continue beyond 2014. And that the training will probably continue beyond 2014."
In one of the few dramatic moments during the hearing, Senator Ron Johnson — who unsuccessfully challenged Clinton during yesterday's hearings — asked Kerry to commit to helping "find out exactly what happened" on September 11th.
In response, Kerry called Johnson out for missing a briefing that would have answered some of his questions.
"Well, there was a briefing with tapes, which we all saw, those of us who went to it, which made it crystal-clear," Kerry told Johnson. "We sat for several hours with our intel folks, who described to us precisely what we were seeing. We saw the events unfold. We had a very complete and detailed description."
"Senator, if you're trying to get some daylight between me and Secretary Clinton, that's not going to happen here today on that score," Kerry added.
With the support of the Senate Foreign Affairs Committee, Kerry's nomination will proceed to the full Senate for a vote. Kerry was expected to win confirmation easily; today's hearings did nothing to dispel that notion.
Photo credit: AP/J. Scott Applewhite