Sneaky Leakers: Why House Republicans Won't Release Blumenthal Transcript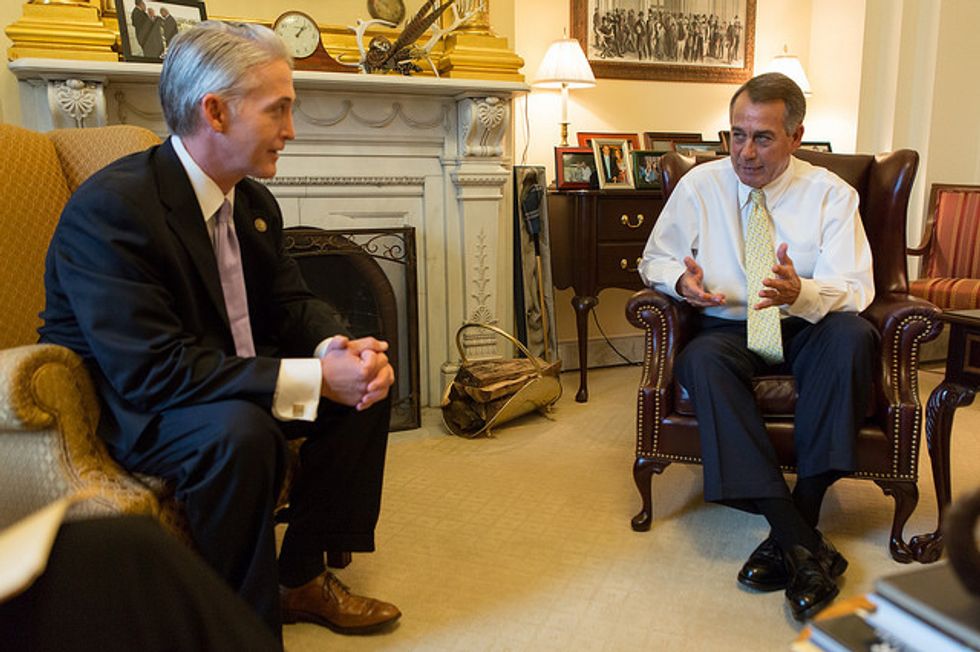 Over the past several days since Sidney Blumenthal testified before the House Select Committee on Benghazi, a series of highly selective and sometimes distorted bits from that hearing, which was held behind closed doors, have leaked to the Washington media. Blumenthal, his attorney James Cole, and Democratic members of the committee have all requested the release of the entire transcript of his deposition, so far without success.
The committee chair, Rep. Trey Gowdy (R-SC), has hidden behind the excuse that Blumenthal shouldn't be treated "differently" from other witnesses who have testified. To call that objection insincere is to put it very mildly.
Although Blumenthal responded to every question and provided every document requested, including numerous emails he sent to former Secretary of State Hillary Clinton, he has in fact been treated far worse than any other witness called by the select committee.
This ill treatment began when the committee issued a subpoena to him — unlike others who were permitted to appear voluntarily. It intensified when the committee leaked word of that subpoena to the press before it was served. And it continues as his words are misused to smear him by anonymous committee staff and members. They haven't inflicted such punitive actions on anyone else. (Naturally the Washington press corps, courageous watchdogs of democracy, have supinely lapped up the leaks without demanding the full context. If the Clintons did something like this, they'd bark and growl all night.)
Today, Cole sent Gowdy a letter on behalf of Blumenthal, with footnotes, citing "numerous leaks about his emails and testimony, many of which have given an inaccurate account of what occurred in the deposition. It is unfair to my client, to the work of the Committee, and to the public to allow this inaccurate record to persist." Cole quotes press accounts that cite specific emails given by Blumenthal to the committee but not released, and notes that the unnamed sources include GOP committee members and "Republicans privy to the Benghazi committee's strategy."
Of course, as Cole notes, this is all "inappropriate and contrary to the rules of the Committee." He rightly complains that the leaks are "distorting the truth by mischaracterizing facts and circumstances." He concludes by appealing, rather optimistically, to Gowdy's sense of decency:
"Mr. Chairman, you have stated that you want to run this Select Committee in a fair and even-handed way. In light of these leaks, the only way to achieve that is to release the full transcript right away. Mr. Blumenthal fully cooperated with the Select Committee, and answered every question asked. The public deserves to know the whole truth about what happened during his deposition, and fairness demands it."
What makes this episode darkly amusing to me is that when my article about Blumenthal and Benghazi appeared in Politico magazine on May 28, the select committee's communications director, Jamal Ware, swiftly dispatched a letter asking that the editors either change or remove it – because I had asserted flatly that committee Republicans were leaking Clinton's emails to media outlets.
The caption of Ware's email was "Story withdrawal requested." Indignantly, he wrote that I had "falsely and baselessly" accused the committee of leaking. According to him, my article offered those assertions "without factual basis," and he "respectfully requested" that Politico take it down.
I wrote to Jamal Ware twice, explaining why I was sure that the Republicans had leaked those documents, posing several questions to him, and inviting him to issue a denial on the record. Discourteously but unsurprisingly, he never wrote back  – and, to their credit, Politico's editors never touched my article.
So while I wish I expected Gowdy to release the complete Blumenthal transcript, instead of dribbling out misleading leaks, I doubt that will happen. Decency requires character — and the Benghazi committee chairman is behaving like a bully, a phony, and a sneak. He seems to fear releasing a transcript that could expose what a silly, pointless, wasteful fiasco his "investigation" has become.
Right now, Gowdy is getting away with conduct that should put him in jeopardy of censure, at the very least, because too many in the House leadership — and the Washington press corps — share those flaws.