SNL Cold Open Hilariously Roasts Laura Ingraham And Jeanine Pirro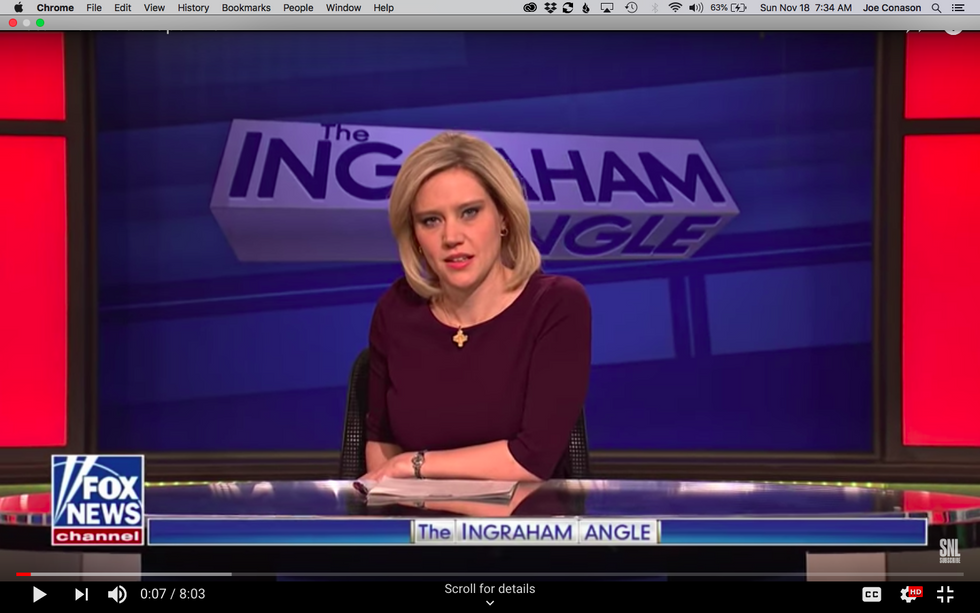 Saturday Night Live loves its recurring characters, who now include Laura Ingraham (Kate McKinnon) and Judge Jeanine Pirro (Cecily Strong), who graced last night's SNL cold open for the second time in a month. The spoof of Ingraham's wacky Fox News show holds nothing back, beginning with the host's harsh monologue on the midterm blue wave.
"Let's talk about the rampant voter fraud that allowed Democrats to literally steal the election," she rants. "Some have claimed that suburban women revolted against the Republican party, but doesn't it feel more true that all Hispanics voted twice? You can't dismiss that idea simply because it isn't true and sounds insane."
Judge Jeanine chimes in with her brilliant "reporting" on voter fraud, which echoes Trump's lunatic claims. What she has are clips from old movies: Tyler Perry from Madea, "voting twice in Atlanta," and Eddie Murphy with the Klump family from The Nutty Professor, seen by Jeanine as a man pretending to be five different people. When Laura asks if that's really Eddie Murphy, she agrees. "It's as if he really wants to be caught."
And there's more, including Alex Moffat as Mark Zuckerberg and Leslie Jones as Nancy Pelosi's would-be nemesis Rep.  Marcia Fudge (D-OH).
Click and laugh.