SNL Cold Open Ices Roger Stone And Tucker Carlson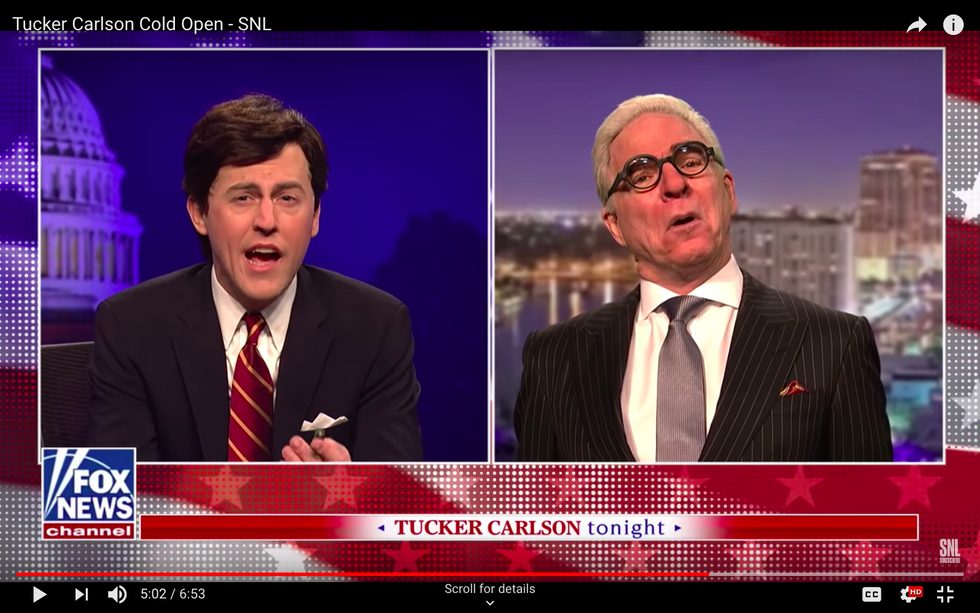 No way could Lorne Michaels and the SNL resist the biggest satire target in America today: the brazen dirty trickster and comic-book villain Roger Stone, indicted last week by the Russia special counsel. Last night's cold open featured one of comedy's great stars as the out-of-control consultant, whose murky role as a conduit in the Russian hacking of Democratic emails is at last under the spotlight.
Preceding him as a "guest" on Fox News with Tucker Carlson — whose personal tics are hilariously exploited by Alex Moffat — were cast regulars Cecily Strong as Jeanine Pirro and, in remarkable makeup, Kate McKinnon as Trump's out-of-touch Commerce Secretary Wilbur Ross. Funny as both were, the audience shrieked when Moffat tossed to Steve Martin, embodying Stone in a crazy white hairpiece, bizarro eyeglasses, and pinstriped zoot suit.
Boasting and lying just like the real guy, this Stone has an urgent message for the president. That's why he's on Fox News!
Click and roar.