SNL Cold Open: 'It's A Wonderful Trump' (Where He's Not President)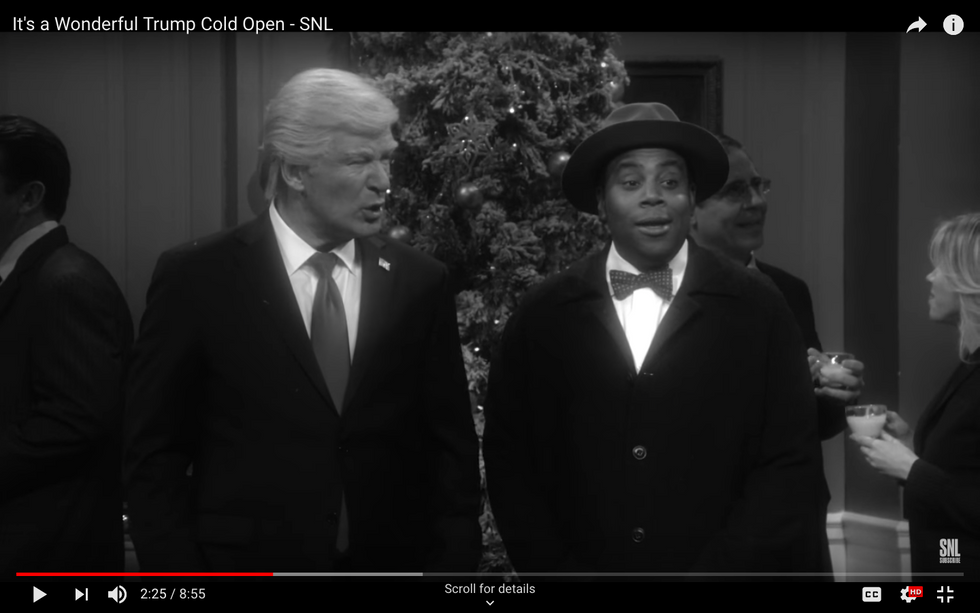 For Christmas the Saturday Night Live producers have given us a fresh cold open, starring Alec Baldwin as the title character in It's A Wonderful Trump. 
As the president stands on a snowy balcony wishing that he had never won office, an angel (Kenan Thompson) appears. But unlike the original 1947 movie script, the angel's job is to show Trump just how much happier everyone around him — from a prosperous Sarah Huckabee Sanders (Aidy Bryant) to a healthy Kellyanne Conway (Kate McKinnon) would be if he had indeed lost to Hillary Clinton.
At a Christmas party he encounters Michael Cohen (Ben Stiller), who tells him, "You're my best friend. You taught me everything I know." Melania has divorced him and remarried Papa John, but Trump has a new spouse named "Hernia" — a "suitcase girl" from a Serbian TV game show. And a quite fey  Mike Pence, the party's deejay, has thrown off his inhibitions along with his ambitions. Brett Kavanaugh (host Matt Damon) isn't sad that "nerd Merrick Garland" is on the Supreme Court instead of him — because he can hang out with "PJ and Squi." Even son Eric (Alex Moffat) is a tiny bit smarter.
And omniscient special counsel Robert Mueller can spend more time with his grandson rather than investigating "some idiot for treason."
Despite the angel's best effort, however, Trump is still obtuse — and his "epiphany" is tragically clueless.