SNL Cold Open Scorches Kavanaugh And Senators In Season Premiere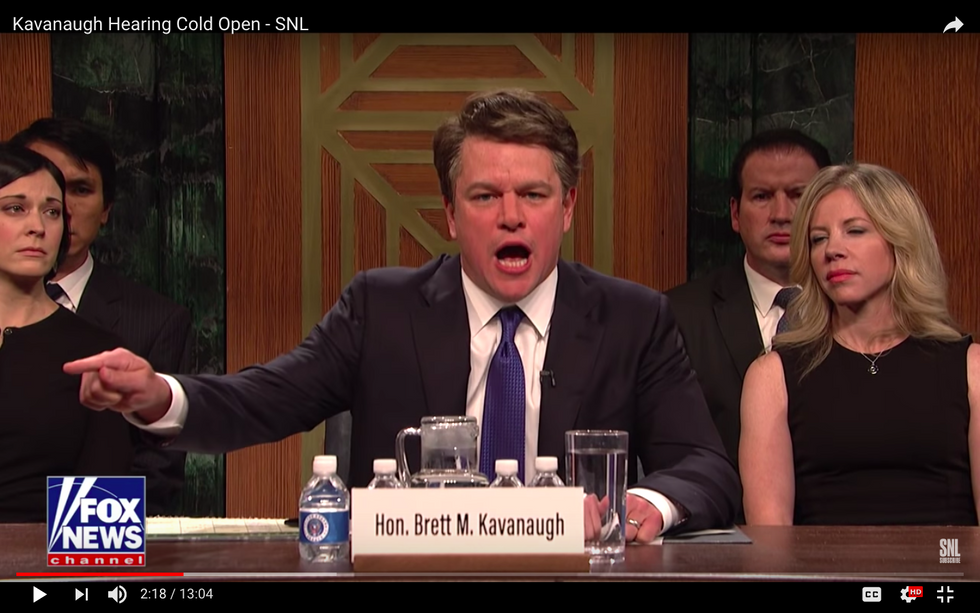 No way would the writers and cast pass up the challenge of turning last Thursday's grim Supreme Court nomination hearing into Saturday Night Live gold — and with the SNL season premiere cold open, they succeeded brilliantly. But how to improve on Brett Kavanaugh's over-the-top performance?
Casting Matt Damon as the indignant would-be Justice, brimming with bluster and belligerence, was a master stroke. Called to the witness table he glares around the room and barks, "What!" Informing the Senate Judiciary Committee's doddering chairman Chuck Grassley (Alex Moffat) that he had showed his statement to almost no one, he warns "I'm going to start at an 11. I'm going to take it to about a 15 real quick."
So he does, supported by the superb SNL cast — with a special appearance by Rachel Dratch as Sen. Amy Klobuchar (D-MN) and a truly devastating turn by Kate McKinnon as a demented Sen. Lindsey Graham (R-SC).
Absolutely not to be missed.