Snowstorm Slams Northeastern United States
@AFP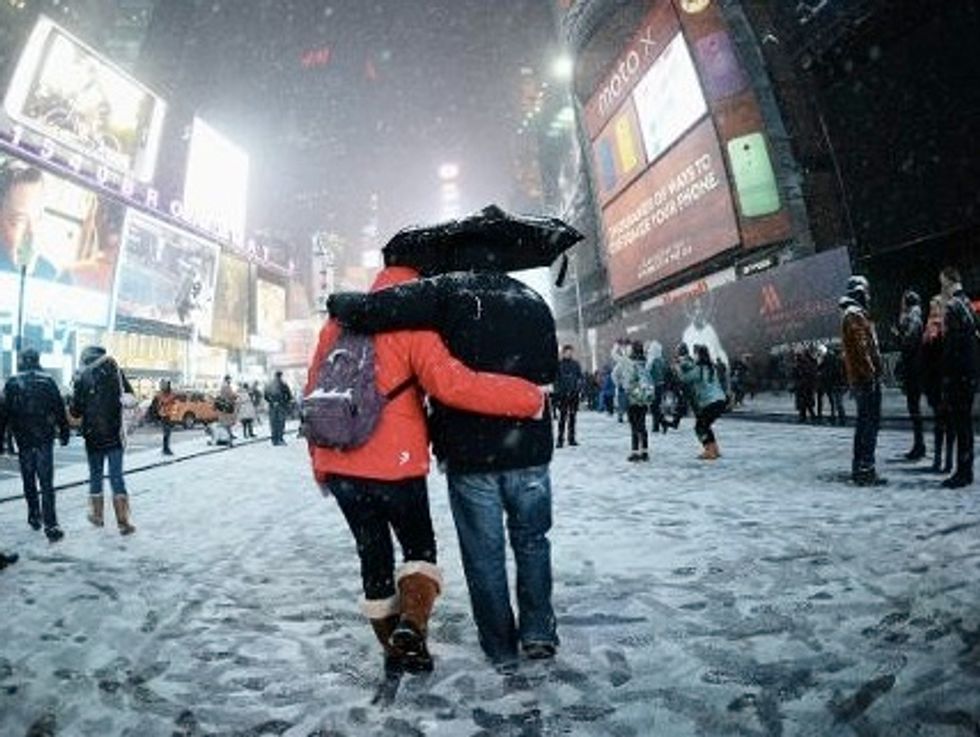 New York (AFP) – Snow, high winds and a glacial chill hit the northeastern United States on Friday as a blast of brutal wintry weather bore down on many states and major cities, snarling air traffic.
Temperatures in New York were expected to drop to 9 degrees Fahrenheit (minus 13 degrees Celsius), according to forecasts.
Tracking system FlightAware said that some 2,200 flights within, into or out of the United States had been canceled so far.
The National Weather Service issued winter storm warnings and advisories for a huge area spanning states from Chicago trough New York, New England and even the U.S. capital, Washington.
Severe weather was also hitting the country's Midwest, dropping a blanket of snow and cancelling flights at Chicago's bustling O'Hare International Airport.
The northeastern winter warning was in effect in New York from Thursday evening through midday Friday, with forecasters predicting four to eight inches (10 to 20 centimeters) of snow and winds that could reach up to 35 miles (56 kilometers) per hour.
The storm is predicted to dump 6- to 12-inches of snowfall over a large area beginning in northern Pennsylvania and upstate New York to a large part of New Jersey and New England.
This includes the entire metropolitan area of New York City and Long Island, northward to Albany, New York, and Scranton, PA, according to accuweather.com
Between 12 and 18 inches of snow will fall in localized areas of Massachusetts, Rhode Island and Connecticut and the cities of Providence, Rhode Island, as well as Boston.
After the precipitation stops Friday evening, people should brace for temperatures 20 to 30 degrees below normal.
And sub freezing low temperatures are expected as far south as the Florida panhandle, the National Weather Service said.
New York City residents were urged to stay off the streets so the Sanitation Department could work.
Officials said that 450 salt spreaders had been out since early Thursday morning and 1,700 sanitation trucks had been outfitted with plows.
'We are ready'
But Sanitation Commissioner John Doherty said that even with all the equipment the city had deployed, his agency faced a tough task as it worked to clear the streets through the night. He pleaded for patience, the New York Times said.
"A lot of people expect in New York City to see blacktop all the time," Doherty said. "It's going to take us a while."
In the Big Apple, where thick flakes fell Thursday evening, the storm will serve as a first test for the city's new mayor, Bill de Blasio, who assumed his post Wednesday.
De Blasio said the city had "laser" focus as it braced for what was to come.
"We are ready," he said.
He urged residents to stay indoors and use public transportation if they must get around. But, he warned, delays were to be expected.
"Please, starting this evening, stay inside. If you don't need to go out, don't go out," de Blasio said.
New York Governor Andrew Cuomo activated the State Emergency Operations Center and also urged people to use mass transit, warning of possible highway closures due to inclement weather.
In neighboring New Jersey, Governor Chris Christie declared a state of emergency in anticipation of what was to come.
Connecticut Governor Dannel Malloy, meanwhile, ordered state employees to leave work early on Thursday to alleviate the evening commute. Workers were not expected back at their desks until mid-morning.
Officials also warned about the risk of freezing or hypothermia due to the bitter cold that was expected to set it.
In Boston, where strong snowfall is expected until Friday, temperatures were expected to dip to minus 6 degrees Fahrenheit.
School classes and state offices were cancelled for Friday in Boston.
Massachusetts Governor Deval Patrick urged businesses to do the same, so road crews work more freely.
"These circumstances are dangerous," he said Thursday night. "There is an even greater anticipated snow accumulation."
AFP Photo/Don Emmert