Soft Shoe Diplomacy: Obama Dances The Tango At Argentine State Dinner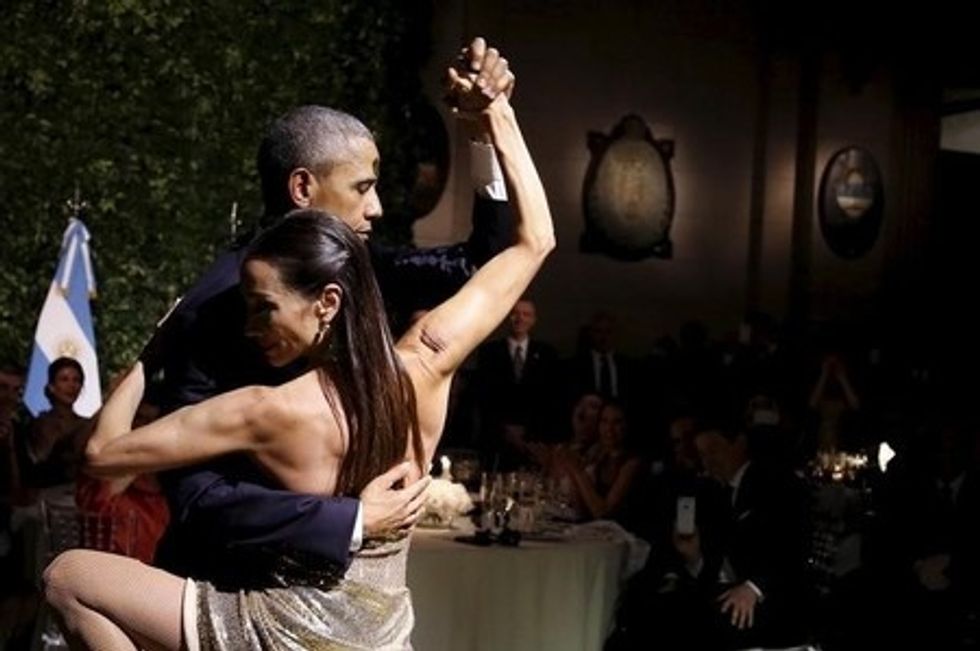 WASHINGTON (Reuters) – President Barack Obama has made headlines for unexpectedly crooning a song or two in public since coming to the White House. Now he can add dancing the tango to his list of hidden talents.
At the end of a state dinner in Buenos Aires with Argentine President Mauricio Macri on Wednesday, Obama and his wife, Michelle, watched with rapt attention as a male and female pair glided and turned in graceful precision across a small patch of open floor in front of their table.
Willing to give it a try, the president got up and sashayed from one side of the tiny space to the other with the female dancer, while the U.S. first lady teamed up with her male counterpart for a spell.
Then the leader of the free world appeared to have second thoughts.
Getting back to the other side of the dance floor, Obama stopped to wave at the dinner guests as if to conclude.
But his partner would have none of it, taking his hand back in hers and doing a number of turns before allowing the president to spin her around for a finale that ended with her leg drawn up high against his.
The music stopped, the crowd applauded, and the Obamas had done the tango.
(Editing by Paul Tait)
Photo: U.S. President Barack Obama dances tango during a state dinner hosted by Argentina's President Mauricio Macri at the Centro Cultural Kirchner as part of President Obama's two-day visit to Argentina, in Buenos Aires March 23, 2016.  REUTERS/Carlos Barria