Sony Wrestles With How To Market 'Interview' Amid Geopolitics, Scandal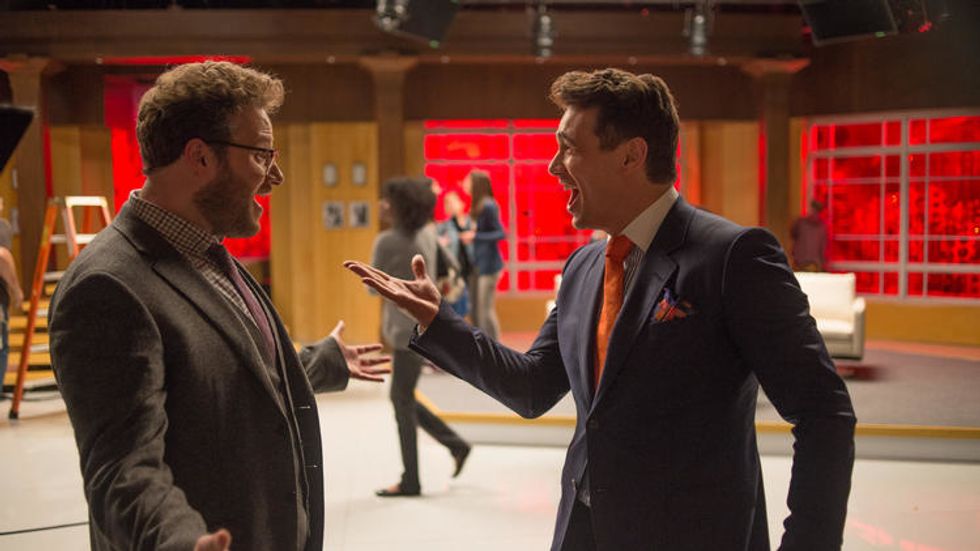 By Steven Zeitchik and Amy Kaufman, Los Angeles Times (TNS)
Stern security guards kept a close eye on guests. Stars were kept away from the press. And the usual red carpet fanfare was largely eliminated.
When Sony Pictures held the premiere for its controversial new North Korea-themed comedy, The Interview, in downtown Los Angeles on Thursday night, it avoided many of the trappings of a Hollywood premiere.
The muted affair hinted at a larger paradox surrounding the Christmas release of The Interview: How does a studio release a movie with the requisite hoopla when everything about it is more fraught than festive?
Sony Pictures' The Interview, directed by Seth Rogen and longtime collaborator Evan Goldberg, centers on a CIA plot to kill North Korean leader Kim Jong Un via a bumbling American talk show host, played by James Franco, and his producer, played by Rogen. But what could have been a silly romp has turned into something much more serious.
North Korea, which sees The Interview as part of a propaganda war by the West, has been condemning the film since the summer — at one point an official called it "an act of war" and vowed revenge. In recent weeks Sony has been hit by a devastating cyberattack that some law enforcement officials believe North Korea orchestrated as a retaliatory act. The hacking continues to expose embarrassing emails from top executives and has shaken the insular culture of Hollywood.
In the process, the controversy shows what happens when powerful forces in Hollywood and geopolitics collide — when a company is caught between wanting to support its filmmakers' edgy vision but, as a subsidiary of a large corporate conglomerate, also must weather the fallout.
Sony Pictures executives apparently were concerned about The Interview before North Korea began protesting the film this summer, engaging in an internal debate over issues such as release date, publicity talking points and the nature of the film itself that grew more heightened as the controversy boiled over.
According to newly disclosed emails reviewed by The Times after the cyberattack, a top studio executive worried about the film's original release date of Oct. 10 last May, a month before North Korea began protesting the movie.
"Whether intentional or coincidence, we are releasing The Interview on 10/10/14 — one of the most important national holidays in North Korea, which is the anniversary of the establishment of the Worker's Party," Keith Weaver, the executive vice president of worldwide government affairs for Sony Pictures, wrote to the company's general counsel Leah Weil on May 20. (The release date was changed to Aug. 7, and for reasons that the studio said publicly were related to a bigger platform on Christmas.)
An email between Japanese and Australian Sony executives on June 23, before the controversy began to bubble up, also noted that the movie posed an issue for Sony Corp's top executive.
"Mr. Kaz Hirai, CEO, was very much concerned about this film especially when the Japanese government is negotiating with the North Korean government regarding the returning of the kidnapped Japanese to Japan," Noriaki Sano wrote to Stephen Basil-Jones, referring to the long-running showdown over at least 13 Japanese citizens and noting that Hirai and Sony Entertainment CEO Michael Lynton had spoken.
Sony declined to comment for this story on the emails and the marketing plans for The Interview.
The first signs of a North Korean backlash to The Interview occurred on June 20, when the head of a group known as the Center for Korean-American Peace, Kim Myong-chol, criticized the movie in an interview with the Daily Telegraph. It began to take shape in earnest on June 27, when North Korea's U.N. ambassador, Ja Song Nam, said the film was tantamount to "an act of war" and threatened "a decisive and merciless countermeasure."
At the time, Rogen, Goldberg, and Sony decided to start screening the movie more widely to play down any political messages. The studio is now pushing ahead with that plan.
Rogen is making the rounds on The Colbert Report, The Tonight Show Starring Jimmy Fallon, Late Night With Seth Meyers, and Live With Kelly and Michael in the next two weeks. In company emails from June, a studio publicity executive suggested that filmmakers and talent play down any political angle in interviews.
If people are asked about whether or not they are "worried about repercussions on the world stage" as a result of the film, the executive advises them to brush off the question by saying, "You give us too much credit." And if they're asked if the film is racist? "No. We're calling out the absurdity of jingoism."
Whether all the controversy will help or hurt the movie at the box office remains to be seen. Early tracking for the film suggests a total box office of $25 million to $30 million for the four-day Christmas weekend, a decent but far from spectacular total.
But perhaps more central is the political fallout. On Friday, the U.S. special representative for North Korea policy urged Pyongyang to stop being preoccupied with the film and look at areas such as human rights and the economy. "I would encourage the North Korean leadership to focus on important aspects, rather than this movie," new U.S. special representative for North Korea Sung Kim said in Beijing.
Federal prosecutors are also investigating whether the email hack, which has featured embarrassing exchanges from such figures as Sony Pictures Chief Amy Pascal and film and theater producer Scott Rudin, was, in fact, caused by North Korea.
Examination of the hacked emails suggest a company excited about the possibilities of a real-world villain but also concerned about the implications.
In an email exchange in mid-May, Dwight Caines, Sony's president of theatrical marketing, responded to Rogen's inquiry about the release plans by writing, "[T]hat Kim is a real guy is what makes this even more interesting and crazy. This is the other kind of positioning we need to embrace. The movie is doing something bold that I'm not sure any other movie has done before taking on as it's [sic] subject matter a real persona of this notoriety."
But second thoughts were also creeping up. On June 17 — three days before the first North Korea public comments — Sony's Motion Picture Group President Doug Belgrad discussed executives' concerns with Lynton.
"I understand this is a delicate issue and will do whatever I can to help address all of the issues and concerns," Belgrad wrote to him in the email. He went on to say that he's researching whether "there is precedent on depicting and/or killing a living leader on film" and was looking at various other examples, such as Charlie Chaplin's The Great Dictator and Trey Parker and Matt Stone's Team America: World Police.
In a lengthy exchange, Pascal and Rogen discussed whether a gory scene featuring Kim Jong Un should be changed due to concerns about North Korea and how that will play in the media.
"This is now a story of Americans changing their movie to make North Koreans happy. That is a very damning story," Rogen wrote. He asks Pascal to modify the required changes. In the end, the changes were relatively modest.
The question of Sony's creative involvement in the North Korean aspects of the movie has been a key one. The narrative the studio and filmmakers has put forth is that Sony had contemplated a fictional villain but that Rogen and Goldberg were set on Kim Jung Un. But an internal email suggests that Sony specifically had North Korea added to the script.
As part of a set visit by journalists last year, a publicist wrote in a memo to top executives that screenwriter Dan Sterling had told the media that the "original script had a fake dictator. While on the set of Neighbors [the Rogen 2013 comedy], a Sony exec said they should make it Kim Jong Un so they did."
The summary engendered a reply from Weaver, Sony's governmental affairs executive.
"I think that's problematic," he wrote. "There was much discussion on this and a statement like this makes it sound very Sonycorp directed versus talent desire … Perhaps we [Sony] were insistent or perhaps it was a consensus, but I think it's a challenge to put the company/our parent company out there this way."
Julie Makinen contributed to this report from Beijing and Saba Hamedy contributed from Los Angeles.
Photo: Ed Araquel / Columbia Pictures