South African Prosecutor Seeks Psychiatric Test For Oscar Pistorius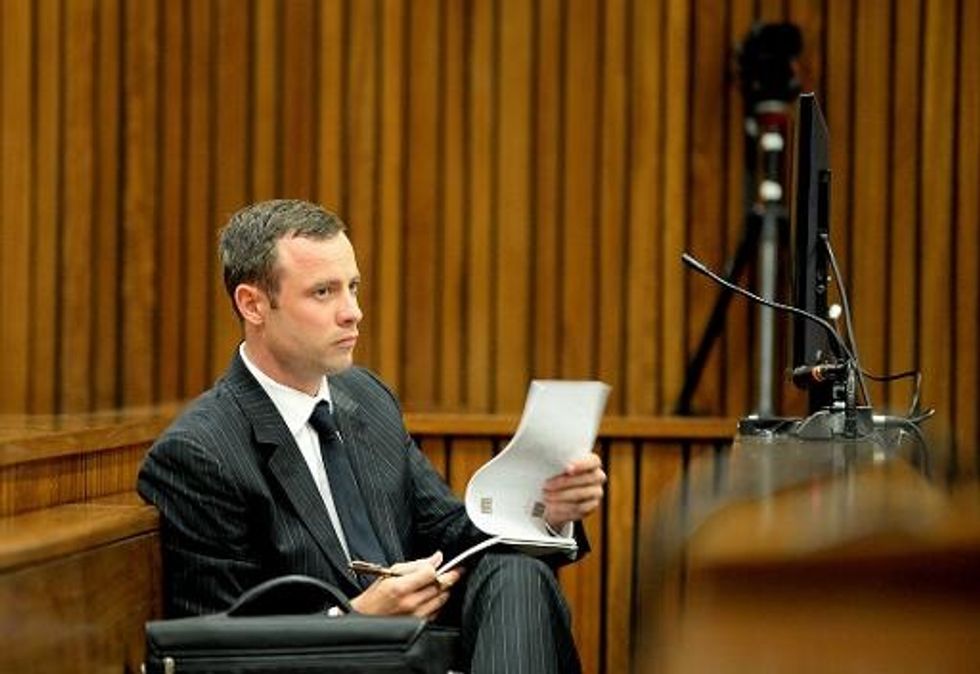 By Robyn Dixon, Los Angeles Times
PRETORIA, South Africa — A South African prosecutor said he will ask the Pretoria high court on Tuesday to order a full psychiatric evaluation of double amputee Olympian Oscar Pistorius after a psychiatrist testified she had diagnosed him with a mental disorder.
Pistorius is on trial for the murder of girlfriend Reeva Steenkamp after firing four shots through a bathroom door in his home in the early hours of Valentine's Day last year. He says he thought she was an intruder and never intended to pull the trigger. She was hit three times.
Dr. Merryll Vorster saw Pistorius twice, on May 2 and 7, after Pistorius testified and was cross-examined in his trial. She diagnosed him with generalized anxiety disorder, adding that he suffered from the disorder at the time he shot Steenkamp and this, along with his disability, affected his behavior that night.
She said the court may find that Pistorius had diminished responsibility for killing Steenkamp.
Vorster testified that a person who had generalized anxiety disorder and carried a gun was dangerous.
Prosecutor Gerry Nel foreshadowed his planned application in court Monday. If the court sends Pistorius for psychiatric evaluation, he would spend 30 days in a state psychiatric institution undergoing tests and observation. His advocate, Barry Roux, said he would contest Nel's application.
In calling for Pistorius to be assessed by psychiatrists, Nel appeared intent on closing off any defense argument that the athlete's psychiatric disorder was significant enough to make the act of firing four shots reasonable because he was more anxious than a normal person — but not so significant that he could be regarded as insane.
Nel contended that if the mental disorder affected his action in shooting Steenkamp, the court had no choice but to refer him for psychiatric assessment.
Generalized anxiety disorder is defined as chronic, exaggerated, irrational anxiety, often leading to nausea and sweating.
Vorster said Pistorius had developed the disorder due to a lifetime of anxiety, beginning with what she called the "traumatic assault" of having both lower legs amputated at the age of 11 months, as well as a mother who didn't allow him to consider himself disabled and who trained her children to see their environment as threatening.
Vorster said Pistorius' mother slept with a gun under her pillow, sometimes abused alcohol and did not soothe the feelings of anxiety her children experienced.
"The children were reared to see their external environment as a threat," she told the court.
"It appears that the children were not soothed by their mother but rather all developed features of anxiety. Instead of the mother being in a position, if there was a threat, to relieve her children's anxiety, she added that anxiety.
"His parents always encouraged him to behave and appear as normal as possible. He was never able to allow himself to be seen as being disabled. He was always encouraged to be seen as being normal. Over time this could result in increasing levels of anxiety as the stress of appearing normal continued," she testified.
Pistorius had a poor self image and feelings of inadequacy about his amputation, his stumps and his disability, she said. He strove to conceal his stumps.
After his mother died, she said, Pistorius had no emotional support and became more anxious.
Vorster said Pistorius became more anxious when he began having relationships. He broke all ties with his father after a quarrel when he was 21.
Vorster described the athlete as overly vigilant and a distrustful, isolated person who did not confide his feelings to anyone. He responded by trying to control his environment, including his strict diet and exercise regime.
After becoming famous, he would prepare himself for hours before public appearances, out of fear he would embarrass himself, Vorster said.
She said he thought his fame made him more of a target for criminals and he always slept with his door locked.
"He became tired and lacked the energy to enjoy his leisure time," she said. "Mr. Pistorius describes feeling isolated and generally alone."
Voster said his disorder and disability meant he would have reacted "differently" from an ordinary person on the night he shot Steenkamp.
Nel said this raised the issue of whether Pistorius had diminished responsibility for his actions, compared to an ordinary person, based on his mental disorder and called for this issue to be investigated by psychiatrists.
"What I'm saying is that his reaction is not that of a normal, able-bodied person without generalized anxiety disorder," Voster responded.
AFP Photo/Bongiwe Mchunu