South Carolina House Speaker Harrell Pleads Guilty To Misconduct In Office, Resigns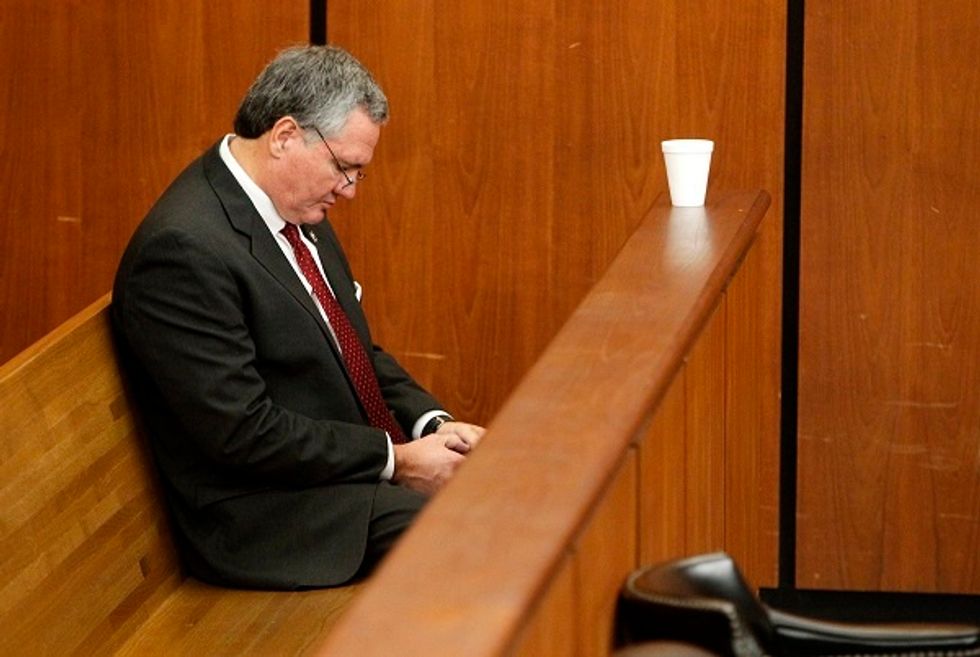 By John Monk, The State (Columbia, S.C.) (MCT)
COLUMBIA, S.C. — Bobby Harrell, speaker of the South Carolina House since 2005, pleaded guilty to six counts of use of campaign funds for personal expenses on Thursday morning and has agreed to resign immediately from his House seat.
In a plea hearing at the Richland County courthouse, Harrell was given six one-year prison sentences but all were suspended by circuit court Judge Casey Manning after Harrell, 58, agreed to the following conditions in a written plea agreement:
– Harrell agrees not to seek or hold public office for three years. He also will be on probation during that time. The Charleston Republican was first elected to the House in 1993.
– Harrell will pay a $30,000 fine plus an additional $93,958 to the general fund of South Carolina. Harrell will also turn over all of his remaining campaign account to the state's general fund. That amount was not immediately available.
– Harrell agrees to cooperate with state and federal prosecutors, including being ready to testify "fully and truthfully at any trials or other proceeding" in state or federal court. Harrell must submit to polygraph examinations.
Harrell did not apologize.
After the hearing, he issued a statement through the state's House Republican Caucus:
"I have agreed to this today to end what has been a two year nightmare. This has been incredibly hard on my family and me, and it is time for it to end. We have a fundamental disagreement over the proper use of a campaign account to fly a private aircraft to conduct state and campaign business, but to continue to fight this would have taken at least another year, possibly two.
"Cathy and I are deeply appreciative to everyone who has offered words of encouragement and prayers on our behalf. My passion for our state remains as strong as it has ever been, and I will continue to look for ways to serve the Lowcountry and South Carolina."
Harrell has insisted he was innocent and that any financial irregularities were the result of sloppy record-keeping.
But David Pascoe, the independent special prosecutor in the case, made it clear during Thursday's hearing that he and investigators had gathered indisputable evidence that Harrell had deliberately falsified records to allow him to use campaign donations for personal expenses – despite laws forbidding such actions.
Bill Nettles, the U.S. attorney for South Carolina, has declined comment on whether there is a pending federal investigation involving Harrell or other members of the state House.
However, state and federal law enforcement agents jointly have been interviewing members of the House, asking about possible illegal vote-swapping, questionable use of campaign money and PAC contributions as well as possible vote-swapping in the February race for the state Supreme Court's chief justice, according to law enforcement and legislative sources.
Harrell was a key player in that chief justice race, using his clout to round up votes for the winner, current Chief Justice Jean Toal.
An indictment in Harrell's case also mentioned "untaxed income" – legalese for potential problems Harrell might have with the IRS or the South Carolina Department of Revenue.
In getting Harrell's cooperation to be a potential government witness, Pascoe agreed to "nol pros," or not prosecute four other indictments against Harrell. However, under a written plea agreement, Pascoe reserves the right to reactivate the indictments and prosecute Harrell if the former speaker lies to law enforcement officials.
Such written plea agreements – in which lighter sentences are given, and some charges are dropped, in return for a criminal's information about other potential crimes involving other people – are common in federal criminal court. In federal court, defendants also agree to submit to lie detector tests and they know that dropped charges can be brought again if the government catches the defendant in a lie.
A long, legal odyssey led to Harrell's guilty plea Thursday morning.
It involved a state investigation, a state grand jury probe, a bitter feud between state Attorney General Alan Wilson and Harrell, and a landmark state Supreme Court decision ruling that state legislators are not immune from criminal prosecution in ethics matters.
In recent months, Wilson – facing a likely disqualification as prosecutor in the case – handed the case off to Pascoe, who began in late August to function as an independent special prosecutor.
Many people thought that Pascoe wouldn't bring charges against Harrell, whose control over his fellow House members and influence with the state's judges, who are elected by the Legislature, was far-reaching. As recently as August, Harrell was publicly bragging that no charges would be brought against him.
The Harrell case began in February 2013, when representatives of Common Cause of South Carolina and the South Carolina Policy Council met with Wilson to make formal complaints about Harrell's alleged misuse of campaign contributions. As a result of that meeting, Wilson asked South Carolina Law Enforcement Division Chief Mark Keel to launch an investigation. That investigation was largely complete by late fall 2013.
In January of this year, Wilson announced he would seek a state grand jury investigation of irregularities turned up by the state probe. The state grand jury, whose proceedings are secret, has subpoena and other powers that make it a formidable force in any criminal investigation.
Out of public view, Harrell and his attorneys filed motions before a circuit court judge aimed at disqualifying Wilson. The motions alleged Wilson had a conflict of interest, had made improper statements and that an attorney general could not criminally prosecute ethics violations unless the House Ethics Committee signed off on the investigation.
However, after The State newspaper learned of Harrell's effort to scuttle Wilson's investigation and wrote a story about it, a public outcry led to public hearings over whether Wilson should be disqualified and the state grand jury investigation ended.
In May, Judge Manning ruled that Wilson had no authority to investigate Harrell on ethics matters because such allegations had to first be vetted by the House Ethics Committee. Wilson appealed to the state Supreme Court. In July, that court ruled that Wilson did have the authority to investigate lawmakers ethics' violations.
But the court also ordered the matter of whether Wilson should be disqualified for a conflict of interest back to Manning. On July 11, Harrell's lawyers filed motions with Manning to seek Wilson's disqualification.
Faced with a decision that might go against him, Wilson handed the case off to Pascoe, who has worked as a prosecutor for more than 20 years under both Republicans and Democrats.
According to a court order signed by Manning on Aug. 29, Pascoe had complete and independent authority to make all decisions going forward "as he deems appropriate."
Photo: Bobby Harrell, speaker of the South Carolina House since 2005, pleads guilty to six counts of use of campaign funds for personal expenses on Thursday, Oct. 23, 2014, and has agreed to resign immediately from his House seat. (Gerry Melendez/The State/MCT)