South Carolina Officer Charged With Murder, Accused Of Shooting Fleeing Man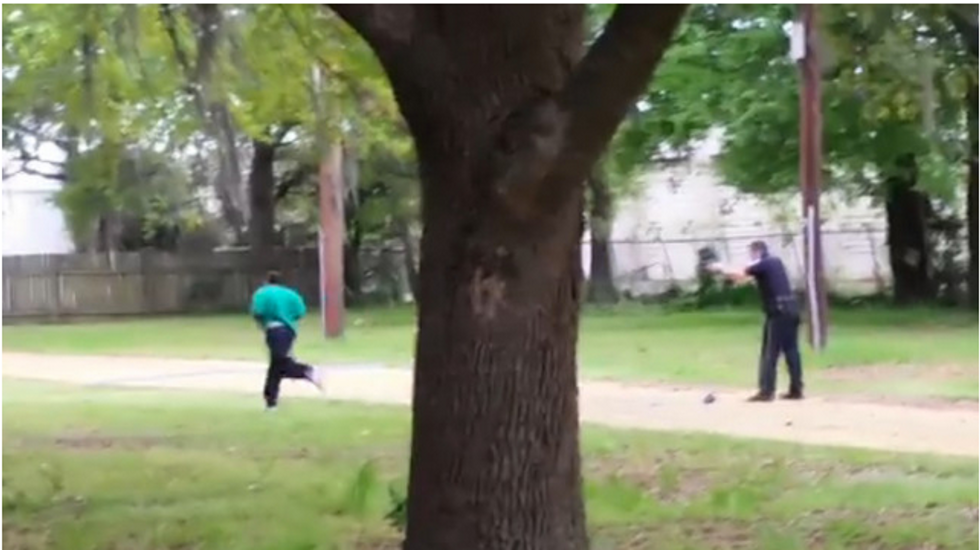 By James Queally and David Zucchino , Los Angeles Times (TNS)
DURHAM, N.C. — A South Carolina police officer was charged with murder in the shooting death of an unarmed black man after police obtained a video that showed him unleash a volley of gunfire while the victim ran away, officials said.
North Charleston Police Officer Michael Thomas Slager was charged Tuesday in the death of 50-year-old Walter Lamer Scott. The charges were filed less than an hour after the city's mayor and police chief received a cellphone video that appears to show Scott fleeing as Slager fires at least eight shots in his direction.
The shooting will probably be the latest turn in a national discussion on police use of force and race relations, following police killings of unarmed men last year in New York, Cleveland, and Ferguson, Missouri. Slager is white.
"It's not about race. It's about power," attorney L. Chris Stewart, who is representing the Scott family, said in a telephone interview with the Los Angeles Times. "That officer thought he could just shoot this man. He thought Mr. Scott was expendable."
The clash between Slager and Scott followed a traffic stop Saturday. A video of the incident, made public Tuesday by the Post and Courier newspaper in Charleston, S.C., appears to show Scott running when Slager opens fire.
In the video, Scott, wearing a green T-shirt, appears to drop something near the officer's feet and sprints in the opposite direction. The officer fires seven times, pauses, and then fires an eighth round as Scott slumps to the ground.
The officer then walks slowly toward Scott's prone body and begins yelling, "Put your hands behind your back," the video shows. Other officers are then seen arriving as the person behind the camera mutters the word "abuse" as well as profanities.
Scott was initially wanted on a Family Court warrant, according to the Post and Courier report.
The video differs drastically from an account Slager gave Monday. In a statement released through attorney David Aylor, Slager claimed Scott began to wrestle for control of his stun gun after a routine traffic stop.
Slager said he "felt threatened and reached for his department-issued firearm and fired his weapon." North Charleston Police Chief Ed Driggers said Tuesday that Scott had been struck with a stun gun during the clash.
In a brief phone interview, Aylor told the Timeshe removed himself as Slager's attorney Tuesday. He would not say why.
Members of Scott's family broke down Tuesday after watching a video of the shooting at their Charleston home, Stewart said.
The family plans to file a wrongful death suit against the city and Police Department, according to Stewart. The attorney declined to identify the person who recorded the shooting, describing him only as someone who happened to be passing by.
Stewart believes the video is the only reason Slager is facing criminal charges.
"It would have just been the standard story of a police officer giving his version and that would be the end of it," he said. "In this case, this officer gave his story, and it turned out not to be true."
The FBI in South Carolina is investigating the shooting, according to a spokeswoman for the Justice Department.
It is likely the FBI investigation would concern whether Slager violated Scott's civil rights. Federal investigators launched a similar inquiry last year, after Ferguson Police Officer Darren Wilson shot and killed Michael Brown, an unarmed black man, in the St. Louis suburb.
Driggers, the police chief, appeared visibly upset as he discussed the shooting with reporters on Tuesday.
"It's been a tragic day for many," he said.
Slager was fired from his post as a North Charleston police officer Tuesday, a city spokesman told the Times. The officer had been with the department for five years and previously served in the U.S. Coast Guard. In the statement he released Monday, Slager said he had never before faced disciplinary action.
It was not immediately clear how many times Scott was shot. Slager was taken into custody by agents with the South Carolina Law Enforcement Division on Tuesday, but calls to an agency spokesman were not immediately returned.
Slager was booked into the Charleston County Jail about six p.m. local time on a murder charge, according to online jail records.
The person who recorded the incident brought the video to Scott's family, who turned it over to state law enforcement officials, North Charleston Mayor R. Keith Summey told reporters.
Driggers and Summey both said North Charleston has 343 police officers, and they referred to the shooting as a mistake made by a single member of the department.
"The one does not totally throw a blanket across the many," Driggers said.
Acknowledging tension in the city, pastor Thomas Dixon urged residents to remain peaceful if they decide to take part in demonstrations.
"We're calling on the community to, in light of this revelation, to remain calm, honor the wishes of this family," Dixon said during a news conference. "The family has asked specifically that the death of this young man not be dishonored."
Scott was engaged to be married and worked for a trucking supply company, Stewart said. The attorney said Scott was driving a used Mercedes he had recently purchased from a neighbor and was on his way to buy parts for the car when Slager encountered him.
Scott, who served four years in the Coast Guard in the 1980s, had no arrests or convictions for violent offenses in recent years, Stewart said. He is survived by four sons, ages 16, 21, 22 and 24.