Southern California Storm Breaks Records; Flood Watches In Effect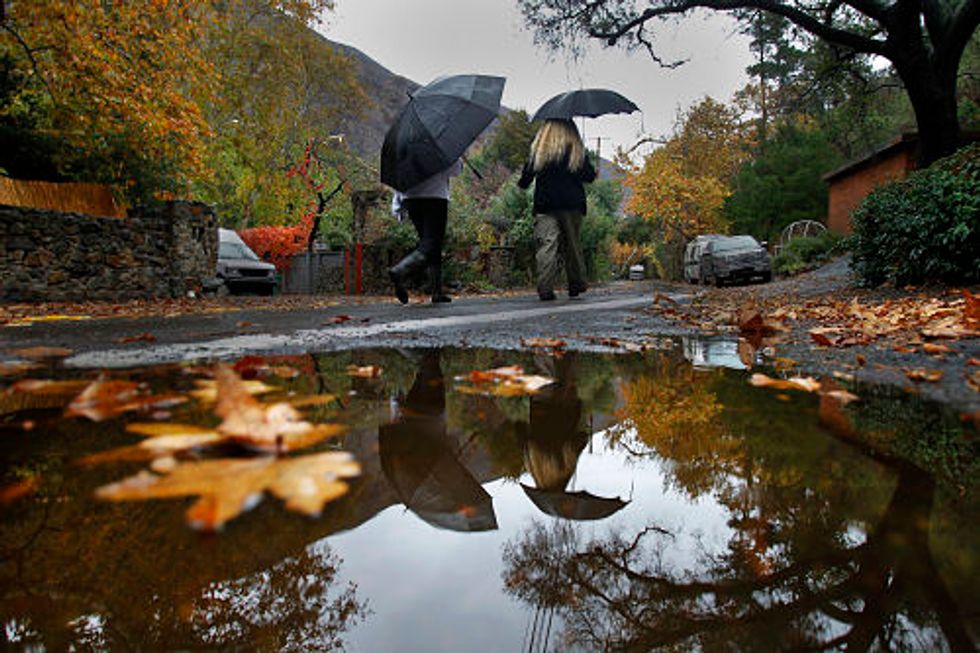 By Joseph Serna, Los Angeles Times (TNS)
LOS ANGELES — A record-setting storm covering Southern California was expected to begin tapering off Wednesday after triggering dozens of evacuations and putting city crews in Ventura and Los Angeles counties on alert for potential mudslides.
"Yesterday we had six straight hours of rain, it wasn't heavy but it was consistent. Today will be more showery," said Curt Kaplan, a meteorologist with the National Weather Service in Oxnard.
The storm that began passing over the region Tuesday was the biggest storm of the rain season that began July 1, forecasters said. The record for Dec. 2 rain was eclipsed in several locations. It rained 1.21 inches downtown, 1.14 inches in Lancaster and 2.14 inches at Santa Barbara Airport, all breaking records set in the 1960s, according to the weather service.
The mountains in Los Angeles and Ventura counties saw 3.5 inches and 4.5 inches of rain, respectively. The downpour was heavy enough that 75 homes in Camarillo were placed under mandatory evacuations Tuesday while swaths of Glendora and Azusa residents, among others, prepared to leave at a moment's notice.
"This is life up here," Glendora resident David Jones said Tuesday. "As long as everyone is walking at the end of the day, the houses and all that stuff can be rebuilt."
Though Wednesday's rain is expected to be more sporadic, it will be consistent enough that forecasters have kept flash flood watches in place for foothill residents, Kaplan said.
The storm left Northern California sopping too.
"Thus far, we're at about 11th in the wettest one-day period in the last eight or nine years," said forecaster Bob Benjamin of the National Weather Service's Monterey office. "It's likely the wettest period thus far this rain season, and quite possibly this calendar year."
The rain is the second of back-to-back storms to hit Southern California. Despite the recent wet weather, it's relatively insignificant when it comes to relieving the state from its historic drought.
"It took us three years to get in the drought, it's going to take a lot to get out of it," Kaplan said. "We're going to need a lot more of these kinds of rains. The only good thing — it'll help moisten fuels in drought-hit areas where there's wildfires."
Photo: Silverado Canyon, Calif., residents Cathy Panza, right, and Jana Brown walk in the rain and look out for rock and mud slides on Tuesday, Dec. 2, 2014. Mudslide concerns are widespread in Silverado Canyon, where almost 1,000 acres burned in September. (Allen J. Schaben/Los Angeles Times/TNS)