Spain-Netherlands Repeat Dominates Upcoming World Cup Games
@AFP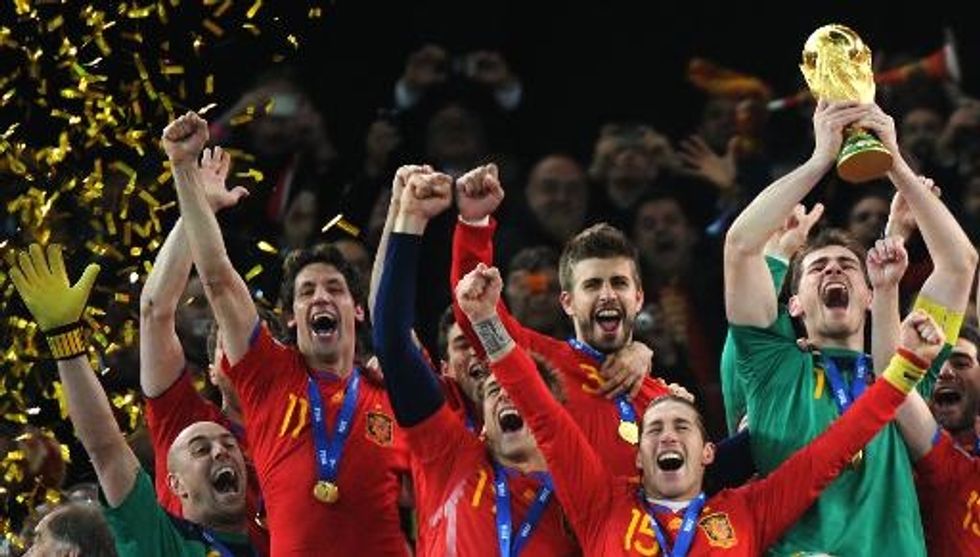 Rio de Janeiro (AFP) – Defending champions Spain take on the Netherlands in a re-run of the 2010 final that dominates Friday's World Cup games.
Australia enter the tournament against South American dark horses Chile in the same Group B battle, while Mexico play Cameroon in Group A.
Andres Iniesta's goal was all that separated Spain and the Netherlands on the scoresheet four years ago. But the Dutch, who were given nine of the 14 yellow cards handed out, were much criticized for their negative tactics.
Netherlands coach Louis van Gaal admits that Spain may still be playing the better football now, but insists that revenge is still possible.
"There is only one way to block the Spanish, you have to defend in a very compact way," van Gaal said on the eve of the game in Salvador.
"Then when you get the ball, you have to have a fast, well executed game.
"This will not be easy as Spain also defend very well. But I have an iron belief that we can produce something special tomorrow, even if you have to be conscious that Spain play perhaps the best football."
Everyone is looking for cracks in the Spanish side that has won two European Championships on the trot as well as the World Cup. Coach Vicente del Bosque says they do not exist.
Del Bosque could name a side with only one change from the one that won the 2012 Euro final. He has only one major decision over whether to use Diego Costa or Cesc Fabregas as his main attacker.
"We have a mature team and young players. We are not afraid of anything and we are in our prime," he said
Netherlands will be relying on the veteran strike force of Arjen Robben, Robin Van Persie and Wesley Sneijder, who has been rejuvenated by van Gaal.
Spain's midfielder Xavi Hernandez acknowledged the threat from the trio but stressed Spain's traditional dominance of possession.
"They have three very experienced players up front. They will sit in and then look for very quick counter-attacks. We know Spain will have more of the ball."
Chile coach Jorge Sampaoli announced that star midfielder Arturo Vidal is fit to play Australia in Cuiaba in a match that could be as important as Spain-Netherlands.
Both of the group favorites know that Sampaoli is waiting to see which one of them makes a slip that he can exploit.
But Sampaoli said he will have to overcome a physical challenge from the Socceroos first.
"We believe Australia will wait for us and counter. I need my players to be nimble and quick to break through strong defenses," he said.
Australia are the lowest ranked team at the World Cup finals, 62nd on the FIFA list, but are ready to take on all comers.
"We don't care who we're up against," said Swiss-based attacking midfielder Dario Vidosic.
"There can be 11 Ronaldos or Messis out there. We want to make everybody proud back home. We've worked very hard to get to this stage," he added.
Mexican coach Miguel Herrera has dropped Manchester United forward Javier 'Chicharito' Hernandez to the substitutes' bench for the Group A clash against Cameroon in Natal.
Hernandez started only six league games for a struggling Man United side this last season, managing just four goals in 24 appearances, 18 as a substitute, in the Premier League.
Herrera has plumped for in-form duo Oribe Peralta and Giovani dos Santos up front. "There is very good chemistry between them," said Herrera.
Cameroon, who were embroiled in a bonus row before arriving in Brazil, will be relying on their veteran captain Samuel Eto'o to guide them through the tough group.
AFP Photo/Javier Soriano