Why Is Spicer Gagging White House Press Corps?
@EricBoehlert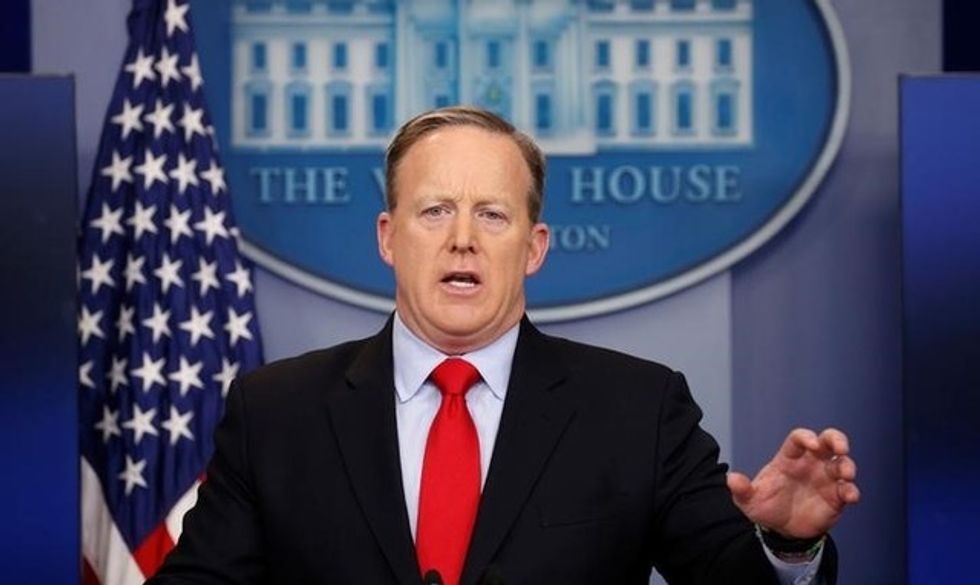 Reprinted with permission from MediaMatters.
Is the era of Trump White House daily press briefings now, for all practical purposes, over?
On Monday, White House press secretary Sean Spicer held an off-camera "gaggle" where all video and audio recordings were banned. It was only the latest example of an administration obsessed with secrecy and committed to embracing the opposite of transparency. (The White House held a similar "no audio" briefing last week.) That hallmark lack of transparency extends specifically to keeping journalists and voters as uninformed as possible.
Today, White House press briefings are dying on the vine. They're becoming increasingly scarce and unhelpful. "When Spicer and [deputy Sarah Huckabee] Sanders do take questions from journalists, they increasingly offer nonanswers," TheWashington Postnoted this week.
This trend fits a larger, disturbing strategy as the GOP-run Senate scrambles in total secrecy to pass a sprawling health care bill without holding any public hearings, without hearing from any health care experts, and without releasing the text of the bill. Reporters today have no idea what's in the bill, simply because Republicans won't make the contents public. (Reporters have to rely solely on Republican sources for legislative information.)
It all constitutes a historic, incremental effort by the Trump administration to lock out the press — and, by extension, the public — from the government's official duties and business.
This was my warning just days after Trump's November victory: "Moving forward, news organizations face a stark, and possibly defining choice in terms of how they respond to any radical efforts to curb the media's White House access."
Today, some journalists, and specifically the large, influential news organizations they work for, deserve a healthy dose of blame for largely sleepwalking past a dangerous problem for months.
For much of 2017, Media Matters has urged news outlets to take collective action to push back against the White House's anti-press steamroller operation.
This week, following the outrageous "gaggle" lock-out, CNN's senior White House correspondent Jim Acosta spoke out, suggesting "collective action" is the only option news outlets have in the face of the White House's unprecedented attack on newsgathering:
"It's bizarre," said Acosta, who despite being labeled "fake news" to his face during a press conference with President Trump in February is not known for editorializing his reporting. "I don't know what world we're living in right now, Brooke, where we're standing at the White House and they bring us into the briefing room here at the White House, and they won't answer these questions on camera or let us record the audio… I don't understand why we covered that gaggle today, quite honestly, Brooke. If they can't give us the answers to the questions on camera or where we can record the audio, they're basically pointless."
But is it now too late? The time for robust pushback was certainly back in January or February when the White House was still assembling its obstructionist strategy. The press should've been raising holy hell from day one. (Following yesterday's controversy, the White House announced Spicer will be holding an on-camera briefing today.)
Reminder: When the Obama White House tweaked an access policy in a way news organizations didn't like, they instantly staged a "mini-revolt" by indignantly, and collectively, demanding a meeting with Democratic administration officials to fix the problem.
Acosta's forceful and important commentary on Monday has been the exception, not the rule — and criticism like Acosta's has not been bolstered by much tangible action from major news organizations.
Why the media's signature timidity? My guess is it was the dream of access journalism that prevented many in the press from doing the right thing from day one. It was the dream of access journalism that kept reporters, editors, and producers from loudly, angrily, and collectively, demanding traditional access from the Trump White House.
Nervous about having their access cut off — about not being called on at briefings, about being shut out of gaggles, about having no chance at landing a presidential interview — many journalists and news organizations sat on their hands and hoped for the best. Nervous of offending a Republican president they deemed as a TV celebrity, journalists backed down. (Or worse, laughed along.)
And leading the access brigade was the White House Correspondents' Association. No matter how many obstacles the administration erected for the press, the group has routinely seemed to downplay them — all while stressing the Trump team was providing access.
But of course today the White House does not provide beloved access. It's doing the exact opposite. The new paucity of on-camera briefings prove that point, as does the fact that when truncated briefings do occur the main objective appears to be to share as little helpful information as possible.
Example: Three weeks ago a reporter at a briefing asked Spicer if Trump believed in climate change. Spicer said he didn't know because he had never asked Trump. To date, Spicer still does not seem to have an answer for that very simple question.
So yes, journalists sat on their hands while angling for access that never came. Trump hasn't had a full-fledged press conference since February; it's been more than a month since he sat down with a legitimate journalist to answer extended questions. And as scandal allegations mount, there's no reason to think Trump's personal attorney will allow him to give any in-depth interviews soon.
While networks have gone overboard with airing almost all of Spicer's briefings, on-camera briefings — even ones in which Spicer is his usual, evasive self — are still better than nothing in terms of creating a video record of the administration's answers to reporters' questions on important issues.
Nonetheless, the window to save the press briefings is closing quickly. I wish CNN and the rest of the press corps would take Acosta's current advice ("we should walk out"), and do something.