St. Augustine Is Feeling A Lot Younger Than 450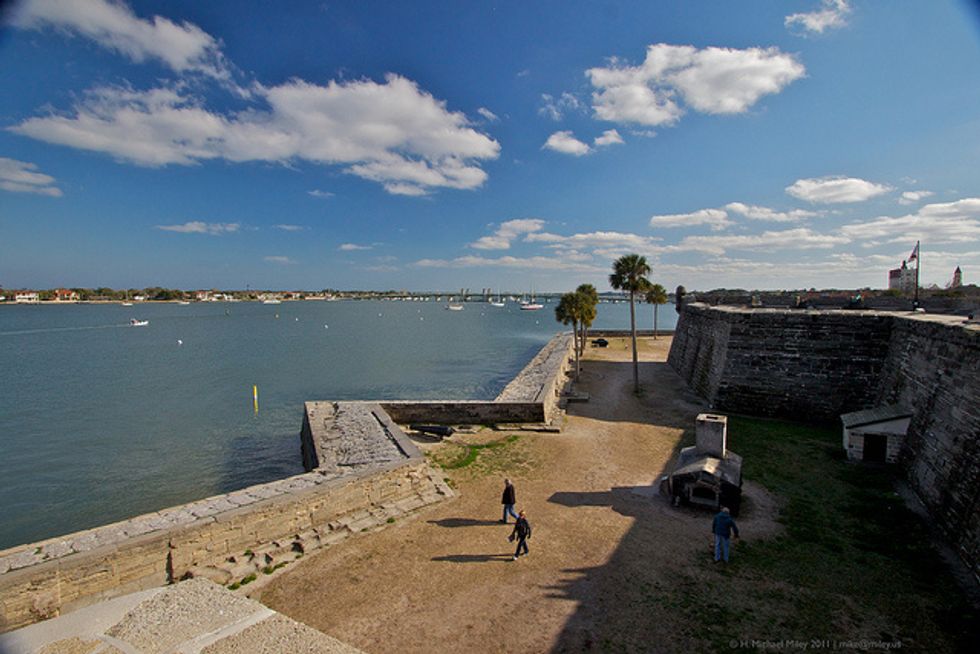 By Josh Noel, Chicago Tribune (TNS)
For the oldest town in America, St. Augustine has sure come a long way in recent years. The town of 14,000 on Florida's northern Atlantic coast celebrates its 450th birthday in late summer, but locals mostly have been rejoicing over the town's cultural growth.
"St. Augustine has seen a lot of change during the last five years," said Greg Goldstein, a bartender at the newly opened Ice Plant Bar and Restaurant, which symbolizes the recent leap as much as anything.
The two-story, concrete-walled building opened in the early 1900s as a power plant.
It soon became an ice plant, which it remained for 50 years before being shuttered. Last year it reopened with dual trendy purposes: on one side, a sleek restaurant/bar with a Prohibition-era feel. On the other side sits a distillery with ambitious growth plans. The town is abuzz over its old ice plant and all that it means: high-concept food and cocktails available until 2 a.m., made with spirits distilled under the same roof and all in a stunning old building.
The Ice Plant is a notable development in a town best known for its past but increasingly embracing the present. To be sure, history remains a prime attraction in St. Augustine, just as it is in neighbors such as Savannah, Ga., and Charleston, S.C.The historic district includes ample buildings dating back hundreds of years, but mixed in with all the yesteryear are late-night cocktail lounges and beer bars, an eclectic food scene and a chain of gourmet popsicle shops.
St. Augustine is home to Flagler College, a small liberal-arts college that lends the town a young and active vibe. Crossed with its intersection of lively modernity and fascinating history, St. Augustine makes for a well-rounded destination on its 450th birthday–even if you skip the formal celebration.)
To do
With so much diverse tourism–you're likely to overhear any number of international languages–St. Augustine has the feel of a town several times larger than it is. (It's also large geographically speaking.) The city is tourist-friendly, with hop-on-and-off trolleys snaking through the tidy streets and the kinds of things vacationers want: T-shirt shops, ghost tours, and restaurants and bars open into the evening, often featuring some guy with an acoustic guitar singing Beatles songs into the night air.
But there also are the newer, more innovative offerings, like the Corazon Cinema and Cafe, a recently opened art-house movie theater that serves sandwiches, wine and beer. Or St. Augustine Distillery Co., which opened last year and, as of this writing, makes gin and vodka, with rum and whiskey to come. Free tours are given every half-hour and include mini-cocktails mixed on the spot.
The distillery opened in March 2014, and already, the tour has become a staple of visiting the city; I attended one in the middle of a Wednesday afternoon, and it was nearly full.
Of course, the best way to soak in any town is to walk, and that's especially true of St. Augustine's old town. Those historic brick streets date to the 16th century; the first construction was about 50 years after Spanish explorers landed on the coast, in 1565.
Today it is a charming patchwork of narrow streets that evoke a PG-rated version of New Orleans' French Quarter with worn, stucco buildings and balconies jutting above the pedestrians.
Although there are no original buildings because of a fire that leveled much of St. Augustine, there is plenty of history: three-block Aviles Street, which the town claims as the oldest street in America; Castillo de San Marcos, the oldest masonry fort in the United States (it dates to the 1600s and was controlled both by the Spanish and English before passing into American hands); and the oldest Catholic parish in the nation.
The Lightner Museum is another historic gem, housed in an old hotel built in 1887 that is home to wondrous gems collected during the Gilded Age: a fossilized dinosaur egg, an 1870 grand piano that belonged to an Italian opera singer and a stuffed lion given to Winston Churchill to commemorate his "magnificent victories in North Africa." The museum also features what was the world's largest indoor swimming pool, though today it is a restaurant.
Spending all your time looking at old things, however, misses one of the joys of the Florida coast: the coast. St. Augustine is lined with miles of wide beach. At the northern edge sits Anastasia State Park, 1,600 beachfront acres that for me included a unique little hike through what once were beachfront dunes but have become a thick forest marked with oaks and evergreens.
To dive even deeper into nature, check out St. Augustine Eco Tours, which offers kayaking and bird-watching among other activities.
Of course, the ultimate local experience is zip-lining over a pit of alligators and crocodiles, and you can do that very thing at the St. Augustine Alligator Farm Zoological Park.
Food
St. Augustine's recent leap is clearest on its food landscape. You can choose from new and modern (The Ice Plant and fresh-catch fish restaurant Catch 27), old-school Southern (fried shrimp and Minorcan clam chowder rule at O'Steen's, Aunt Kate's Restaurant and Barnacle Bill's) and upscale Continental (Michael's Tasting Room serves Spanish-inspired food, and Bistro de Leon is run by a fifth-generation French chef who incorporates local produce into traditional fare).
About a mile west of the old city, Present Moment Cafe stands alone in St. Augustine as a restaurant specializing in raw and vegan food. It's an ideal detox after all that fried shrimp–plus, the vegan desserts almost taste "real." Also keep an eye out for the datil, a spicy pepper with a hint of sweetness that is grown in and around St. Augustine and appears on many menus in various forms.
Sleeping
St. Augustine is home to a robust hotel scene that essentially boils down to three varieties: historic, beachfront and B&Bs. Highlights include Casa Monica, which was built as a hotel in 1888, converted to the county courthouse, closed and then reopened as a hotel in 1999. Castillo Real is a boutique hotel on St. Augustine Beach that is decorated in a Mediterranean style. Those seeking modernity on a budget should check out Jaybird's Inn, which is a couple of miles from the old city but newly remodeled and offers free bicycle loaners.
More information: http://www.floridashistoriccoast.com. For info on the anniversary Sept. 4-8, visit http://www.staugustine-450.com/celebrate450.
Photo by H. Michael Miley via Flickr