St. Louis Alderman Released From Jail After Arrest During Ferguson Protest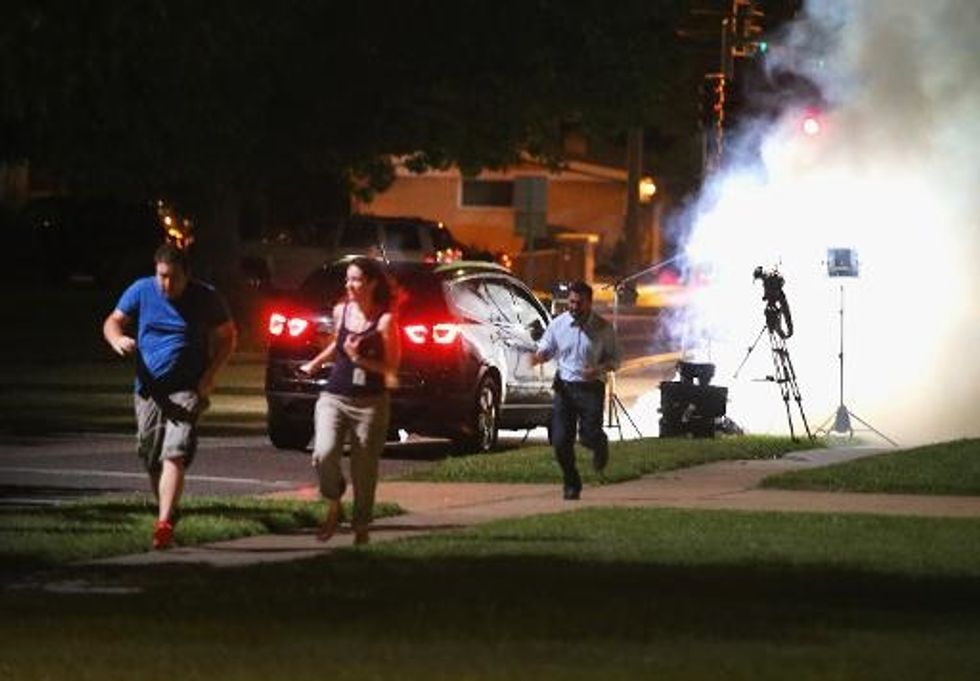 St. Louis Post-Dispatch
FERGUSON, Mo. — St. Louis Alderman Antonio French emerged Thursday morning from a night in jail after his arrest at the Ferguson protests to say that the police officers' "heavy-handed" approach on the streets is making the situation worse.
French said he has no documentation that says why he was arrested, and that he was released about 7 a.m. today without having to post any bail.
No police spokesman was available to explain why French was arrested.
French said he should never have been locked up, nor should the dozen or so others at the jail overnight.
"Inside that jail is nothing but peacekeepers," he said. "They rounded up the wrong people … reverends, young people organizing the peace effort."
Police arrested about a dozen people Wednesday night, including French and two national reporters. Police used tear gas and sonic cannons to disperse the crowds. Today, Missouri Gov. Jay Nixon is scheduled to visit Ferguson in the wake of the growing protests.
As he walked out of the Ferguson Jail this morning, French wore his signature oxford button-down shirt — slightly wrinkled from sleeping in it on a jail cot, and with a burnt orange color on the shoulder from where a fellow inmate had wiped his eyes from the burning tear gas.
French talked with reporters about his experience. He said he was near the burned-out QuikTrip at about 9 p.m. Wednesday when police in riot gear ordered protesters to disperse.
"Police had just given a final warning to disperse and released smoke bombs, people scattered and ran," French said. "Police started to move forward with riot gear and tear gas started to come."
"I moved away when it looked like they were throwing what I thought was tear gas … it turned out to be smoke bombs," French added. "I realized the best place (to be was in my) car with the windows rolled up. That's where I was."
When a reporter asked French today how he went from being in his car to being arrested, he said: "They open your door and drag you out."
"They just rounded up anybody they could see," he said.
He had no complaints about the way the officer treated him, other than how securely the officer wrapped his wrist with the plastic handcuffs.
"I don't think I was mistreated," he said. "The roughest things were those zip ties … pretty tight."
He said he was treated well inside the jail and offered a honey bun at 6 a.m. for breakfast, which he declined. He was told he'd be held 24 hours on a charge of unlawful assembly, but then he was inexplicably released without bail or any paperwork at 7 a.m.
French is in his first term as alderman of the 21st Ward in St. Louis. His ward includes the Mark Twain, Penrose, and O'Fallon neighborhoods. After the fatal shooting of Michael Brown by a police officer in Ferguson on Saturday afternoon, French has been attending protests and rallies, posting updates on social media.
French said he will continue to document the protests and police response as long as the protesters are on the streets. He wasn't able to post anything for the nine hours he was in jail because they took his phone from him. At 8 a.m., French said he was ready to log back in. "I've gotta find a charger somewhere," he joked.
He said he was also heading to an ATM to get cash to bail out two of his staffers who were arrested after being pulled from their cars.
"In an American city, people are being tear-gassed and snipers are pointing rifles at them," he said. "Everybody should be upset … heavy-handed police approach is actually making the situation worse.
"Before they arrived heavy-handedly, it was a peaceful situation."
French said the city is wrong to try to limit protests to daylight-only.
"We have a right to protest 24 hours a day," French said. "Our constitutional rights don't expire at 9 p.m." — Kim Bell, 7:25 a.m. Thursday
AFP Photo/Scott Olson
Interested in national news? Sign up for our daily email newsletter!