'Stand Your Ground' Protesters Call Florida 'Stuck On Stupid'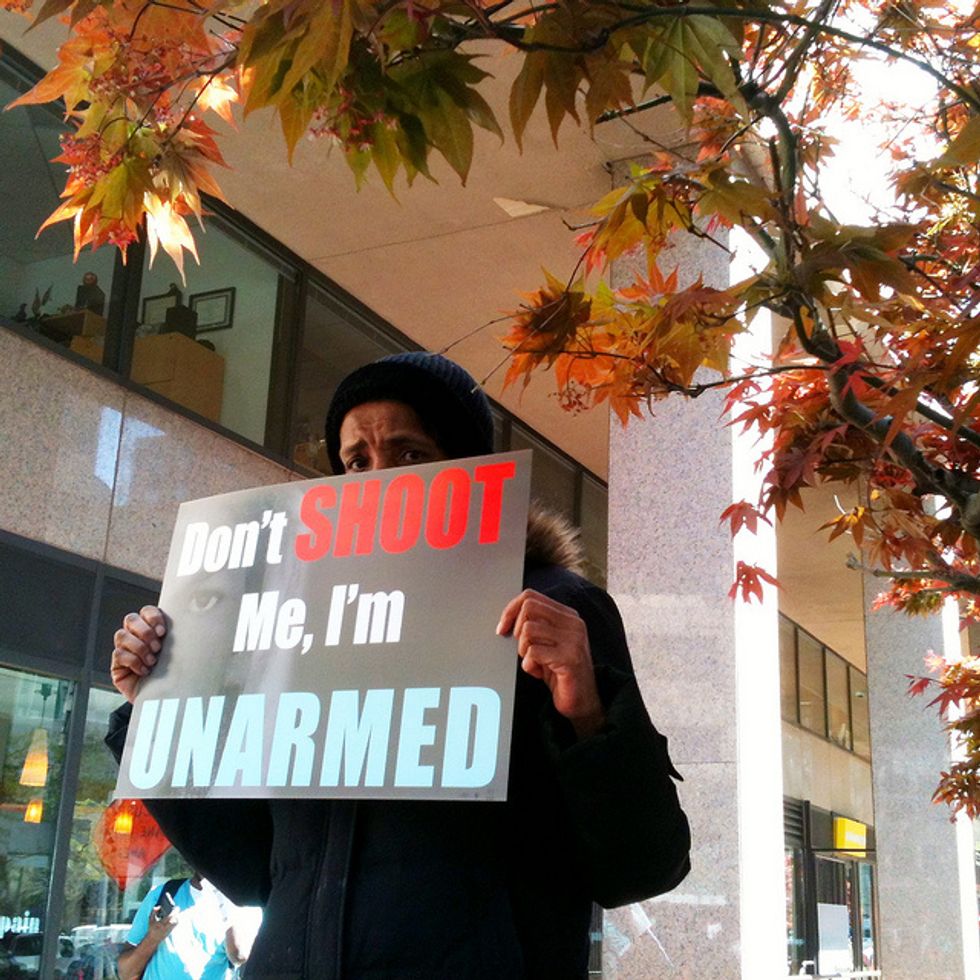 By Aaron Deslatte, Orlando Sentinel
TALLAHASSEE, Fla. — The parents of Trayvon Martin and Jordan Davis led a crowd of protesters to the Capitol Monday to warn Republican policymakers that failing to repeal Florida's 'stand your ground' law will haunt them at the polls this fall.
Florida's "shoot-first" law passed in 2005 has been blamed for a rash of high-profile shootings in recent years. The law allows people who are not involved in criminal activity to stand their ground and meet force with force if they feel threatened.
Last summer, George Zimmerman was acquitted in the shooting death of 17-year-old Trayvon Martin in Sanford. Zimmerman was a neighborhood watch volunteer who got into a physical altercation with Martin, who was not armed.
This year, the law was in the middle of a legal showdown in Jacksonville after Michael Dunn was found guilty of second-degree attempted murder for shooting into a car full of teenagers and killing 17-year old Jordan Davis.
"Florida is an 'F' state. Right now, Florida is failing us," Sybrina Fulton, Martin's mother, told a crowd of hundreds of demonstrators, led by the Rev. Al Sharpton, who marched the streets to the Capitol.
Sharpton called Florida "ground zero" for the gun-friendly self-defense laws that have spread to two dozen other states, making it appropriate that Florida should be where they press to reform or repeal the law.
"You have legislators saying our children can be killed based on the imaginations of others," he said. "Protecting yourself is not having a social hallucination."
The parents are later planning to testify before a committee, although the GOP-dominated Legislature has shown no willingness to make major changes to the law.
Last November, a House committee defeated a bill that would have repealed the law. And another measure sponsored by Sens. David Simmons, R-Altamonte Springs, and Chris Smith, D-Fort Lauderdale, which makes minor changes to the law faces stiff opposition in the House.
"We will fight to change their minds. We will fight to change their hearts," Smith said.
A spokesman for House Speaker Will Weatherford, R-Wesley Chapel, said the chamber had no plans to re-consider the repeal.
Although the law itself is unlikely to change this spring, the issue could resonate to help Democrats deliver their voters to the polls this fall. Gov. Rick Scott was singled out by several speakers over his steadfast support for the law and is facing an uphill climb to keep his job against likely Democratic opponent Charlie Crist.
Tracy Martin, Trayvon Martin's father, said if the law isn't changed "we've got to make a change in that office."
Asked for comment, a spokesman for the governor responded with a one-sentence email: "Governor Scott supports the 2nd Amendment and Florida's self defense laws."
U.S. Rep. Corrine Brown, a Jacksonville Democrat, said the state had embarrassed itself with the law. "We're here because Florida is stuck on stupid."
Photo: LaDawna's pics via Flickr