Standing Tall For Planned Parenthood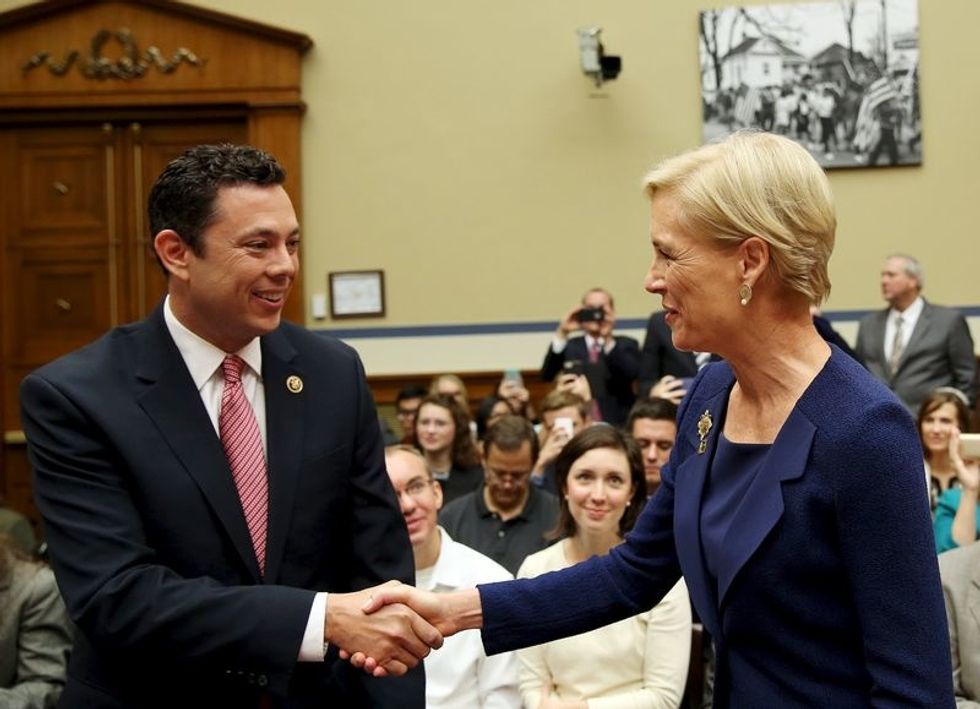 Seeing as it's still all too common to depict a determined woman as an angry one, let's be clear on who did and did not yell at the congressional hearing Tuesday.
The headline in The Hill read, "Republican gets into shouting match with Planned Parenthood executive."
Alas, this is no closer to the truth than Carly Fiorina's screed of lies about a video that she did not see because it does not exist. To cast this particular exchange at Tuesday's five-hour congressional hearing as a "shouting match" is to suggest that both people were wild-eyed fanatics. This was not the case.
Planned Parenthood CEO Cecile Richards was her typically calm, rational self trying to answer a question as U.S. Rep. Jim Jordan — from Ohio, I'm embarrassed to say — repeatedly yelled at her.
In contrast to Richards' poise, Jordan's performance looked like a bad audition for the junior class play. He was busy with hand signals, pointing and raising his palm to her as she tried to speak. He also did everything he could, short of cutting off her microphone, to stop her from talking. By my count, Jordan silenced her 15 times during testimony that lasted 5 minutes, 34 seconds.
So many women know that ex-husband.
Had I been in attendance at the House Committee on Oversight and Government Reform hearing, I might have had a hard time stopping myself from standing up and shouting, "Who raised you, son?" Jordan is only seven years younger than I, but he was acting like one of the neighbor boys my mother warned me about when I was about 12.
Virginia's Rep. Gerry Connolly sounded equally appalled in his summary of what he'd just witnessed:
"I hope every American woman is watching today's hearing, because just the visuals, as well as the audials [sic], tell you a lot. My colleagues have said there's no war on women. Look at how you've been treated as a witness. Intimidation, talking over, interrupting, cutting off sentences, criticizing you because of your salary. […] The disrespect, the misogyny rampant here today tells us what is really going on here."
Rep. John Duncan, perhaps mindful of the optics of the hearing, said to Richards, "Surely, you don't expect us to be easier on you because you're a woman."
"Absolutely not," she responded. "That's not how my mama raised me."
That mama was the late, great Ann Richards, the feminist of withering wit and deadpan delivery who was elected governor of Texas in 1990. She died in 2006, but she left us in good hands by launching Cecile into the world.
Her daughter, momentarily uninterrupted: "It's a shame to think that there are people in this country who are so committed to ending women's access to both birth control and safe and legal abortion that they'll really resort to any means to try to entrap people, twist the truth, in order to reach their ends. […] Why I'm here voluntarily today is that the facts are on our side. We're proud of the health care that we deliver every single year despite the animosity by some, and we're grateful that the American people (stand) with Planned Parenthood, as I think the Wall Street Journal poll showed last night."
The Wall Street Journal/NBC News poll that Richards mentioned at the hearing found that 47 percent of Americans view the women's health organization favorably, compared with 31 percent who do not.
If you're on social media, you've most likely noticed how many people have recently bathed their pictures or avatars in pink with the hashtag "StandWithPP." You may even be astounded at the sight of some of those pink faces. How many times have I tried to tell you this? Women are just full of surprises.
For me, this is a long habit: I stand with Planned Parenthood.
I've also sat with Planned Parenthood. First as a teenager who needed birth control and later as a companion to many friends and family members who've needed the help and compassion of the good, brave people who work there.
I've supported Planned Parenthood, too. Those are some powerful memories. In 2012, in Columbus, Ohio, I stood with Richards by the stage as a young woman walked up to the microphone and talked about the 7-week-old baby strapped to her chest as a handful of men in the back yelled "murderer," "liar," and "Hitler."
The mother didn't yell. She didn't get angry. She just continued to share her story, surrounded by supporters. Her voice was trembling, but she was strong. Armed with the truth, she was unstoppable.
Connie Schultz is a Pulitzer Prize-winning columnist. She is the author of two books, including …and His Lovely Wife, which chronicled the successful race of her husband, Sherrod Brown, for the U.S. Senate. To find out more about Connie Schultz (con.schultz@yahoo.com) and read her past columns, please visit the Creators Syndicate Web page at www.creators.com.
The chairman of the House Committee on Oversight and Government Reform committee, Congressman Jason Chaffetz (R-UT)(left) shakes hands with Planned Parenthood Federation president Cecile Richards (right) before she testifies at the House Committee on Oversight and Government Reform on Capitol Hill in Washington on September 29, 2015. REUTERS/Gary Cameron