States Lag In Educating Students About Personal Finance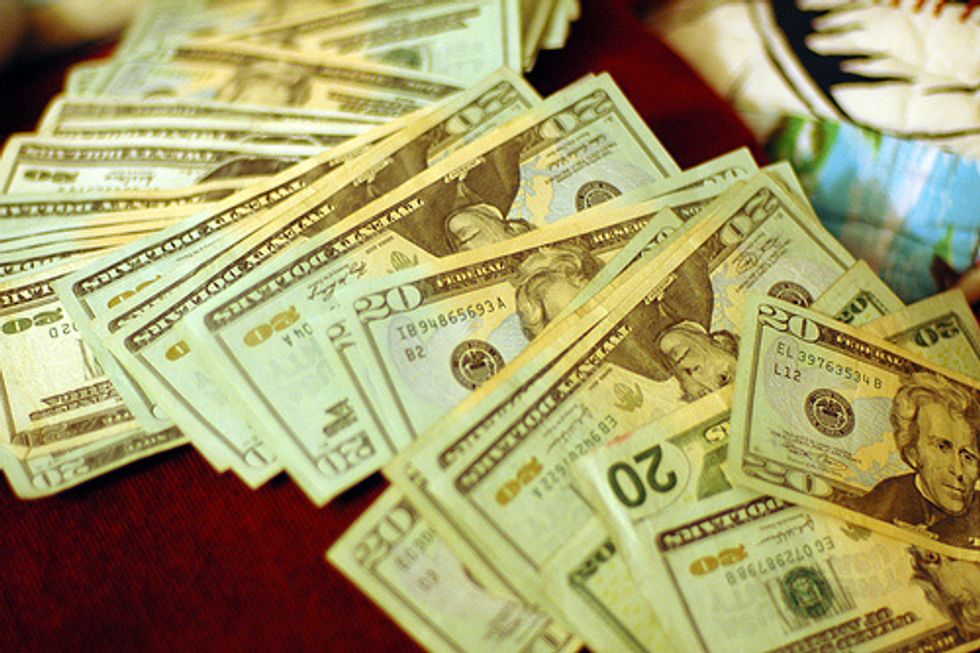 By Pamela M. Prah, Stateline.org
Students paid attention when Mark Ingram, former Alabama Crimson Tide star and current running back for the New Orleans Saints, showed up at Calera High School outside of Birmingham, Alabama.
Ingram and Alabama state Treasurer Young Boozer unveiled a free educational video game called "Financial Football," developed by the NFL and Visa Inc. The game allows students to move their favorite team down the field and score if they answer money management questions correctly. Now in 41 states, the game and classroom curriculum aim to give high school and middle school students the fundamentals of personal finance.
"Students enjoyed the game," said Dawn Morrison of the Alabama Department of Education. "They did learn something without realizing they were learning."
The recent recession raised greater awareness of the importance of money management skills as many people purchased homes they could not afford by signing mortgages they did not fully understand. But the recession also cut deeply into state budgets, forcing policymakers to find new ways to get money management into school curricula and creative ways to pay for it.
Currently, only four states — Missouri, Tennessee, Utah and Virginia — require that high school students take a stand-alone personal finance course to graduate, according to Jump$tart Coalition, made up of 150 financial institutions, consumer groups and federal agencies.
The Council of Economic Education, which also gets backing from businesses and financial institutions, estimates that 17 states require high school students to take courses that include personal finance instruction. Both groups lobby for more financial literacy in schools.
Teens are big consumers — spending as much as $91 billion in 2011, by one estimate — but few are saving for college or other long-term goals or understand basic financial terms. More than 75 percent of 16- to 18-year-olds say they are financially savvy, but less than 20 percent knew what a 401(k) plan is and only 32 percent knew how credit card interest and fees work, according to a 2011 survey from the investment firm of Charles Schwab & Co. Less than a third of young adults have basic knowledge of interest rates, inflation and other financial terms, according to a federal study.
In some states, such as Alabama, personal finance is taught as part of another course. Alabama has been on the bottom of many state-by-state rankings for personal finance instruction, and a state-appointed commission had recommended better courses for high school students.
Beginning this year, students there will have to pass a course called Career Preparedness to graduate, under new state Department of Education requirements. The course includes financial literacy, but also teaches basic computer programs, such as Word and Excel, needed in the workplace.
Advocates are pressing schools to incorporate personal finance in math and language arts classes in elementary schools. "You've got to start early," said Laura Levine, executive director of Jump$tart Coalition. "A one-semester course should not be the end-all."
Nearly 20 states last year approved legislation or adopted resolutions regarding financial literacy, according to a tally by the National Conference of State Legislatures. Among them, California required the state board of education to integrate financial literacy into existing curricula.
Florida revised requirements for high school graduation to include financial literacy within a required economics course, and Maine added personal finance course work as part of social studies or history courses that are required for graduation. Utah established a task force to look at how to improve financial and economic literacy education in the public school system.
States and schools can tap into various federal grant programs, including from the Department of Education, for financial literacy, and federal websites and toolkits. But many schools also are finding help from companies with a vested interest, such as Visa and others in the financial sector.
Visa's Practical Money Skills program, which developed "Financial Football" with the NFL, is among the most high profile privately produced financial literacy programs offered to states and schools. A YouTube video released this year, for example, stars San Francisco 49ers players Joe Staley and Colt McCoy as well as California State Controller John Chiang and California State Board of Equalization member Betty T. Yee. The games also are available as a free application for use on mobile devices.
Photo: StacyA via Flickr