States See Little Progress On Gun Reform One Year After Newtown Massacre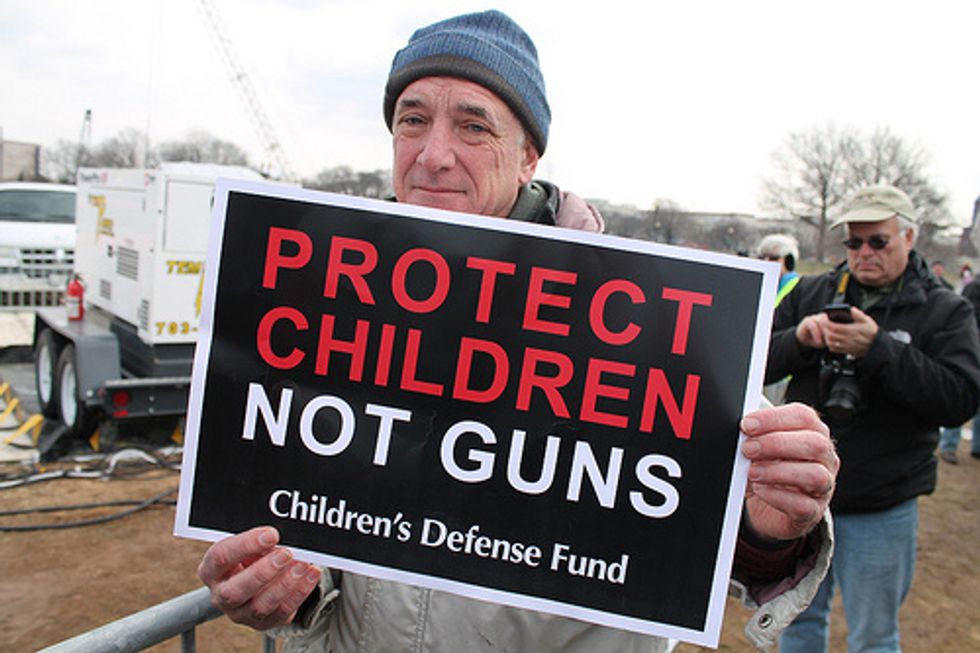 As the first anniversary of the tragic mass shooting at Sandy Hook Elementary School in Newtown, Connecticut approaches, a New York Times report highlighting the gun reform measures that have been introduced and passed throughout the country over the past year shows just how little states and lawmakers have done to strengthen gun restrictions.
In 2013, "about 1,500" state gun bills were introduced, according to the Times—178 passed at least one chamber of a state legislature, but only 109 became law.
Of the 109 gun bills passed by states, 39 tightened gun restrictions and 70 loosened them.
Not surprisingly, most of the gun laws that passed did so in Republican-controlled states.
States controlled by Republicans passed nine pieces of legislation that tightened gun restrictions and an overwhelming 49 that eased restrictions.
In contrast, Democratic-controlled states passed 25 laws that created stricter gun restrictions, and only three that loosened gun restrictions.
In states with mixed control, five laws that strengthen gun restrictions passed and a greater 18 that loosen restrictions also passed.
Americans seem less enthusiastic about passing stricter gun reform in the wake of the mass shooting that killed 20 children and six adults. A month after the shootings, an NBC News/Wall Street Journal poll found that 56 percent of Americans favored stricter gun laws. Two months after the shootings, in February, another NBC/WSJ poll found an even greater 61 percent said they supported stricter gun laws.
However, by April, as the Senate debated stricter gun reform that eventually failed to pass, support had begun to fade, with only 55 percent of Americans saying they wanted stricter gun laws.
According to the most recent NBC/WSJ poll released Friday, just 52 percent of Americans now support stricter gun laws, while 38 percent say gun laws should remain the same and another 8 percent say laws should be less strict.
With declining public support and legislative attempts to strengthen gun reform failing to gain traction, it appears that the nation is back to where it was before that tragic shooting occurred.
Photo: Elvert Barnes via Flickr
Chart: Wonk Wire via The New York Times