States Use Cameras To Crack Down On School Bus Scofflaws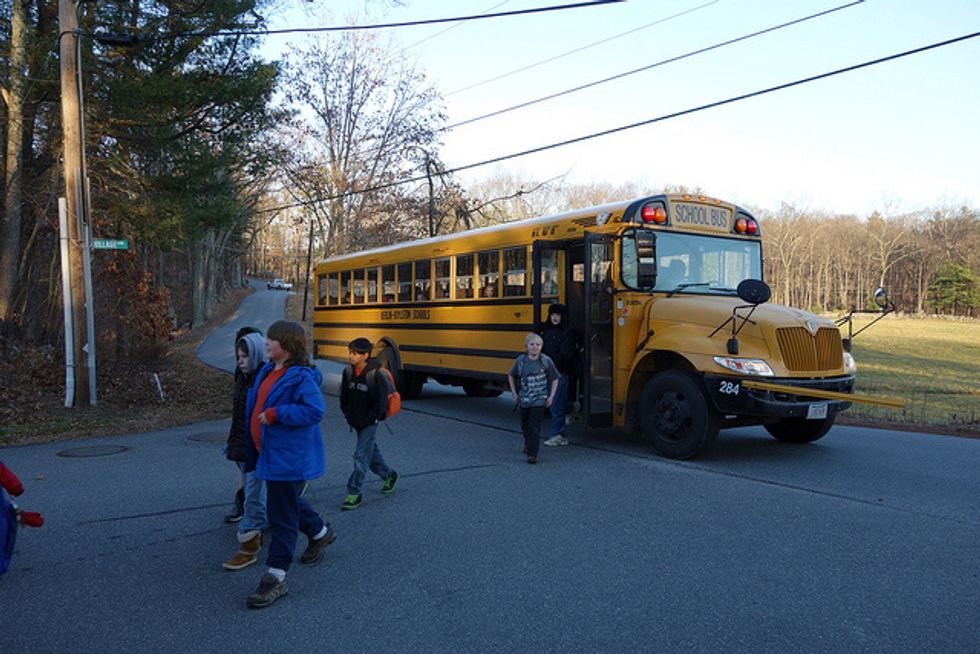 By Jenni Bergal, Stateline.org (TNS)
MaKayla Marie Strahle was only 11 when she stepped off a school bus, started to cross the road and was struck and killed by a pickup truck in west central Wyoming just days before Christmas 2011. The driver, who had ignored the stopped school bus' flashing lights, was later convicted of three misdemeanor charges, including homicide by vehicle.
MaKayla's death sparked calls for change, and spurred the legislature to take action. Last year, Wyoming became the first state in the nation to mandate that every public school bus have cameras attached to catch drivers who illegally pass.
"It's quite a different approach," said Douglas Shinkle, a transportation policy expert for the National Conference of State Legislatures (NCSL). "Wyoming has taken a pretty big step requiring this statewide, and appropriating the money to do so."
While Wyoming is out front, a number of states have enacted measures that would allow the use of cameras to target the dangerous action of "fly-bys" or "pass-bys" by scofflaw drivers who illegally pass stopped school buses.
At least 12 other states — Arkansas, Connecticut, Georgia, Illinois, Maryland, Mississippi, North Carolina, Rhode Island, South Carolina, Virginia, Washington, and West Virginia — have laws that authorize the use of cameras on the outside of buses to catch fly-by drivers, according to the NCSL. And at least seven states, including New Jersey, New York, and Tennessee, are considering bills this year that deal with school bus monitoring cameras. They range from providing grants to school districts to buy and install the equipment to authorizing that the cameras be allowed statewide.
Two other states, Virginia and Indiana, took up school bus camera bills this session though neither passed.
Republican state Representative Edmond Soliday, who authored the Indiana bill, said it received overwhelming support in committee and from the public, but he withdrew it after some of his colleagues expressed strong opposition, citing privacy concerns.
"When it comes to legislation like this, you have to have patience," said Soliday, who chairs the House Roads and Transportation committee.
Soliday said this was the third attempt (and his second) to pass a bill in Indiana authorizing outside school bus cameras. But in some states, he said, it has taken several years to get this type of law enacted. "We'll try it again, if we have the votes," he said. "Perseverance is the only path to victory."
___
ILLEGAL PASSING
Nearly half a million school buses are on the road every day in the U.S.
State laws typically require motorists from either direction to stay stopped if a school bus' flashing red lights are deployed and its stop signal arm is extended, unless it's at a divided highway or there's a barrier. In that case, cars may be allowed to travel in the opposite direction of the bus.
But some drivers who are impatient about waiting for students to board or exit choose to ignore the warning signals and zoom around the bus. In many states, they face hefty fines for doing that — if they're caught.
A 2014 survey by the National Association of State Directors of Pupil Transportation Services (NASDPTS) of more than 97,000 school bus drivers in 29 states found that an estimated 76,000 vehicles illegally passed buses on any given day.
"When children are getting on and off buses in the loading zone, that's when they're the most vulnerable," said Charlie Hood, the association's executive director.
Between 2001 and 2013, nearly a dozen children between the ages of six and seventeen died in school bus-related crashes involving another driver charged with illegally passing the bus, according to the National Highway Traffic Safety Administration.
Hood said states have adopted a variety of measures to tackle the problem of fly-bys, such as improving motorist education, hiking penalties, and beefing up law enforcement, including mounting cameras on both sides of buses.
"It's a very complex problem. Cameras can definitely help," Hood said. "We think they have a deterrent effect. They certainly have an educational effect. It's one tool in the safety arsenal."
School transportation officials say that bus cameras shouldn't be compared to red light and speed cameras, which a number of cities and states have jettisoned recently after drivers complained of stiff fines, and controversy erupted over the reliability of the equipment, enforcement, and the amount of money paid to vendors.
Many state legislators have a different attitude when it comes to using cameras for pedestrian student safety.
"These bills authorizing school bus cameras are much more targeted and they continue to pass year after year," said NCSL's Shinkle. "Overall, the cultural tolerance for illegally passing a school bus is about as low as it gets. I think that you can find a lot of bipartisan agreement on protecting children."
___
WYOMING'S LAW
In Wyoming, which does not use red light or speed cameras, members of both parties supported the school bus cameras, said Republican state Senator Hank Coe, who chairs the Senate Education Committee.
Coe said the state's joint House and Senate education committee sponsored the school bus camera legislation in large part because of MaKayla Strahle's death.
"I think it had an effect on the legislators," Coe said. "There are lots of complaints about cars just blowing by school buses every year. Even in a small, rural state like Wyoming, it's a big issue."
Many legislators did oppose the bill, calling it another form of government intrusion or saying that drivers' privacy would be violated by the video recordings — arguments that have been used in other states to defeat legislation allowing outside cameras on school buses.
"I had major concerns about this bill," said former Republican state Representative Matt Greene, who voted against the legislation. "We were not only allowing, but we were requiring spying on Wyomingites by passing this. Big Brother is watching."
But the measure ultimately passed, and the legislature agreed to provide up to five million dollar to reimburse school districts 100 percent of the cost of installing cameras on the state's fleet of 1,511 buses.
"When you put the cameras on there, if a car does drive by, it's recorded and the license plate is recorded and charges can be pursued by law enforcement. It's a pretty important deal," Coe said. "This makes the public more aware that if they blow by a school bus, they've got a good chance of getting caught."
While the mandate requiring outside cameras technically doesn't become effective until the 2016-17 school year, some districts have already used the state funds to install equipment on their buses, said David Koskelowski, the Wyoming Department of Education's program manager for traffic safety and pupil transportation.
Koskelowski said the cameras photograph the vehicle model, color, and front or back license plate. The bus driver then calls in the incident on the radio or marks it on the video, which contains the date, time, and GPS location. A supervisor then makes a copy of the video and contacts police, who can review it and decide whether to pursue the case and issue a citation.
But it's left to police agencies and prosecutors in each county to decide whether video evidence is acceptable as the sole standard to determine whether a driver illegally passed a school bus.
Koskelowski said that in some school districts, police don't come and get the video, so nothing happens. That's because they believe that unless the driver is positively identified, a citation can't be issued.
"We're working to build those relationships with law enforcement to pursue these cases," Koskelowski said. "We can't get 100 percent positive facial recognition on every video. It's unrealistic to expect that."
Photo: Jay Cross via Flickr