Steve King Says Republicans Share European Neo-Nazi Goals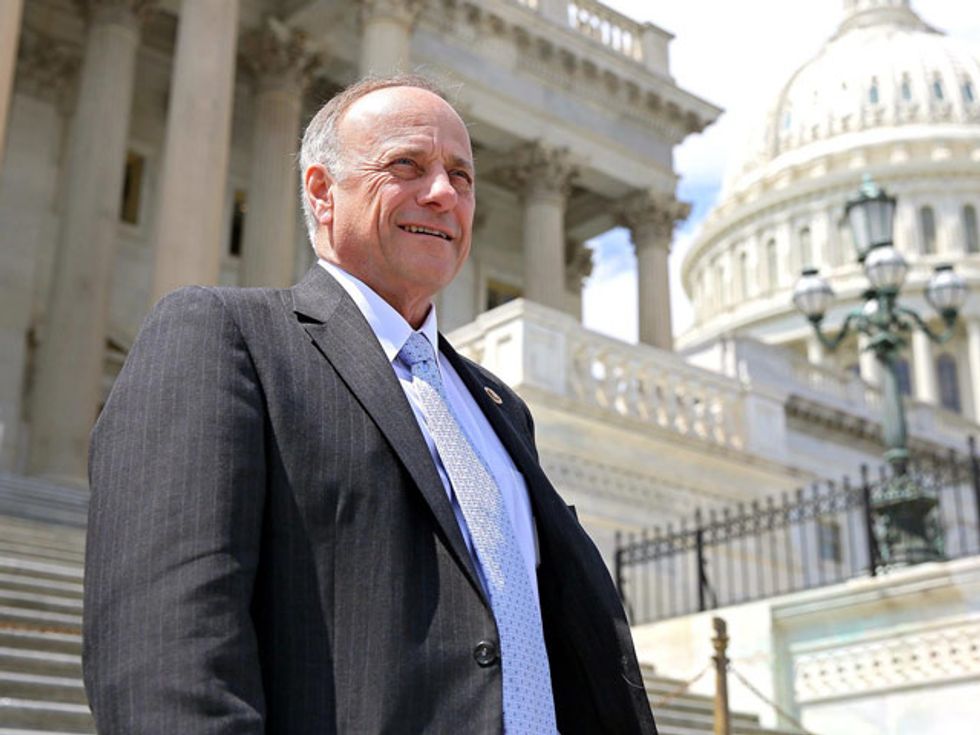 Reprinted with permission from Shareblue.
Republican Rep. Steve King recently admitted the agenda of right-wing, white supremacist groups in Europe is the same as the Republican Party in America.
King, a congressman in Iowa, was asked about his support for anti-immigrant groups with ties to Nazis. In response, King told the Washington Post, "If they were in America pushing the platform that they push, they would be Republicans."
He was specifically referring to the Freedom Party of Austria, which was founded by a former Nazi SS officer and is currently led by a man who was a young neo-Nazi.
The statement is an explicit admission of just how extreme Republicans have gotten.
For years, the Iowa Republican has used his role as an elected official to promote and embrace hate. But he has not been penalized or ostracized within the Republican Party, and continues to be a member in good standing.
King was the first American official to meet with the head of France's virulently anti-Semitic National Front, Marine Le Pen.
He publicly gave his support to anti-Islam Dutch politician Geert Wilders, writing, "We can't restore our civilization with somebody else's babies." King also wrote "cultural suicide by demographic transition must end."
King has endorsed white supremacist YouTube host Faith Goldy, who is running for mayor of Toronto, and who praised neo-Nazis for offering "robust" and "well thought-out ideas" about "the Jewish question" — a centuries old anti-Semitic trope that Jews are a "question" to be answered, culminating in Hitler's "Final Solution."
King called Goldy an "excellent candidate" for being "pro Western civilization."
King recently gave an interview to an Austrian white supremacist site and openly embraced several racist ideas.
King said, "If we don't defend Western civilization, then we will become subjugated by the people who are the enemies of faith, the enemies of justice." White supremacists often invoke "Western civilization" as a stand-in for "white people" while attacking other races and non-Christians.
The congressman also said, "We add to our population approximately 1.8 million of 'somebody else's babies' who are raised in another culture before they get to us."
The conspiracy theory of a "Great Replacement" is central to many white supremacists, who argue that non-white populations are attempting to replace white people. The Nazi marchers in Charlottesville, Virginia, who were praised as "very fine people" by Trump used "you will not replace us" as their rallying cry.
Before speaking to the website, King visited Poland, specifically Auschwitz, the site of one of the Nazi regime's biggest concentration camps. In his travel report filed with the House Clerk's Office, King said he was traveling to "further talk and debate on issues pertaining to the Holocaust."
Despite these deeds and actions, and a history of racist and bigoted comments, King is welcome  within Republican circles.
As King has now openly admitted their agenda is one and the same.
Published with permission of The American Independent.