Still Talking, Giuliani Says Trump Paid Stormy For Political Protection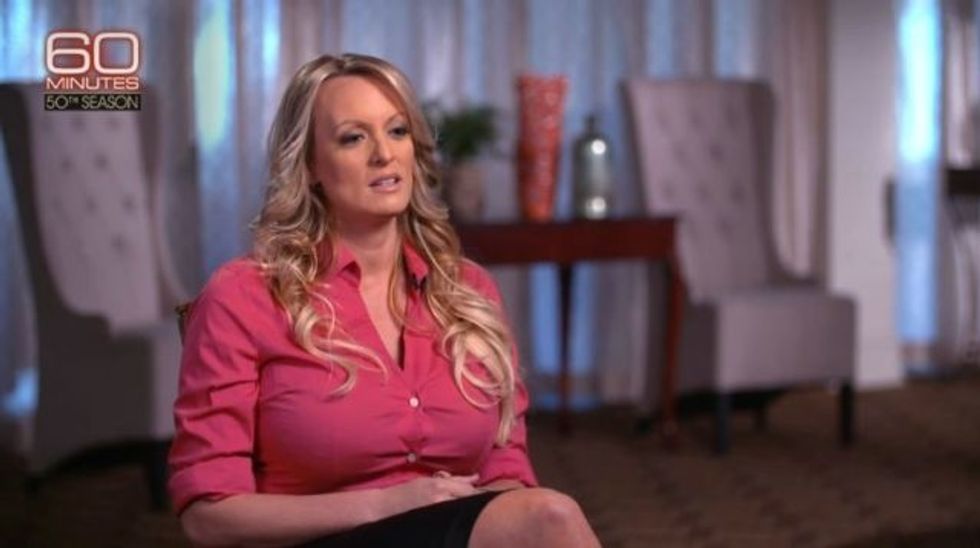 After several disastrous admissions during Sean Hannity's program Wednesday night, Rudy Giuliani kept the downward momentum going on "Fox & Friends" Thursday morning.
On Wednesday, Giuliani told Hannity that Trump knew about Michael Cohen's payment to porn star Stormy Daniels, and that Cohen was personally reimbursed by Trump. Both Trump and Sarah Huckabee Sanders have denied that Trump knew about the payment to Daniels.
On Thursday morning, Giuliani continued to make things worse for Trump.
After Trump tweeted an admission of the payment, Fox & Friends co-host Ainsley Earhardt completely stumped Giuliani by asking him why Cohen would deny that he had been reimbursed.
"Maybe…maybe…" Rudy began, then changed the subject by arguing that the payment was not a campaign contribution.
But that argument took a hit minutes later when Giuliani said "Imagine if that came out October 15th, 2016, in the middle of the last debate with Hillary Clinton."
Trump's carefully constructed tweets and Giuliani's twin appearances on Fox News suggest a coordinated effort that involved considerable preparation. Yet Giuliani was still unable to avoid stepping knee-deep into trouble. He wilted under gentle cross-examination by Ainsley Earhardt, and coughed up the campaign detail seemingly just for fun.
In the space of less than 12 hours, Giuliani has managed to admit to the entire world that Trump paid off a porn star, then lied about it to the American people for months. Then, he explicitly admitted that the payoff was to avoid negative political consequences.
With lawyers like Rudy Giuliani, maybe Trump was better off when he couldn't get one.