Stocks, Oil, Dollar Rise After China Cuts Rates
@reuters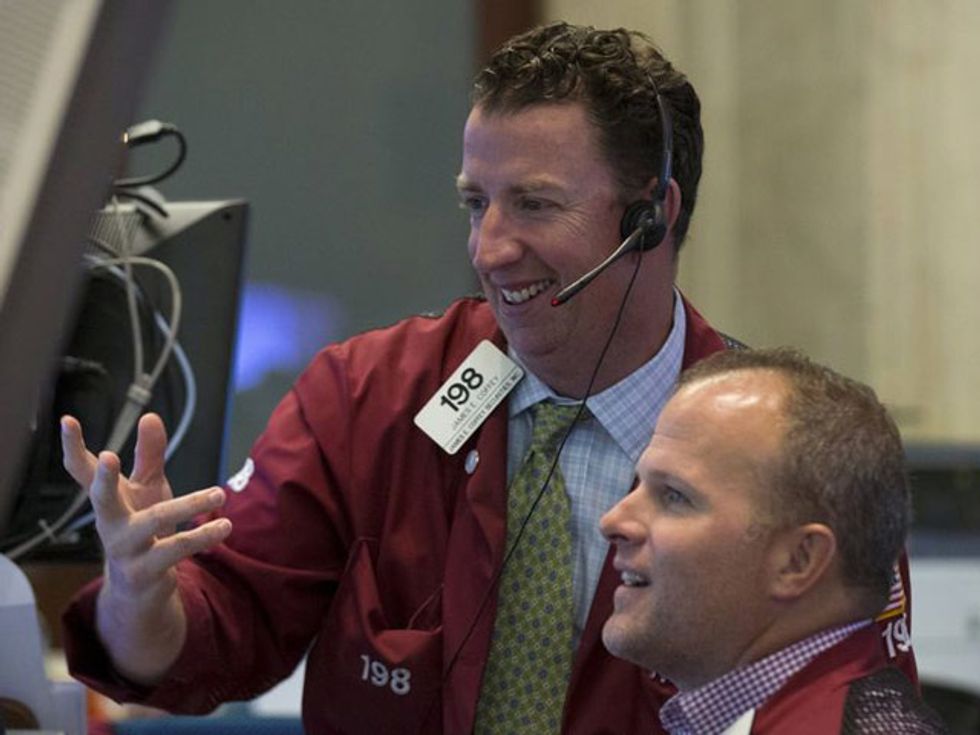 By Sinead Carew
NEW YORK (Reuters) — Stocks, oil prices and safe-haven bond yields rose on Tuesday as a tentative market rebound picked up pace after China cut interest rates and banks' reserve requirements to kick-start its wavering economy.
Wall Street opened more than 2-percent higher, recouping some of its losses from the previous day's selloff, its worst in four years, which had put the S&P 500 and Nasdaq composite indexes in correction territory.
The dollar motored ahead against most major currencies, rising 1 percent against the yen and 0.96 percent against its currency basket as the stimulus boost to the world's China's economy gave impetus to the case for a near-term interest rate hike in the United States.
Global markets were pummeled on Monday, with Chinese shares falling 8 percent, prompting investor calls for remedial action from authorities that grew louder overnight after the Shanghai Composite Index slumped a further 8 percent.
Economists said Tuesday's response — a 25 basis point cut in key rates and 50 bps off the reserve requirement rate for large commercial banks — sent a clear signal that Beijing, which has stepped in several times this year to keep China's growth on track, was still willing to intervene.
But as asset prices eased back following the initial euphoria, some questioned whether the measures would help.
"What we need to see to calm investors is positive economic data points out of China, and only when we see that will the rallies be sustainable," said Xavier Smith, investment director at Centre Asset Management in New York.
As the previous day's rush for safety reversed, yields on safe-haven U.S. Treasuries scaled back from session highs.
The Dow Jones industrial average rose 320.69 points, or 2.02 percent, to 16,192.04, the S&P 500 gained 42.78 points, or 2.26 percent, to 1,935.99 and the Nasdaq Composite added 129.26 points, or 2.86 percent, to 4,655.51.
The pan-European FTSEurofirst 300 index gained 3.95 percent. MSCI's benchmark emerging stocks index rose 2.6 percent — its biggest jump in two years after seven days of back-to-back falls.
The stock market gains in Europe, which recouped the bulk of the 5-percent-plus lost the previous day when around 450 billion euros ($520 billion) was wiped off the FTSEurofirst 300's value, were also supported by takeover news.
With China the world's biggest consumer of commodities, crude and metals markets also responded to Beijing's move.
U.S. crude futures traded up 2.3 percent at $39.10 per barrel, while Brent rose 2.3 percent to $43.69.
But global oversupply and worries over the severity of the slowdown in China kept oil prices near the 6-1/2-year lows they fell to on Monday, when the market slumped 6 percent.
Copper, often considered a proxy for global economic activity, rose 1 percent.
In China where recent market volatility has been at its most extreme, the central bank's policy move — coming after a shock devaluation of the yuan two weeks ago — drew a guarded reaction.
"This is a big-bang move… Frankly (it) shows a bit of panic in my mind," said Andrew Polk, resident economist at the Conference Board in Beijing.
(This version of the story was refiled to add dropped words in paragraph 3)
(Additional reporting by Tanya Agrawal in Bengaluru, John Geddie, Lionel Laurent, Marc Jones in Europe and China Economics writing by John Stonestreet; editing by Anna Willard and Nick Zieminski)
Photo: Traders work on the floor of the New York Stock Exchange August 25, 2015. REUTERS/Brendan McDermid