Stone And Flynn Promoting Sham 'Voter Integrity' Project For 2024
@alexvhenderson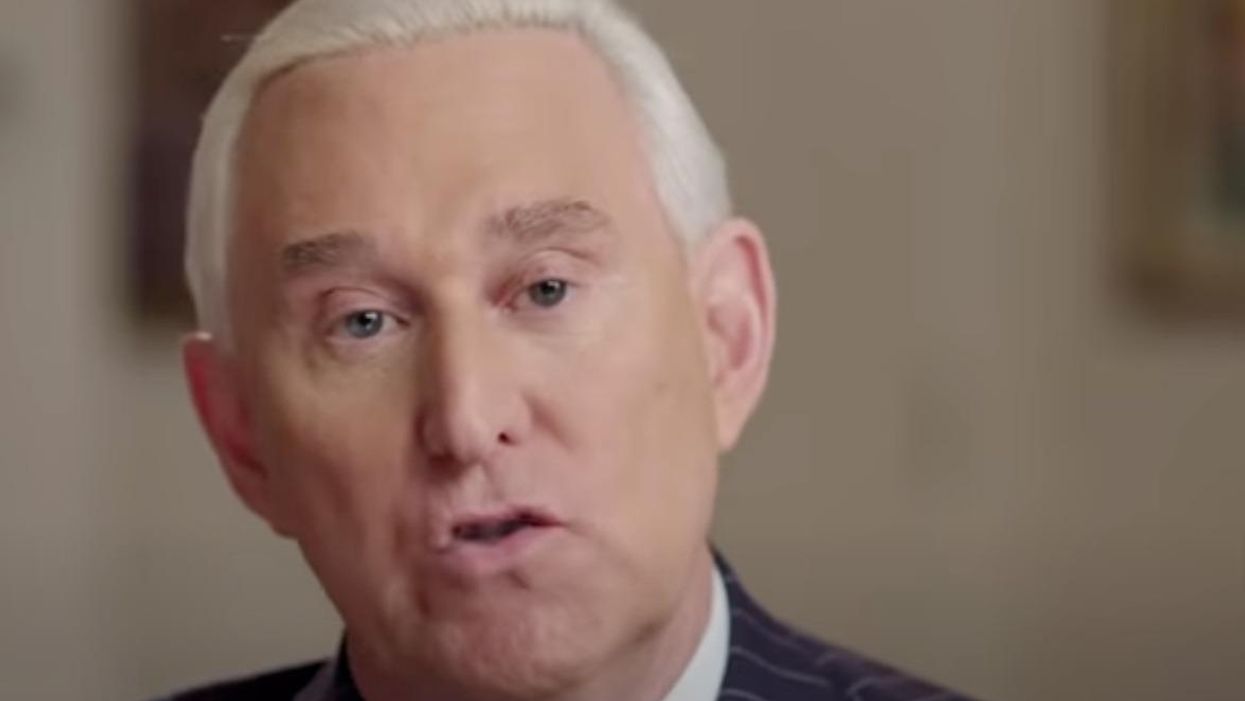 Youtube Screenshot
Co-founded by multimillionaire conspiracy theorist Patrick M. Byrne — the former Overstock.com CEO who aggressively promoted the false claim that the 2020 presidential election was stolen from Donald Trump — the America Project is a far-right MAGA group that describes its mission as "election integrity." But critics of Byrne and America Project advisers like Roger Stone and Michael Flynn have been stressing that their real goal is voter suppression and voter intimidation. And Byrne is obviously willing to spent a lot of his money to suppress votes: Byrne, according to The Guardian, says he has donated almost $3 million to the America Project's Operation Eagles Wings drive.
The Guardian's Peter Stone reports that the America Project "has begun a self-styled 'election integrity' drive to train activists in election canvassing and poll-watching, sparking fears from voting rights watchdogs about voter intimidation." According to Peter Stone, the American Project's Operation Eagles Wings drive is focusing on "eight states," including Arizona, Michigan and Pennsylvania, which Trump lost, plus Texas and Florida, which he won."
Byrne is among the MAGA Republicans who has been the target of a defamation lawsuit from Dominion Voting Systems. In late 2020, Byrne promoted the false claim and bogus conspiracy theory that Dominion's voting equipment was used to steal votes from Trump and give them to now-President Joe Biden.
The events that followed the 2020 presidential election were unprecedented in U.S. history. Trump was first U.S. president to lose an election by over 7 million votes, falsely claim that he didn't, and try to overthrow the democratic election results — and he did all that with the help of Byrne, veteran GOP operative Roger Stone, former National Security Adviser Flynn and others who have promoted the Big Lie. Flynn is so nakedly authoritarian that after Trump lost the election, he urged him to declare martial law in order to stay in the White House.
"Voting rights advocates have voiced sharp criticism of Operation Eagles Wings, calling it a 'sham,' given the roles of Stone, Flynn, Byrne and others, and warning that it could lead to voter harassment at the polls and suppress legitimate votes," Stone reports in a Guardian article published on July 7. "To lead the fledgling operation, the America Project recruited Tim Meisburger, an ex-Trump official in the U.S. Agency for International Development. Meisburger left the agency abruptly under a cloud in mid-January 2021 after a video surfaced of him falsely informing staffers that the Capitol attack was mostly peaceful except for 'a few violent people' and that 'several million' people were demonstrating peacefully for election reforms."
The Guardian reporter adds, "Overall, the America Project has boasted that its total funding is greater than $8m, including donations from Byrne, the ex-chief executive of Overstock."
Sean Morales-Doyle, acting director of the voting rights program at New York University Law School's Brennan Center for Justice, is vehemently critical of the America Project and its Operation Eagles Wings drive.
Morales-Doyle told The Guardian, "Michael Flynn and Roger Stone have repeatedly proven themselves to be enemies of democracy…. While it is not clear what exactly they will ask their election reform activists to do, their claimed pursuit of 'election integrity' is a sham, aimed instead at undermining public faith in our elections and setting the stage for future attempts to subvert the will of the people. The conspiracy theories they espouse would be laughable if they weren't so dangerous."
Peter Stone also notes that Flynn and Roger Stone "were in the vanguard of Trump loyalists promoting falsehoods about Joe Biden's 2020 win."
"In mid-December 2020, for instance, Flynn suggested on the conservative network Newsmax that Trump could use the military to 'rerun the elections' in several key states that Trump falsely claimed were rigged — and a few days later, he attended a White House meeting with Trump, Byrne and other allies, where more wild schemes were discussed," Peter Stone notes. "(Roger) Stone spoke at a pro-Trump rally on 5 January, and the next morning, was at the Willard Hotel, which Trump loyalists had used as a base for plotting ways to overturn the election, accompanied by several Oath Keeper bodyguards — some of whom participated in the Capitol assault and now face criminal charges."
Reprinted with permission from Alternet.