Stop Trying To Understand Trump Supporters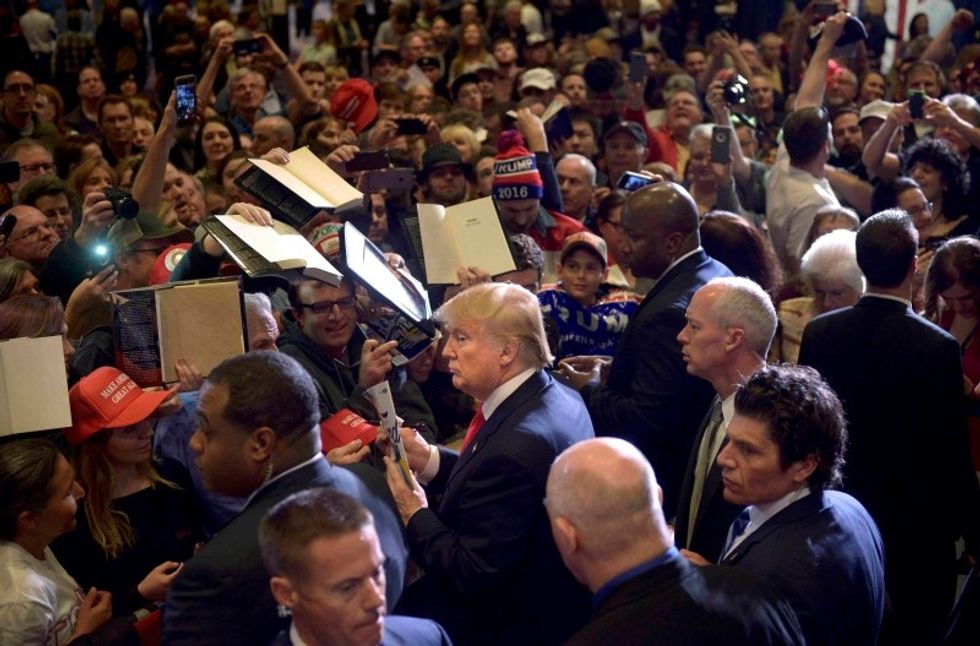 Twenty-year-old Hana Barkowitz had never before had this reaction to a stranger's T-shirt.
"I really wanted to say something," she told me Wednesday. "This has become so personal for me."
Since the Trump video, she means.
Last Friday, The Washington Post released a 2005 video capturing Donald Trump admitting on a live microphone that he is a sexual predator.
He was talking to Billy Bush, who was then working for "Access Hollywood" and has just been fired from NBC's "Today" show. In the video, they were chuckling it up before Trump's cameo appearance on the soap opera "Days of Our Lives."
"You know, I'm automatically attracted to beautiful. I just start kissing them," Trump said. "It's like a magnet. Just kiss. I don't even wait. And when you're a star, they let you do it. You can do anything — grab them by the pussy. You can do anything."
The video went viral in the time it took us to draw our collective breath.
When Hana Barkowitz — her first name is pronounced HAHN'-uh — first heard about it, she resisted watching.
"I thought, '2005? That's a long time ago.' But so many were talking about it that I finally decided to watch it."
She was stunned.
"My mouth dropped open. He kisses women without asking. He is promoting rape culture and sexual advances without consent."
Barkowitz is no political neophyte. A native of Pittsburgh, she grew up talking politics and is currently president of Kent State's College Democrats. I first met her during a panel discussion on campus, after I started teaching journalism there as a professional in residence. She was standing with her Republican counterpart at the time, and they readily admitted to being friends.
She is a cup-runneth-over kind of activist. Her enthusiasm for politics — and life in general — leaves you feeling more optimistic than before you met her. She is, by her own admission, sometimes confrontational about issues that concern her. That's a long list.
Last weekend, though, was different. Barkowitz and a friend had decided to drive to a popular flea market in Cleveland. For the first half-hour or so, she enjoyed the respite from a long week.
Then she saw the white man in his 50s wearing the Trump shirt.
"I really wanted to say something," she said. "I wanted to say to him, 'How dare you? How dare you wear that shirt? You're a white man. What Trump says doesn't affect you at all. You will never know what this feels like. You're so lucky.'"
Instead, she said nothing, after her friend pleaded with her to resist.
"She said, 'Please don't. What could he possibly say to make you feel better?' And she was right."
Still, it weighs on her, which I found out Wednesday after running into her on campus. She sounded like so many young women I've talked to this week, many of whom have never before cared much about politics. They can't believe this guy is running for president or that anyone would openly admit to supporting him.
"I wouldn't want to vote for someone with whom I wouldn't feel safe in a room," Barkowitz said.
Trump has dismissed his comments as "locker room talk." On Wednesday, Cleveland Cavaliers star LeBron James shut that down in an interview after practice:
"What is locker room talk to me? It's not what that guy said. We don't disrespect women in no shape or fashion in our locker rooms. That never comes up. … I got a mother-in-law, a wife, a mom and a daughter, and those conversations just don't go on in our locker room. … What that guy was saying, that's not — I don't know what that is. That's trash talk."
For months now, I've been trying to understand some of our fellow Americans who support Trump, the champion of racism, xenophobia and misogyny. We should not judge them, the pollsters and pundits lecture. We should get to the heart of what is really bothering them. They have their reasons for being so angry.
Well, you know what? Hana Barkowitz and so many young women like her are angry, too, and they have their reasons. They are coming of age as a major presidential candidate ramps up misogyny, aided and abetted by the cowardice of Republican politicians who continue to support an admitted sexual predator in his quest to be the leader of our country.
I'm done trying to understand these Trump supporters. Hana Barkowitz is right. They'll never know how this feels. And they don't care.
Connie Schultz is a Pulitzer Prize-winning columnist and professional in residence at Kent State University's school of journalism. She is the author of two books, including "…and His Lovely Wife," which chronicled the successful race of her husband, Sherrod Brown, for the U.S. Senate. To find out more about Connie Schultz (con.schultz@yahoo.com) and read her past columns, please visit the Creators Syndicate webpage at www.creators.com.
Photo: Republican Presidential candidate Donald Trump signs autographs for supporters after speaking at a rally at the Nugget Casino Resort in Sparks, Nevada February 23, 2016. REUTERS/James Glover II