Storm Warnings Grip 17 States, Record Lows Expected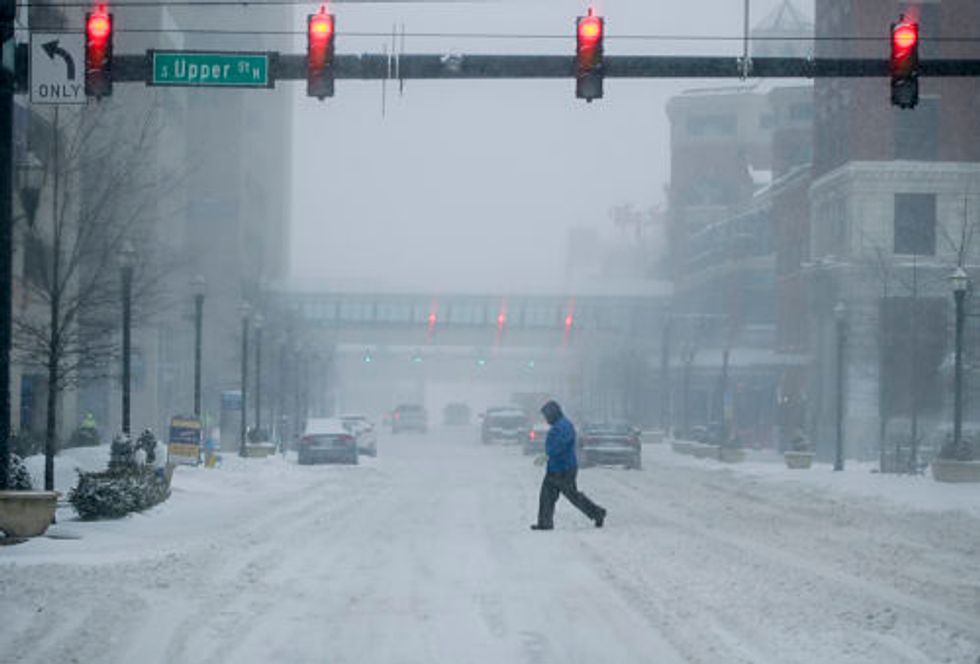 By Matt Pearce, Los Angeles Times (TNS)
Not content just to torture New England with blizzard after blizzard, Mother Nature is expected to unleash heavy snow and uncharacteristically bitter cold on the Midwest, the South and the East this week.
The governors of Virginia and North Carolina declared states of emergency Monday as a winter storm, lumbering their direction, dumped almost a foot of snow on parts of the Midwest and ice and sleet from Tennessee to Georgia.
As of midday Monday, winter storm warnings touching 17 states and affecting millions of residents stretched from Missouri to New Jersey.
Parts of Kentucky were still bracing for more than a foot of snow by the end of Monday, which would give the Bluegrass State a small taste of the weather that has hammered Boston in recent weeks, burying the city beneath several feet of snowy misery. Air traffic into and out of Louisville's airport was significantly hampered Monday, as it was in Nashville and Memphis.
Worse yet, temperatures in the East will be 20 to 30 degrees lower than average for this time of year, according to the National Weather Service.
"This will especially be the case after yet another arctic cold front moves through after the winter storm departs the East Coast," the National Weather Service said in a Monday forecast advisory. "Numerous record low temperatures are expected!"
In Michigan on Sunday, the dramatic cold already set or tied record lows of minus 21 degrees in Gaylord, minus 23 in Pellston and minus 25 at the Houghton County Airport.
The freeze spread to Pennsylvania on Monday morning, where a low of minus 32 degrees was reported in Chandlers Valley, and Harrisburg's much milder zero-degree low tied a 110-year-old record, the weather service reported. The cold spurred school closures in Pittsburgh and Philadelphia.
A cold front tagging along with Monday's Midwestern snow storm also brought an unwelcome display of contrasts across the South.
As the cold swept through Victoria, Texas, on Monday morning, temperatures fell from about 70 degrees to 48 degrees in less than half an hour, or almost a degree a minute.
In Mississippi, the temperature in Hattiesburg was 72 degrees at the same time that the temperature in Oxford — more than 200 miles north — was 32 degrees.
By Tuesday morning, single-digit lows are expected as for eastern states north of the Appalachian Mountains, and as far south as Missouri and Kentucky.
California, as per usual, is expected to remain warm and dry, with no rain to help alleviate the drought.
Photo: A pedestrian crosses Main Street as heavy snow falls  across central Kentucky on Monday, Feb. 15, 2015 in Lexington, Ky. (Mark Cornelison/Lexington Herald-Leader/TNS)