Stormy Lawyer Lashes Back At Trump And Cohen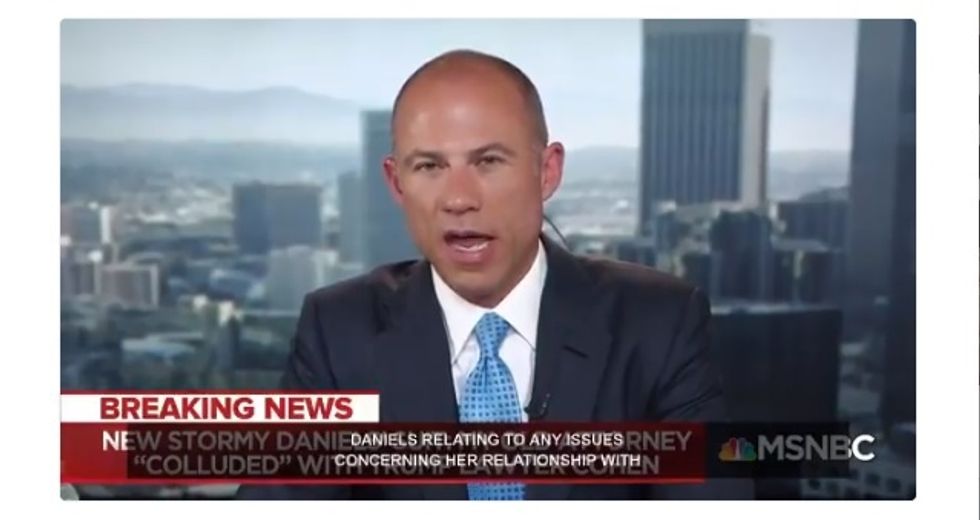 Reprinted with permission from AlterNet.
After appearing in court Friday, Michael Avenatti held a press conference to denounce President Donald Trump and his former lawyer Michael Cohen as after Cohen's attorney pushed for a judge to issue a gag order against him.
"Americans deserve to know the truth about their elected leaders," Avenatti told reporters. "What they knew, when they knew it, and how they covered it up. And what you witnessed today was a continued effort by the president of the United States and Michael Cohen to silence me and to prevent the truth from being exposed."
Avenatti represents Stephanie Clifford, better known as Stormy Daniels, in her lawsuit against Trump and Cohen related to a hush money agreement she signed to keep quiet about an affair she says she had with the president. In a separate but potentially related matter, Cohen is under investigation by the Southern District of New York, which is also separate though potentially related to special counsel Robert Mueller's investigation of collusion between the Trump campaign and Russia to influence the 2016 election.
"This is a search for the truth," Avenatti said. "We are not going to be intimidated, and we are not going to be silenced. My client is not going to be silenced. Period."
Cohen and his lawyer pushed for the gag order against Avenatti, who has been become ubiquitous in media appearances and political punditry circles since his case gained mainstream coverage. He has focused on the president and his associates' alleged misdeeds, even when there's apparently limited relevance to his particular case.
Asked about whether the SDNY investigation of Cohen concerns the payment to his client, Avenatti said he believes the hush money is not the focus. Rather, he believes investigators are focused on "a whole host of additional conduct, likely criminal conduct, by Michael Cohen with the cooperation of the president of the United States."
Avenatti also said that he has had discussions with Cohen's team about whether the president's former attorney might settle the cases involving him were Cohen to "come clean" about what he has done with Trump.
"As of last Sunday, it became clear to me that Michael Cohen was attempting to play a game," he said. "And I made it clear that we were not going to be a part of that game."
Watch the press conference below:
Cody Fenwick is a reporter and editor. Follow him on Twitter @codytfenwick.