Stormy's Lawyer: Michael Cohen Will Cooperate Against Trump In 'Search For Truth'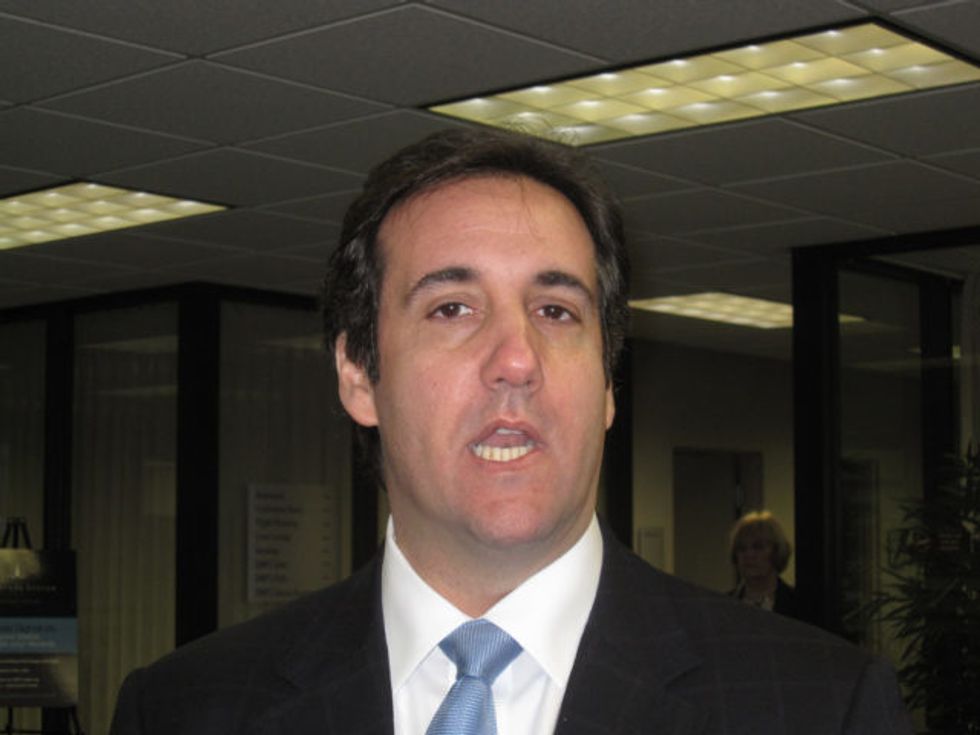 Reprinted with permission from Shareblue.
Michael Avenatti, the attorney for porn star Stormy Daniels, dropped some major hints about his recent chance meeting with former Trump fixer Michael Cohen — including a bold assertion that Cohen "is going to cooperate" in the "search for the truth" about Trump.
This past Monday, Avenatti ran into Cohen at a restaurant in New York City — a chance encounter that, according to Avenatti, turned into a "productive," even "critical" exchange, at which Trump "would have blown a gasket" if he'd been present.
On Sunday morning's edition of "This Week," Avenatti strongly suggested that during that meeting, Cohen indicated his willingness to testify against Trump. Avenatti said without qualification that he thinks Cohen "is going to cooperate with us as it relates to our search for the truth."
Avenatti began by saying said he knows "for a fact" that there is "more than one" tape of conversations between Cohen and Trump — and that those recordings will be bad for Trump if they are released.
On Friday, news broke that the FBI has a recording secretly made by Cohen, which reportedly features Trump discussing with Cohen how to buy the silence of Playboy model Karen McDougal, with whom Trump allegedly had an affair.
In a tense exchange, Trump defender Alan Dershowitz tried to accuse Avenatti of having "improper" access to the information about additional Cohen tapes.
"Alan, do you know what Michael Cohen has shared with me?" Avenatti asked Dershowitz.
"I don't," Dershowitz admitted.
"I want to follow up on this just a little bit, you know there are tapes, do you know what's on the tapes?" host George Stephanopoulos asked Avenatti.
"I know the substance of some of the tapes, yes," Avenatti said.
"And what you have also mentioned, saying that your relationship with Michael Cohen is 'evolving,' what did you mean by that?" Stephanopoulos asked.
Avenatti replied that his chance conversation with Cohen was "very fruitful," and that the two have "continued to have a dialogue."
Then Avenatti dropped this bombshell: "And I think that ultimately, George, Michael Cohen is going to assist us in our search for the truth and disclosure of what happened here. I think you've seen an evolution by Michael Cohen over the last month or so … I think he is ready to tell the truth. And ultimately I think he is going to cooperate with us as it relates to our search for the truth."
Without revealing what Cohen actually said to him, Avenatti strongly hinted that Cohen disclosed more detail about what's on the recordings that were seized by the FBI, and that Cohen is prepared to cooperate with efforts to learn the truth about Trump's misconduct.
Speculation about Cohen flipping on Trump has been at a fever pitch ever since the raid on Cohen's office.
If what Avenatti is hinting at is true, then there's a lot more bad news coming for Trump. But for those who care about the truth, Cohen's "evolution" is nothing but good news.
Published with permission of The American Independent.