Strong Looks Sharp At White House Correspondents' Dinner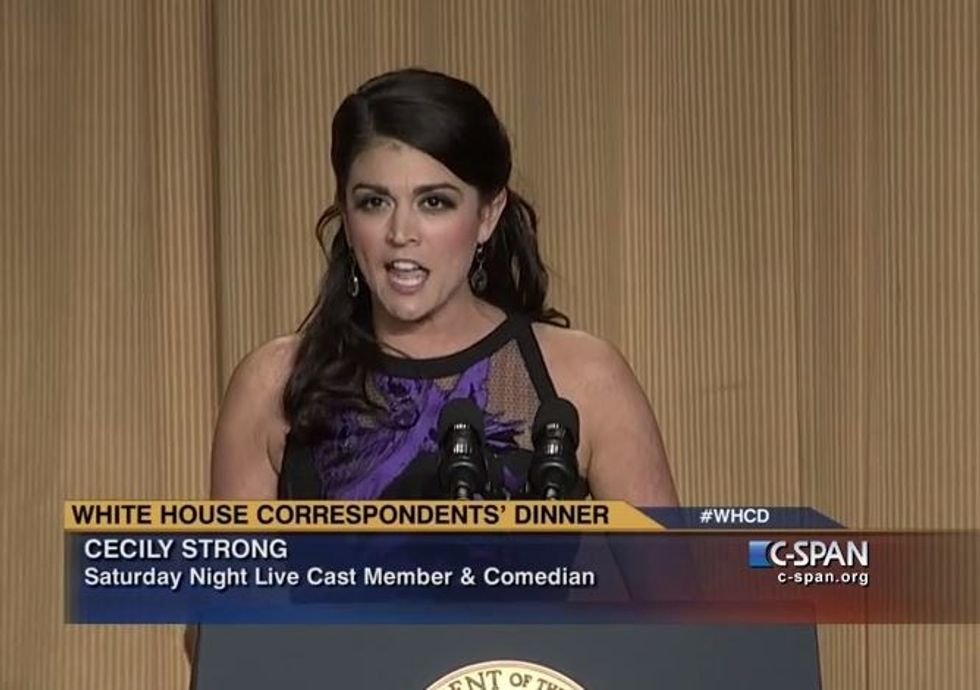 By Steve Johnson, Chicago Tribune (TNS)
Whatever Cecily Strong was going to say about President Barack Obama at the 2015 White House Correspondents' Association dinner, there was no way it would sting as much as what he inadvertently said about her.
Trying to establish a bond, Obama hailed the Saturday Night Live cast member as a "Chicago girl," but then he called her, repeatedly, "Cecily."
So maybe Strong is not the most famous comic to ever stand at the podium during the annual commingling of reporters, their Washington sources and celebrities ranging from movie to reality-TV stardom.
But the 31-year-old Strong, raised in Oak Park, Ill., and trained at Second City and iO, did well enough Saturday night to earn herself much greater name recognition, perhaps even from the commander-in-chief.
It was hard to gauge Obama's reactions, but cameras showed the president laughing very hard when Strong journeyed from a personal jab to a much bigger societal issue:
"After six years in office, your approval rating is at 48 percent," she told Obama. "Not only that, your gray hair is at 85 percent. Your hair is so white now it can talk back to the police."
One of Strong's edgiest lines also broached the topic of institutional racism by police. After chiding the Secret Service for its troubles protecting the president, she then feigned sympathy, saying, "They're the only law enforcement agency in the country that will get in trouble if a black man gets shot."
That one made people sit up in their seats, and Strong came back quickly, and self-assuredly, with, "Are you saying 'boo,' or are you saying 'true'?"
Her demeanor was friendly enough to be disarming, but Strong, the daughter of a former Associated Press bureau chief in the Illinois capitol of Springfield, was pointed in her politics. She said, for instance, that she's a fan of the craft store Hobby Lobby, where "I just bought the cutest little wicker basket to hold all my morning after pills," she said.
If comedians miss the mark at the dinner — in tone or in quality of material — it can hurt them. The national star of radio deejay Don Imus began sinking after he bombed while hosting a different Washington dinner in 1996.
But a risky set can pay big dividends. The 2006 hosting turn of Stephen Colbert was perceived in some quarters to be too barbed an attack on President George W. Bush and the press. But in other circles it is revered for its gutsiness and for going beyond joke-telling into the headier realm of satire.
Where Colbert was playing beyond the room, using it to announce himself as a voice to pay attention to, Strong's ambitions were more modest. The room even supplied part of the material.
"It's great to be here at the Washington Hilton," she said with a dramatic pause, "is something a prostitute might say to a congressman."
Strong has rallied nicely on SNL, doing lots of great sketch work this season after the perceived demotion of being taken off the show's "Weekend Update" anchor desk. She never found the right tone for the mock news-reading gig (her successors Colin Jost and Michael Che still struggle with that).
But Saturday she showed she could deliver an extended comic monologue under bright spotlights. Like Seth Meyers, a fellow former SNL newsreader, four years before her, her monologue was a succession of mostly taut, well-crafted lines about social issues, media institutions and figures, and the upcoming presidential race.
Ted Cruz, she figured, was right wingers' wanting the opposite of President Obama, "a Canadian Latino who'll never be president." Then there was Rand Paul, "as in, 'he didn't get elected, but at least he Rand.'"
Working, she said beforehand, with writers from SNL, Tonight, and Meyers' Late Night, Strong wisely went to the video screen only once, for a so-so take on former Illinois Congressman Aaron Schock. Some of her best material related to her own status as only the fourth woman to be the entertainer at the correspondents dinner, sometimes referred to as "Nerd Prom."
"Feels right to have a woman follow President Obama, doesn't it?" Strong began, the first of many references to Hillary Clinton, the front-runner for the 2016 Democratic presidential nomination.
But, she said: "Just because I'm a woman doesn't mean I'm going to go easy on you people. I'm going to go easy on you people because my brain is smaller."
The strongest positive reaction Strong got was when she called on the press to repeat a vow with her: "I solemnly swear / Not to talk about Hillary's appearance / Because that is not journalism."
Perhaps feeling the need to add an actual joke, she then undercut the forceful feminism with a dose of mock insecurity. "Also," she immediately added, "Cecily Strong looks great tonight."
That's one possible review. The real point, though, is that she entertained on a high level. It's "Cecily," Mr. President.
(c)2015 Chicago Tribune, Distributed by Tribune Content Agency, LLC.
Screenshot via YouTube/C-SPAN