After Successfully Bringing Down Her Local Confederate Statues, This Activist Says She's Ready For Office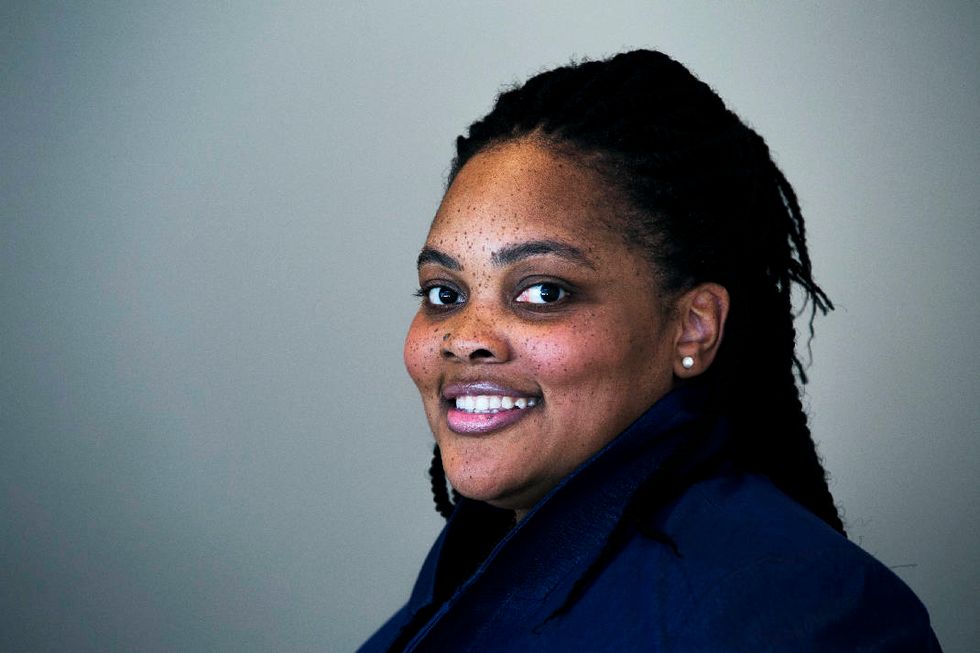 Reprinted with permission from AlterNet.
2017 wasn't an easy year for progressive activists by any stretch. Between the Muslim ban, the riot in Charlottesville and the struggling Dream Act, it was hard to find any silver linings for social justice. But in cities throughout the U.S., grassroots activism resulted in the successful removal of some of the remaining monuments of our country's dark past: statues to Confederate war heroes. One such victory in Memphis, Tennessee, came about largely thanks to Tami Sawyer, an education reformer and the face of the #TakeEmDown901 movement, who is now launching a political campaign using her new platform.
Last month, after years of debate between local Black Lives Matter leaders and right-leaning state representatives, Memphis city leaders voted to remove two highly controversial statues: one of Jefferson Davis, a Confederate icon and the first grand wizard of the Ku Klux Klan, and one of Gen. Nathan Bedford Forrest, another early Klan leader.
"Jefferson Davis is known to have said that it is the duty of the white Christian man to own black people because they are unintelligent," Tami Sawyer told Chalkbeat last year. "So, why is it important for me? It's because a man that told me that I was dumb and needed to be picking his cotton can't stand in my city."
A Memphis native, Sawyer attended the University of Memphis and Howard University law school for a year before taking a job with the U.S. Navy to help diversify their hiring practices. She then moved back to Memphis to take on a similar role with the city's branch of Teach for America. She quickly became involved in organizing protests in response to the killings of Michael Brown and Memphis teen Darrius Stewart, then turned her attention to the removal of the Jefferson Davis and Nathan Bedford Forrest statues. "To see them taken down at the end of the year was a joyous occasion," Sawyer told AlterNet. "It was a long road with a lot of back and forth between us and the city, but I rest well at night knowing we led a movement that helped change our city."
Now that the #TakeEmDown901 movement has succeeded in its mission, Sawyer, voted one of 18 "Tennesseans to watch in 2018" by USA Today, has become the latest of several high-profile local activists to launch political campaigns in recent years. Think of Deray McKesson, Khalid Kamau and the many women who've declared candidacy for 2018 after participating in the Women's March. Like them, Sawyer considers herself part of a new wave of activist-candidates aspiring to public office—with one caveat. "We have to be careful; a lot of people say they're activists, but the first thing they do when they're elected is put more police on the street," Sawyer said.
"But yes, I do believe I'm part of that future. This is a people's revolution. I'm excited to see that 25,000 women are running, to see young black politicians and young Latinos stepping up. I'm really excited about the last few years. We're on the verge of real change. I think the type of people we'll be electing will be much more aware of the impact of systemic oppression on our country and how to repair that with policy."
At a time when a major push for progress is coming from tech entrepreneurs like the Zuckerbergs of the world, it's a bit surprising that Sawyer would use a traditional mode like public office to enact change as opposed to the private sector. But for Sawyer, after fighting for years to bring down Memphis' Confederate statues, launching her campaign for county commissioner felt like the natural next step.
"When I was on the ground doing this work in Memphis, we spent so much time telling officials to listen to us, and there was no one who represents us permanently. I was tired of always asking that people do what I thought was the right thing. There's a cap on their engagement. I saw our city blocking us out more and more and not responding." Sawyer decided to run for office to fill this need. No one else was listening to progressives and those fighting for social justice on the ground. "We need leaders who are aligned to our goals. The movement can't exist just in the street. We need people in office who are connected to the movement."
Sawyer has words of wisdom for others fighting their own battles to remove the last remnants of the Confederacy. Such campaigns are still underway in Durham, Hollywood, Florida, and elsewhere. "People are gonna say it's not important, there are other things to focus on. But it's an important fight. It's a people's movement, so don't give up."
Liz Posner is a managing editor at AlterNet. Her work has appeared on Forbes.com, Bust, Bustle, Refinery29, and elsewhere. Follow her on Twitter at @elizpos.
Header image source.