Successor To Sarah Sanders Is Unlikely To Improve On Her Dismal Tenure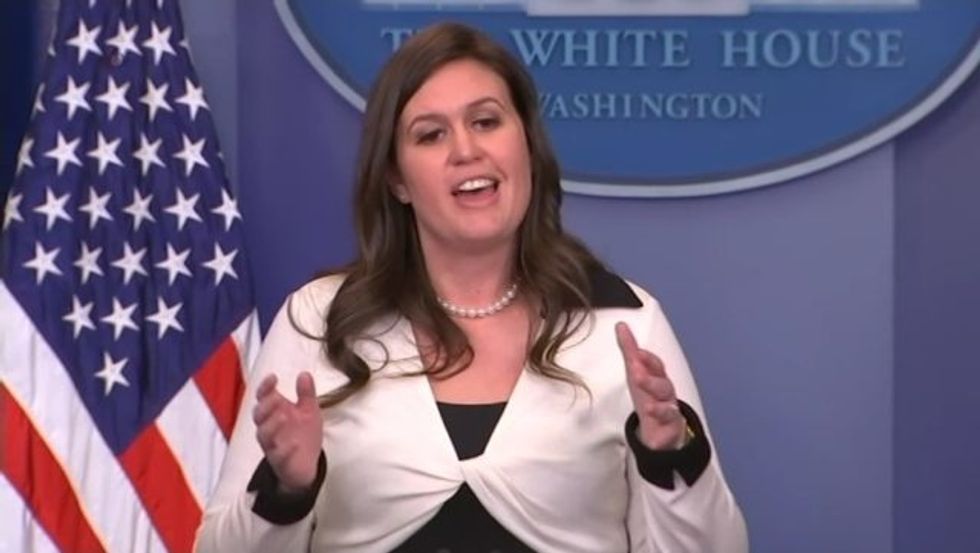 White House press secretary Sarah Sanders' imminent departure, announced via tweet last week by President Donald Trump, will inspire few laments from the nation's journalists. Inhabitants of Sanders' office are supposed to balance their political service defending the president with their public service keeping the nation informed through the press. But Sanders has rejected the latter role, shamelessly spreading misinformation and lies while accusing journalists of doing the same, viciously belittling members of the press and stripping them of access as she effectively eliminated White House press briefings.
There's no official word yet on who Sanders' successor will be. The lists of possible picks circulating in the press include current administration officials, current Fox News personalities, and current and former administration officials who were previously Fox News personalities, underscoring the propaganda network's unique role under the Trump presidency.
What seems likely is that Sanders' replacement will either be as bad as she was or will have a remarkably short tenure in the position. Her dishonesty and antagonism toward the press may be personal character flaws. But under the Trump administration, they are also all-but-official job requirements for the post.
No politician's record of honesty is entirely unmarred, putting their spokespersons in the difficult position of trying to spin their words to skeptical journalists. But Trump lies constantly, at a rate and scale far beyond that of a typical politician, and demands his aides show fidelity to him when he tells untruths. These shameless and brazen lies are a core function of the Trump presidency, a way for him to bind together his coalition by regularly spreading disinformation. Any press secretary will face constant questions about the president's relentless falsehoods, and it is difficult to imagine them lasting in the job if they fail to provide Trump with a vigorous defense.
Anti-media invective has long been a staple of conservative commentary. But because Trump has sought to assert himself as the final arbiter of reality, he has needed to make delegitimizing the press a central plank of his political platform. His use of authoritarian language about the press has continued even as his supporters have threatened and enacted plots to murder journalists. This Saturday, for example, he accused The New York Times of committing a "virtual act of Treason" for publishing a story Trump claimed was "bad for our Country"; the next day, he claimed that both the Times and The Washington Post are "a disgrace to our Country, the Enemy of the People." The next press secretary will be asked to reckon with Trump's rhetoric and will likely not have the option of simply saying that he or she disagrees with the president.
Sanders' replacement may offer some stylistic differences and could lack some of the sheer glee she seems to take in the worst aspects of her work. But her successor will be a liar and an antagonist of journalists. The position requires it.