Sudanese Christian Woman Who Faced Death Over Her Faith Meets Pope Francis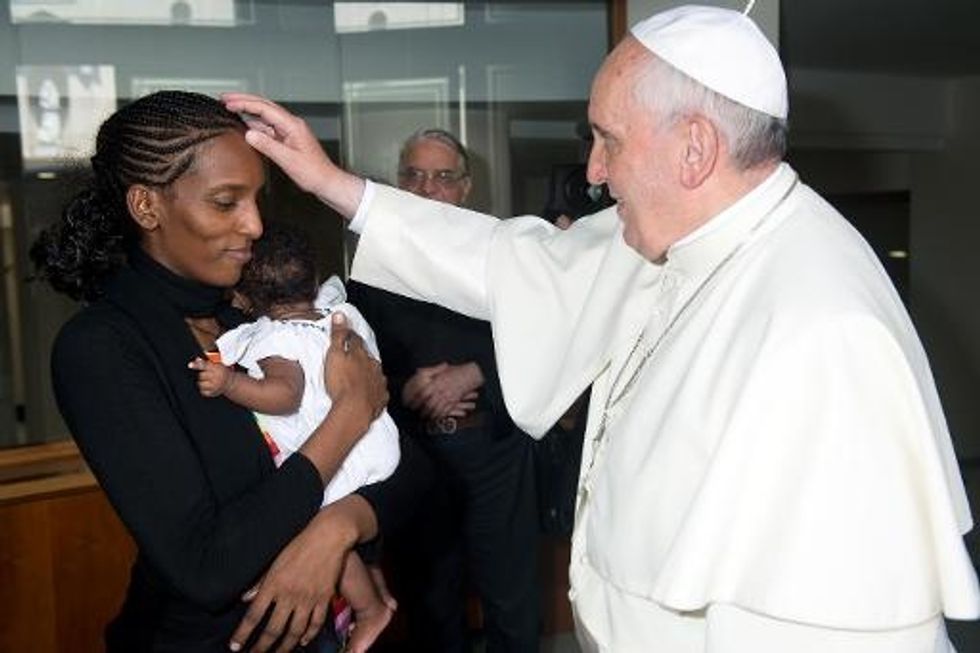 By Robyn Dixon, Los Angeles Times
JOHANNESBURG — A Sudanese Christian woman who faced a death sentence for refusing to renounce her Christian faith flew to Italy on Thursday and met with Pope Francis.
Meriam Ibrahim was sentenced to death by a court in Khartoum, Sudan, in May for illegally abandoning the Muslim faith. She was given a chance to renounce Christianity to save herself, but refused. The case prompted calls from around the world for Sudan to respect freedom of religion.
A court overturned the penalty in June, but when Ibrahim and her family tried to leave the country the same day to go to the United States, they were detained by Sudanese security agents and accused of falsifying her travel documents.
Italy's deputy foreign minister, Lapo Pistelli, who traveled from Khartoum with Ibrahim and her family, broke the news she had been able to leave the country on his Facebook page Thursday, just before the plane carrying them landed in Rome.
"A couple of minutes away from Rome. Mission accomplished," wrote a smiling Pistelli, beside a photograph of himself with Ibrahim's toddler son, Martin, leaning on his knee, drinking from a bottle.
The photo also shows Ibrahim holding her baby, Maya, who was born when she was in prison, on death row.
Italian Prime Minister Matteo Renzi met Ibrahim at the airport, calling it a day of celebration. A statement from the Vatican said that Ibrahim and her family would live in the United States. The family was expected to spend a few days in Italy before flying to the United States, Pistelli told reporters.
There was no prior announcement that Ibrahim would be leaving the country and the move took even her lawyer, Mohaned Mostafa, by surprise, Reuters reported. Mostafa told the news agency that the Sudanese prohibition on her leaving the country had not been lifted.
Ibrahim's son Martin was also with her in the harsh Omdurman women's prison. The Sudanese court sentence said that she would be allowed to nurse her daughter for two years, then would be executed.
Ibrahim married an American-Sudanese Christian, Daniel Wani, in 2011, enraging members of her father's family, Sudanese Muslims. A family member reported her to the authorities, leading to the charge of apostasy.
She was also sentenced to 100 lashes for adultery, because her marriage to Wani was not recognized as legal.
Under Sudanese law it is a crime to renounce Islam, and Muslim women are barred from marriage to non-Muslims.
But Ibrahim insisted she was never a Muslim and was raised by her mother, an Ethiopian Christian, as a Christian.
The head of the Vatican press office, Father Federico Lombardi, described the pope's visit with Ibrahim as "very serene and affectionate."
The Vatican published a photograph of Francis touching a bareheaded Ibrahim on the head. Ibrahim was clad in black, holding baby Maya, dressed in white.
Lombardi said in a statement that the pope wished to show his support for freedom of religion in all countries.
"With this gesture the pope wished also to show his closeness, attention and prayer for all those who suffer because of their faith and in particular Christians who suffer persecution or restriction to their freedom of religion."
"The pope thanked Meriam and her family for their courageous witness of perseverance in the faith," the statement said. "Meriam gave thanks for the great support and comfort which she received from the prayers of the pope and of many other people who believe and are of good will."
AFP Photo/Osservatore Romano
Interested in world news? Sign up for our daily email newsletter!