Summers, Yellen Lead In Hunt For New Fed Chief
@AFP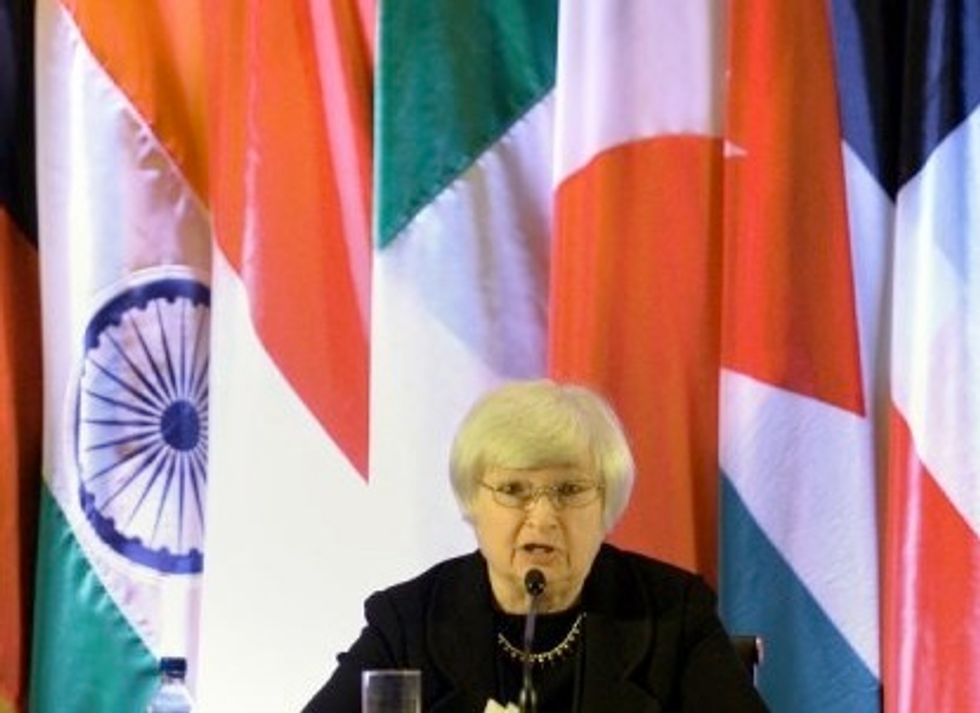 WASHINGTON, District of Columbia (AFP) – It's one of the most important decisions President Barack Obama says he will make over his eight-year presidency: who to lead the Federal Reserve after Ben Bernanke leaves in January.
With the U.S. economy still struggling to gain traction five years after the crash, and the global economy sagging, Obama left markets on edge Friday, saying he would only announce his nominee "in the fall", suggesting around October.
But he confirmed that former Treasury secretary Larry Summers and veteran central banker Janet Yellen were on the White House shortlist, along with "a couple of other candidates."
The choice has already turned into a fight, with Summers attracting criticism from both the left and the right over his record in government, Yellen branded as too soft on inflation, and Obama facing resistance from Republicans in Congress to any of his appointees.
But it has taken outsized importance, with the economy's pace now heavily dependent on how the Fed manages its huge stimulus program and steers interest rates.
"It is definitely one of the most important economic decisions that I'll make in the remainder of my presidency," Obama told reporters last week.
"The Federal Reserve chairman is not just one of the most important economic policymakers in America, he or she is one of the most important policymakers in the world."
Bernanke, 59, winds up a second four-year term as Fed chairman in January 2014, having led the body through the economic crisis to widespread praise.
The debate over his replacement has become uncommonly heated.
"It is the first time I can remember that the public and private discussions have been so open," said Steve Pearlstein, economics writer for the Washington Post.
He called such debate a good thing in general, "particularly for an institution so steeped in a kind of 'holy-of-holies' secrecy such as the Fed has been."
However, he said, "What is less attractive is that it has now turned into something more like a political campaign."
Obama called both Yellen and Summers "highly qualified" for the job, which pays $199,700 a year — a fraction of what either could make working for a bank on Wall Street.
Both are considered by their peers in economics and finance as brilliant economists and solid organizational leaders.
Summers, 58, has been chief economist at the World Bank, Treasury secretary in the Clinton White House, the president of Harvard University, and in 2009-2010, Obama's top economic advisor at the height of the economic crisis.
Yellen, 67, is a veteran of the Federal Reserve who has also served as a White House economic advisor under Bill Clinton, and an economics professor at both Harvard and Berkeley.
Since 2010 she has been vice chairperson at the Fed, Bernanke's top deputy, and if chosen would be the first woman to head the central bank.
Both face opposition. Conservatives say Yellen is too "dovish" on inflation — that she, like Bernanke, does not fear enough the risk that the Fed's $85 billion a month bond-buying stimulus and ultra-low interest rates will fuel an uncontrollable surge in prices.
Summers has critics on both sides of the spectrum. Conservatives assail him for his crucial role in the finance and auto industry bailouts of the early Obama years that sent the U.S. budget deficit soaring.
Liberals allege a history of being too soft on U.S. banks and the securities industry, supporting the deregulation that led to the finance industry disaster of 2008-09.
They worry that he will bend to Wall Street's fierce resistance against new regulations.
Policy-wise, the main issue facing the Fed's next chief is how quickly to reel in the quantitative easing stimulus program, and to eventually move to raise interest rates to forestall inflation, one of the two mandates of the Fed.
Bernanke has kept the policy-setting Federal Open Market Committee focused on the second mandate, to bring down unemployment, which remains high at 7.4 percent.
The issue has analysts debating the relative inflation "hawkishness" or "dovishness" the known nominees, as well as the unknown names that Obama says he has on his shortlist. Those could include former Fed officials Donald Kohn and Roger Ferguson, and former Obama economic advisor Christina Romer, among others.
"The general opinion seems to be that Summers would be somewhat less dovish than Yellen," said Michael Feroli, an analyst at JPMorgan.
Obama said his main criteria "is somebody who understands they've got a dual mandate."
"A critical part of the job is making sure that we keep inflation in check, that our monetary policy is sound, that the dollar is sound."
"But the other mandate is full employment…. The challenge is we've still got too many people out of work, too many long-term unemployed, too much slack in the economy, and we're not growing as fast as we should."
There is little doubt that the Fed's future leadership will be the hottest topic at its annual gathering on August 22-24 in Jackson Hole, Wyoming. Bernanke, claiming a previous engagement, will be absent, and Yellen will take the helm. It was not clear if Summers would attend.
Photo Credit: AFP/Peter Parks