Sunday Talkshows Ignore Devastating New Hurricane Maria Reports
@cydehargis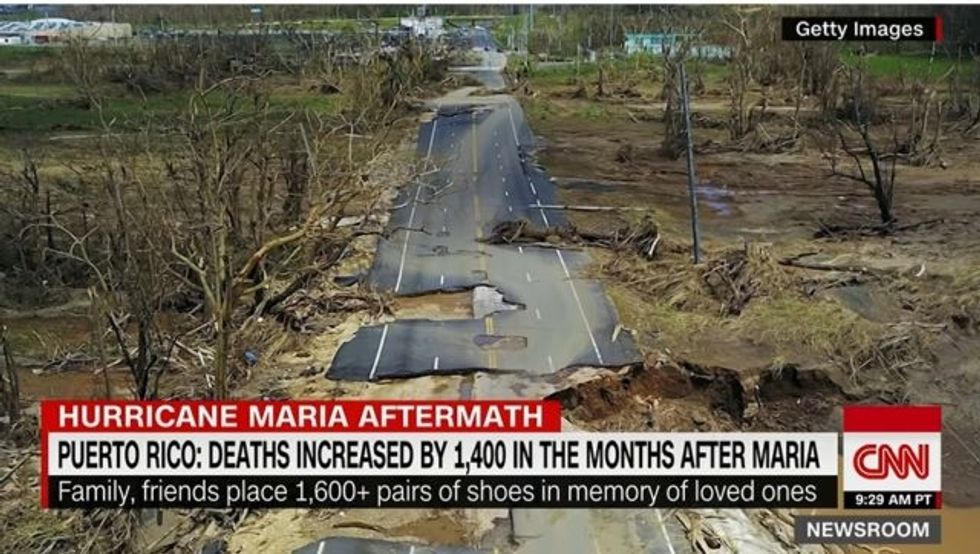 Reprinted with permission from MediaMatters.
Following a new study estimating that almost 5,000 people died as a result of Hurricane Maria, Sunday news shows completely ignored the devastation and death toll that is 72 times higher than the government's official number of 64.
Written up by the Washington Post, a May 29 Harvard University study "estimates that at least 4,645 deaths can be linked to the hurricane and its immediate aftermath," and noted that "health-care disruption for the elderly and the loss of basic utility services for the chronically ill had significant impact."
If the Harvard study is accurate, Maria will be the second deadliest hurricane in U.S. history. Thousands are still waiting for power. It is already estimated to and have caused $90 billion in damages in Puerto Rico alone. The devastation in the U.S. Virgin Islands from Hurricanes Irma and Maria has caused billions more in damage. And 2018 Hurricane season is officially underway as of June 1.
Despite this less than a week old study, the major Sunday political talk shows — which include CNN's State of the Union, ABC's This Week, CBS' Face the Nation, NBC's Meet the Press, and Fox Broadcasting Co.'s Fox News Sunday — were all silent on the subject.
MSNBC's AM Joy and CNN's Reliable Sources both noted the discrepancy between coverage of Hurricane Maria's devastation, and Roseanne Barr's racist and anti-Semitic tweets that resulted in her eponymous show being canceled.
CNN's New Day Sunday highlighted the Harvard study's reported death toll and noted Puerto Rico is "still recovering" and that "11,000 residents still do not have power" as the country enters the official 2018 hurricane season.
The media has routinely ignored the destruction caused by Hurricane Maria, dating back to just one week after the storm made landfall when these Sunday shows covered the devastation for less than a minute. Cable news quickly turned away from Puerto Rico following the hurricane as well. The day the Harvard study was released, cable news gave it 30 minutes of coverage that was drowned out by ten hours spent on Roseanne.