Supporters Who Got Trump Elected Are Pursuing Vicious And Divisive Agendas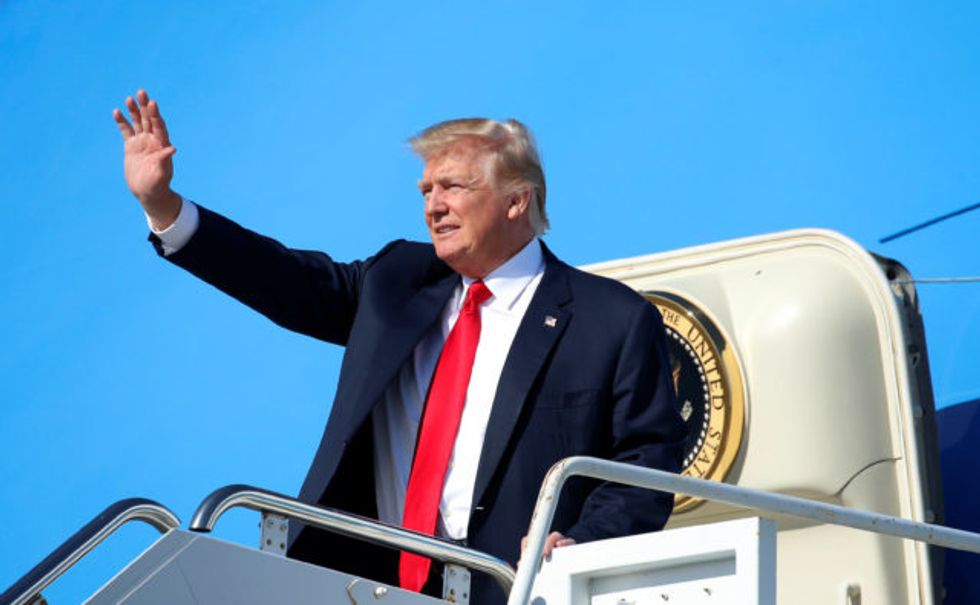 Reprinted with permission from Alternet.
Plenty of Americans wake up in the morning, remember that wealthy real estate tycoon and pathological liar Donald Trump is president of the United States, pinch themselves, and morosely confirm that yes, he really is president. I sure do. It also happens when I think about a fossil fuel industry shill and climate change denier running the EPA, or a billionaire who wants to fund religious private schools with public dollars in charge of the education department. And certainly a white nationalist, who apparently calls colleagues "cucks" and "globalists," as chief adviser to the president.
But let's not forget the droves of political figures, state campaign chairs and other supporters who didn't make it into the White House but may be just as demented as racist "alt-right" figure Steve Bannon or disgraced Islamophobe Michael Flynn.
Wonder what they're up to now that Trump is president? They're definitely keeping busy.
Among the most extreme Trump devotees are the neo-Nazis and the neo-Confederates, groups that often overlap. Throughout a campaign launched on the racist fallacy that Mexicans are rapists and rooted in the erasure of Muslims from America, Trump earned the enthusiastic support of former Ku Klux Klan grand wizard David Duke, neo-Nazis like Richard Spencer, and Breitbart News, the "platform of the alt-right" that Bannon led until he became CEO of the Trump campaign last August. (According to Breitbart Washington editor Matthew Boyle, the two still talk regularly as the outlet continues its fierce support for the president.)
Some Confederacy boosters hold state office, and they're trying to celebrate their so-called "cultural heritage" through legislation. In March, Republican Georgia state representative Tommy Benton introduced a bill to make April "Confederate History Month" and April 26 "Confederate Memorial Day at the state capitol."
"Georgia has long cherished her Confederate history and the people who made sacrifices on her behalf," reads the bill, apparently discounting the roughly 3.3 million African Americans (32 percent of the state's total population) who live in Georgia and don't exactly look fondly upon slavery, not to mention the many people of all races who think Confederate history is not worthy of celebration. When the Confederacy fought the Union for "states' rights," it was fighting to keep its slaves, plain and simple.
At a press conference, as the Atlanta Journal-Constitution reported, "When asked whether the resolution…includes the need to understand the role that slavery and systemic exploitation and oppression of African and African-American people played and an acknowledgement of what the war was fought about, Benton declined to answer…'Next question,'" he said.
The bill was inspired by Trump's victory. "We just elected a president that said he was tired of political correctness," said Benton. "And so that was the reason that we were looking to introduce the resolution."
Benton is known for his earlier disturbing comment that the KKK "made people straighten up." His district of 54,000 people is 84 percent white, and only 20 percent have a college education. This is the demographic—rural white Americans without a college degree—that voted overwhelmingly for Trump last November.
The three other co-sponsors of the bill, all Republicans, are also big Trump fans: Rep. Steve Tarvin, who was a co-chair of Trump's Georgia campaign and whom Trump endorsed last year; Rep. Jesse Petrea, who was seen celebrating Trump's win with his country's Republican group and who introduced a bill in February that would create an online list of undocumented immigrants convicted of crimes; and Rep. Alan Powell, who has praised Bannon.
The Georgia racists are in good company in the South among fellow Trumpers. In Virginia, the chair of Trump's Virginia operation is running a gubernatorial campaign on a neo-Confederate platform. Corey Stewart, currently the chair of the Prince William Board of County Supervisors, promises that as governor he'll prevent liberals from removing Confederate monuments, bring back specialty license plates emblazoned with Confederate emblems and "absolutely not" mention slavery when addressing Confederate history.
Much like Benton, Stewart says, "I think things have changed…I think the 2016 presidential race was a watershed moment where you saw voters…just fed up with political correctness and these gotcha techniques that the left has used to shut down speech."
Right-wing websites, think tanks and state legislators around the country who are proposing deceptively named "campus free expression bills," even one originally nicknamed after the proud racist Milo Yiannopoulos, know what they're doing by attacking political correctness: trying to make hate speech great again.
Since the election, another upstanding state chair for Trump has distinguished himself among the pack of extremely bigoted Trump supporters. Co-chair of the Trump New York campaign Carl Paladino responded to a December questionnaire from Art Voice with some truly disgusting answers.
On what he'd most like to happen in 2017, he replied, "Obama catches mad cow disease after being caught having relations with a Herford [sic]. He dies before his trial and is buried in a cow pasture next to Valerie Jarrett, who died weeks prior, after being convicted of sedition and treason, when a jihady [sic] cell mate mistook her for being a nice person and decapitated her."
Paladino's alma mater, St. Bonaventure University, called his comments "racist and demeaning." Paladino claimed his commentary "has nothing to do with race" and was merely "a little deprecating humor." Many called for Paladino to leave his post on the Buffalo School Board, including the board itself, but the education commissioner has not yet asked him to leave.
Here are a few more political whack jobs who just so happen to be big Trump fans.
Iowa Republican U.S. Rep. Steve King, who's proven himself to be a consummate white nationalist along the lines of Dutch arch-Islamophobe Geert Wilders, endorsed Trump in August. He's since tweeted such savory things as, "Cultural suicide by demographic transformation must end" and more recently, "We can't restore our civilization with somebody else's babies." King's extreme nationalism is right in line with that of Bannon and another of Trump's top advisers, Stephen Miller, who ultimately want to decrease legal immigration as much as they can. It appears Jeff Sessions is on their page as well.
Former presidential candidate and Pennsylvania senator Rick Santorum, known for his vehemently anti-gay rhetoric (and whose last name was redefined by sex advice columnist Dan Savage), continues his reliable, frothy stream of preposterous statements as a cable news commentator. Some of his recent epiphanies include the idea that millions of sick Americans are defrauding health insurance companies and that Trump's plan to increase coal mining in Pennsylvania and other states is "a breath of oxygen into the lungs of small-town, rural communities."
In North Carolina, Lieutenant Governor Dan Forest, who has been the state's biggest champion of the widely derided anti-LGBTQ "bathroom bill" that in its original form would cost the state billions of dollars in lost revenue, is pushing a new bill that would criminalize student protest. His plan, which is derived from a model bill drafted by scholars from two Koch-backed think tanks, likely imposes harsh penalties including expulsion on students who disrupt guest lectures, as his 2016 plan would have done just that. After a slew of sexual assault allegations against Trump, Forest gave a speech introducing Trump at an October rally in Charlotte.
"If you wanna protect federalism and the right that every state has to determine how they represent themselves in the United States of America…then we better elect Donald Trump president of the United States," proclaimed Forest.
Also in North Carolina, we mustn't forget Earl Philip, the Trump campaign's state director who pulled a gun on at least one of his subordinates. When this came to light in August 2016, he had to leave the campaign. Philip previously stated, "You cannot be a Christian and be a member of, or support, or be a card-carrying member of the Democratic Party," and claimed that Barack Obama was neither black nor Christian.
These are some of the honorable citizens Trump picked for his campaign operations. As he slowly fills hundreds of vacant staff positions and judgeships, what could possibly go wrong?
 
This article was made possible by the readers and supporters of AlterNet.