Supreme Court Endorses Ban On Judges Seeking Campaign Cash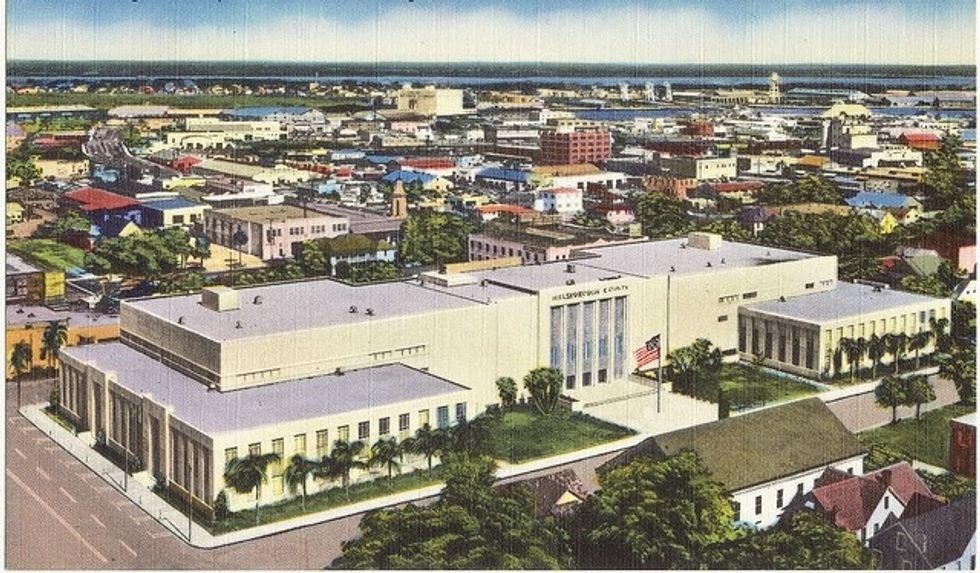 By Michael Doyle, McClatchy Washington Bureau (TNS)
WASHINGTON — A divided Supreme Court on Wednesday upheld Florida's ban on judicial candidates directly soliciting campaign funds.
In a ruling that affects many of the 39 states where voters elect trial or appellate judges, the high court concluded that the direct-solicitation ban does not violate the First Amendment's free-speech guarantee.
"A state's decision to elect its judiciary does not compel it to treat judicial candidates like campaigners for political office," Chief Justice John Roberts Jr. wrote for the majority. "A state may assure its people that judges will apply the law without fear or favor."
The ruling split the court along somewhat unusual lines, as Roberts' fellow conservatives Antonin Scalia, Samuel Alito, and Clarence Thomas dissented, as did frequent swing vote Anthony Kennedy. Two liberal justices, Stephen Breyer and Ruth Bader Ginsburg, largely sided with Roberts' conclusion, but broke from part of his reasoning.
The court's bottom line in the case called Williams-Yulee v. Florida Bar, though, is a victory for judicial campaign fundraising limits. Coming from the conservative-dominated court, the ruling is also a notable good day for the frequently embattled advocates of campaign finance reform.
"Most states with elected judges have determined that drawing a line between personal solicitation by candidates and solicitation by committees is necessary to preserve public confidence in the integrity of the judiciary," Roberts wrote. "These considered judgments deserve our respect."
The case arose from Lanell Williams-Yulee's bid for a seat as a county court judge in Hillsborough County, Florida. The county includes the city of Tampa. During her campaign kickoff in September 2009, Williams-Yulee signed a mass-mailed letter that asked for contributions, with recommended amounts ranging from $25 to $500.
Incumbent Judge Dick Greco, Jr., easily defeated Williams-Yulee in the August 2010 balloting, winning 80 percent to 20 percent. Williams-Yulee subsequently lost a later three-way judicial race in 2012.
The Florida Bar filed a complaint against Williams-Yulee, alleging she had violated a provision in the state's Code of Judicial Conduct. The code states that "a candidate…for a judicial office that is filled by public election between competing candidates shall not personally solicit campaign funds."
According to the American Bar Association, 30 of the 39 states that elect trial or appellate judges have adopted similar restrictions. These other states include Idaho, Mississippi, and Pennsylvania.
Williams-Yulee received a public reprimand and was ordered to pay $1,860.30 to cover costs. She and her allies argued the punishment intruded on her ability to speak, including on matters of pressing public importance.
"Neither the court nor the state identifies the slightest evidence that banning requests for contributions will substantially improve public trust in judges," Scalia wrote in dissent.
American Constitution Society for Law and Policy President Caroline Fredrickson countered with a statement Wednesday that praised the decision as recognizing "the corrosive effect money has had in judicial elections," and as one that will "help stem the trend of politicization that has been occurring in the state courts."
The liberal organization is one of several that have studied the growing role of big money in state-level judicial elections. Between 1990 and 1999, judicial candidates raised approximately $83.3 million. Judicial candidates then raised $206.9 million over the next 10 years, Emory University Law School Professor Joanna M. Shepherd reported in the Duke Law Journal.
"One of the biggest problems we have in the country today is the impact of money on politics, and the trend of special interest groups pouring money into efforts to defeat or elect judges" Tallahassee-based attorney Barry Richard, who represented the Florida Bar in the case, said in an interview Wednesday.
Richard added that it was a "great relief" to learn that the Florida rule will survive; otherwise, he said, "the door would be open" to more problematic judicial fundraising.
Photo: Boston Public Library via Flickr